Quick Tips on Improving Your Home office Setup
Whatever your work from home situation, here are some easy tips anyone can use to make your day in your home office more pleasant. For more in-depth details, refer to our "minimal desk setup guide to get the best tips on how to make your home office setup clean". In this guide we go into detail on how to optimise your home office setup. It's not a surprise that a lot of people would want their office setup to be minimal because clutter can be bad for productivity.
Before starting, we've got some other related setups articles about home office setups, take a look:
We share a truly inspiring minimalist home office setup that efficiently utilises that space around it to make the overall desk setup cleaner. The setup is based on IKEA items but more importantly, it drills home the importance of personalising the workspace. The owner of this setup uses the IKEA Skadis to keep his desk organised and have all his important items within arms reach. He uses both a monitor light bar and the Beam LIFX to light up his workspace. There's another article below that talks more about home office lighting in our guides section, it's worth a read.
Sometimes we ask what makes a home office setup different? It's the fact that there is no separation between home and work that makes the home office an important space to optimise. If you don't take care of it, it will end up ruining your productivity and burnout. We've always advocated for work-life balance, but having the coronavirus has really ruined it and now you really need to pay extra attention to your mental health and take breaks when you need it.
If you're looking for more tips, check out the articles below.
5 Amazing Tips to Home Office Ideas – There are heaps of ways you can improve your setup and these 5 ideas can serve as a basis of expanding on your home office setup. People tend to always start small but you can always build it piece by piece.
Using a desk shelf with your home office setup – Desk shelves are an absolute amazing addition to your desk setup. You can use it to make better use of the vertical space on your desk if you dont have a lot space to store stuff. It's definitely worth a read.
Using a mechanical keyboards for your home office – Mechanical keyboards have also been quite popular, but recently it's really taken off. There has been releases after releases of smaller form keyboards that will really help you if you're in need of space. In addition, there are also more ergonomic form factor keyboards.
Using a desk pad – We have our own desk pad that was designed to be stealthy for your desk setup. It offers a lot of functionality for a very good price.
If you want a the ultimate guide on what sort of desk accessories would improve your producitivity, read our guide. We go through what sort of desk accessories to prioritise for each sort of setup.
Without further ado, let's get started on how you can improve your home office setup
1. Setup a dedicated work area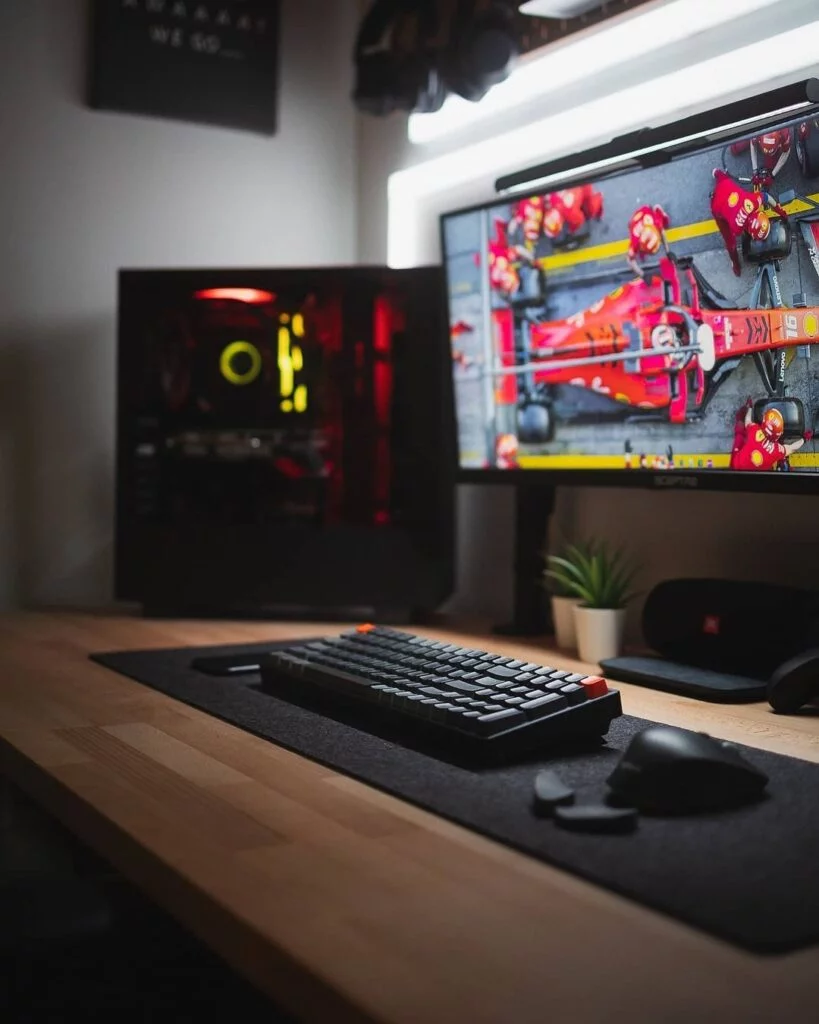 No one wants to spend time and effort moving equipment around daily. To avoid this, set up a dedicated workstation, whether it be an entirely dedicated room or a separate desk in the corner of a room. A dedicated workspace will help separate and create boundaries between work and home., making it easier to 'clock off' at the end of the day.
2. Clear the clutter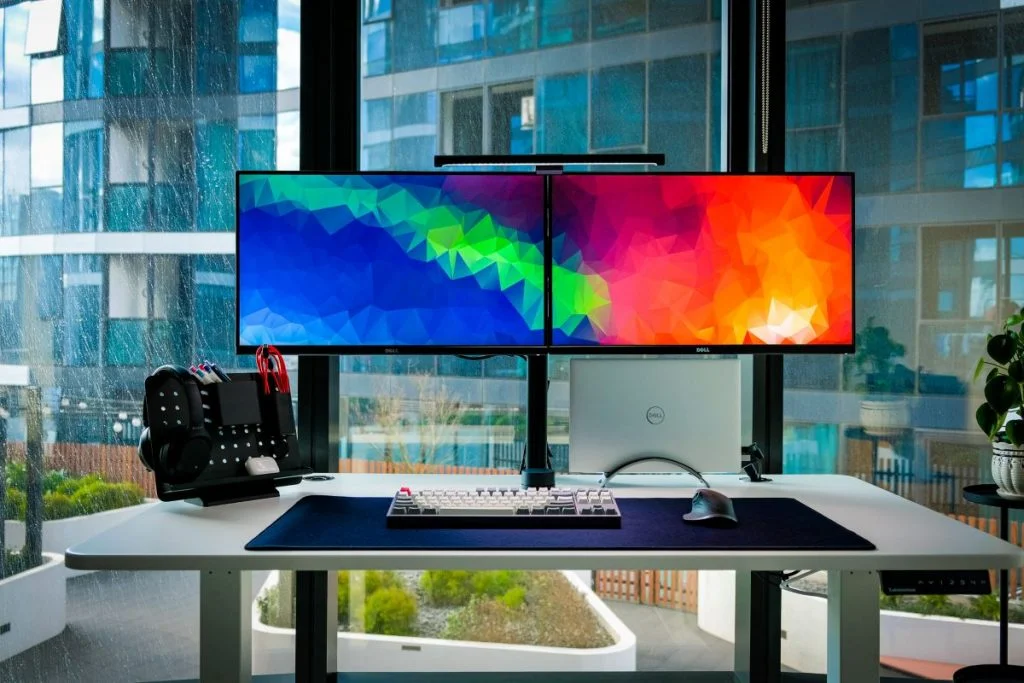 We've all heard the saying;
"Discard everything that does not spark joy" Marie Kondo
3. Improve the lighting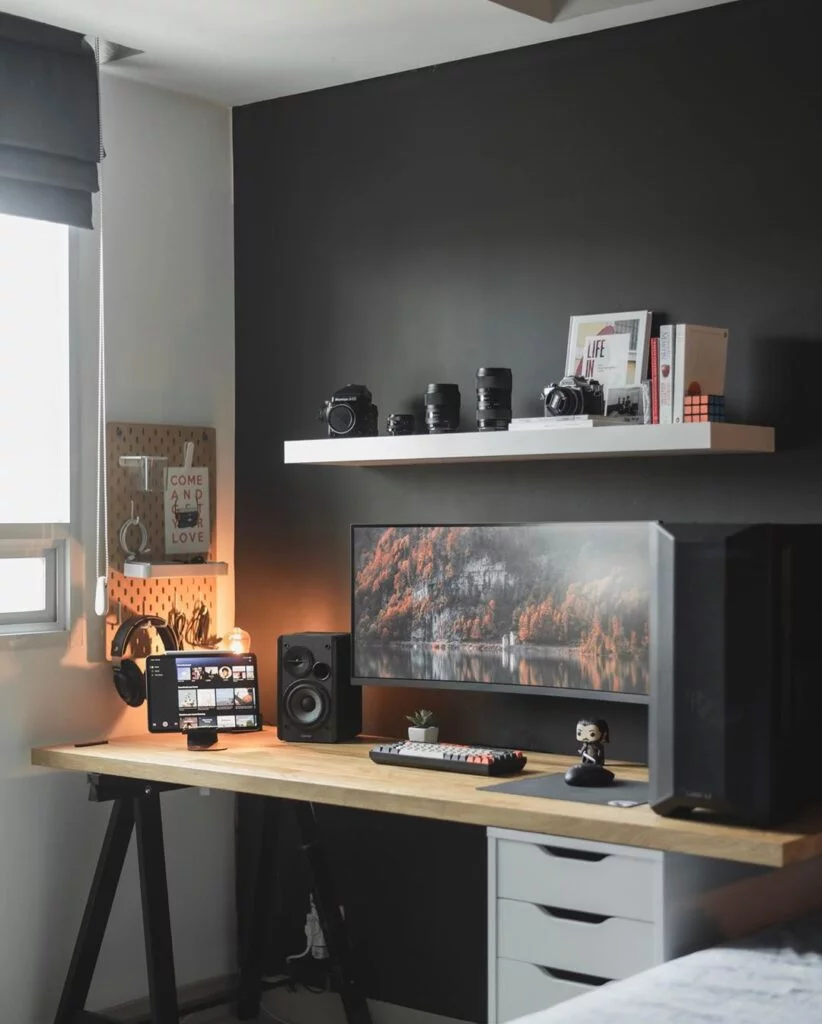 Whether for your online Zoom meetings or just general home office use, quality lighting can go a long way. Poor lighting can reduce energy and may even affect your health, causing eyestrain and headaches, and ultimately impair your ability to work. Allow for as much natural light as possible, whether via windows or a skylight. In situations where natural lighting isn't enough. a well-defined light source will go a long way.
We go into a lot of detail on how to improve your home office lighting and I am sure that it will help you perfect the lighting on your home office setup. If you don't learn anything just remember this, "Lightbar is key". What is a light bar? A light bar or a monitor lamp is something that sits on top of your monitor and lights your desk without causing glare from the monitor. We've put together a guide of our top 5 choices of a monitor lamp that could improve your home office setup. Take a look.
4. Make your workstation a nice place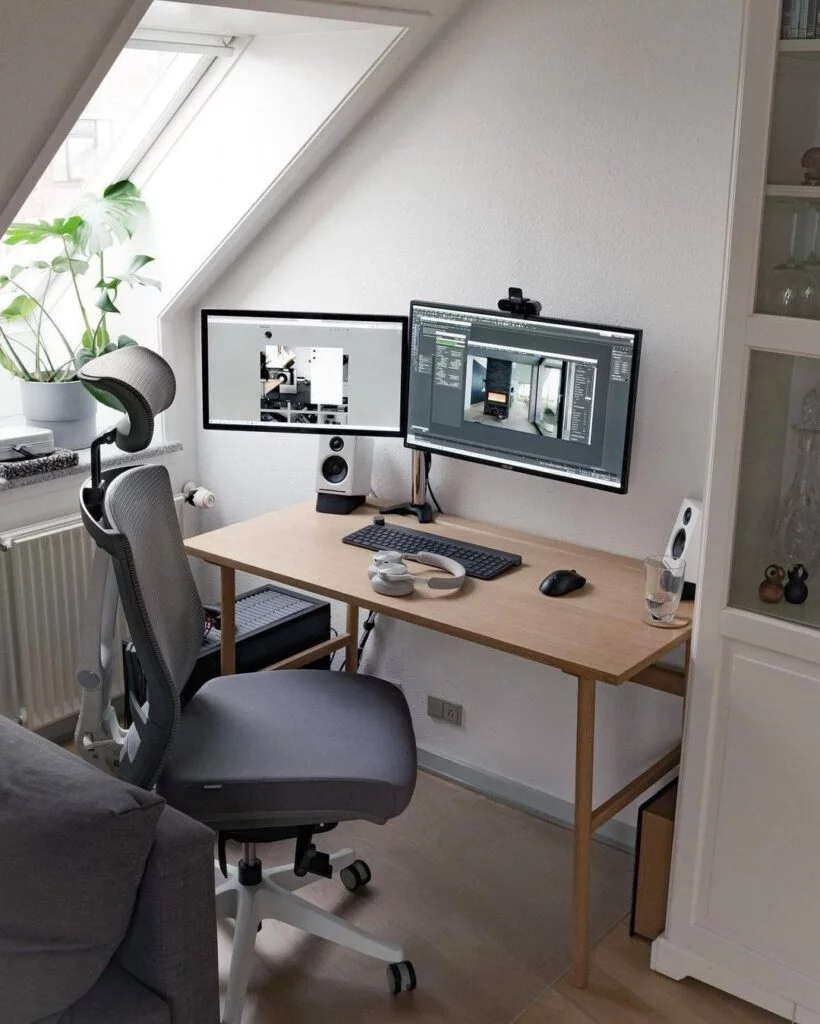 At the end of the day, your workspace should be a place you want to sit down and be at. Decorate and personalise your space to inspire you to work more productively. Plants are a great way to liven a room up. Pictures of loved ones, pets and past memories is a great way to personalise your setup. Paintings and artwork from your favourite artist, prints of your favourite video game or artwork that you've created yourself will help complete your setup and give it that final touch of artistic flair.
How to Improve Your Home Office Setup Ergonomics and Comfort?
Just like when you're in the office, home office setup ergonomics follow similar principles. Setting up your workspace so that the following steps are met can drastically improve your comfort. We've put together a guide that will help you with perfecting your home office setup ergonomics, more important it will make you more productive and healthier too. One of the more neglected items is how close your monitor is to you. We stress the importance of having a monitor arm just so that you're able to freely adjust the distance between the monitor and your eyes. Based on the screen resolution, there are minimum viewing distances that impact how well your eyes can read the text on your screen. Have a read, it's really interesting.
You may be thinking, "Working from home in my pyjamas is the most comfortable thing ever!", and you're not wrong, but by following these 4 simple tips, your body will thank you in the long run!
Look straight ahead at your monitor
Keep your hands at a 90-degree angle to your desk
Keep your back straight and planted on your chair (no slouching allowed)
Keep your feet planted to the floor
With your workspace and ergonomics are sorted, here are some technology picks that might improve your working from home experience. We have provided recommendations for different types of work and budgets.
Laptops
It's not rare to work from home and use a laptop in your home office setup. We would highly recommend you to use a laptop dock with your home office setup. We're guessing you have a laptop of some kind, whether it's your device or the one you brought from work. If not, here are our recommendations:
MacBook Pro M2 (2022)
For the creators out there, nothing comes close to a MacBook Pro. Our only recommendation is to choose a spec to match your workflow and needs.
The new M2 Chip is roughly 10-15% better than the M1 Chip. It's a good laptop for multipurpose use and it will last you a while. Keep in mind though, the Macbook Pro Series from Apple is targeted generally at power users. Those who intend to Edit in 4k or use it for more heavier processes would benefit more from this hardware.
Dell XPS 13 Plus (2022)
On the Windows side, we recommend the Dell XPS 13 Plus (2022) for your home office setup. This is an excellent choice with one of the best laptop screens on the market! It features some of the latest state-of-the-art hardware and a processor that is unmatched.
Lenovo ThinkPad E14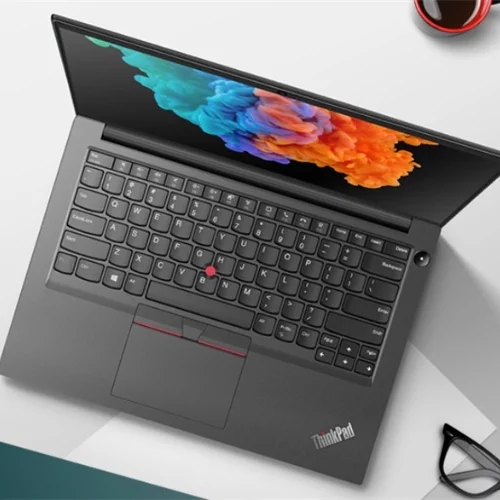 For those who are budget conscious, the Lenovo ThinkPad E14 offers the robustness and reliability of a ThinkPad, whilst keeping the price down. Again this can be configured to suit your needs and work requirements.
Desks
The desk is perhaps the most important part of any setup and it can have a huge impact on factors such as; clutter, aesthetics and ergonomics. It is so important that it is even in the name of our blog! Here are some recommendations:
If you're looking on amazon, we have an article detailing the top 5 standing desks that are available from Amazon. So take a look!
Ergo Station Standing Desk
A standing desk offers great versatility for your home office! AN electric standing desk can help you raise and lower the desk in seconds.
For a more standard desk for your home office setup, check out our IKEA Starter pack article where we provide tips on how to select and build your own desk on a budget! IKEA desks are quite standard a a lot of people use it because of how cheap and easy they are to put together, with a little bit of cable management, you can easily put together a desk that looks good and is easy to work on.
Autonomous Smart Desk Pro
We've talked a bit about the autonomous Smart desk in our review article which can be found here. It's a very interesting desk that serves the basic purpose of a standing desk. The quality is okay for the price, it's worth having a look into because it offers a lot of features usually not seen at this price point.
Chairs
No workstation is complete without a comfortable and supportive chair. Here are our recommendations:
Herman Miller Aeron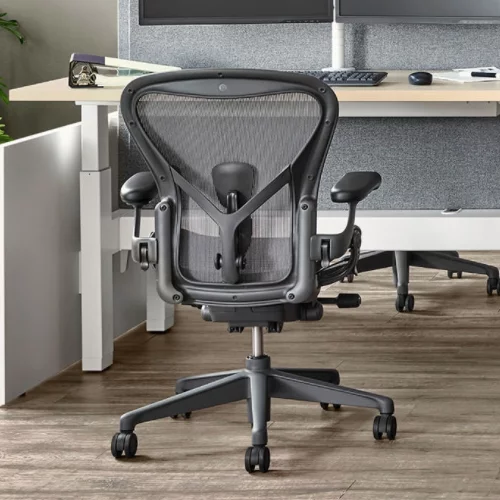 If you are looking for the ultimate in comfort and ergonomics, then look no further. The Herman Miller Aeron offers unlimited adjustability to suit your body type, just be cautious of the price tag!
AmazonBasics Mesh
The AmazonBasics Mesh offers all the benefits of a mesh chair, but without the hefty price tag! A great option for those on a budget.
Monitors
A monitor is one of those things that will dramatically improve your work experience at home, improving ergonomics and your workflow. Here are some recommendations:
SAMSUNG 49-inch Odyssey G9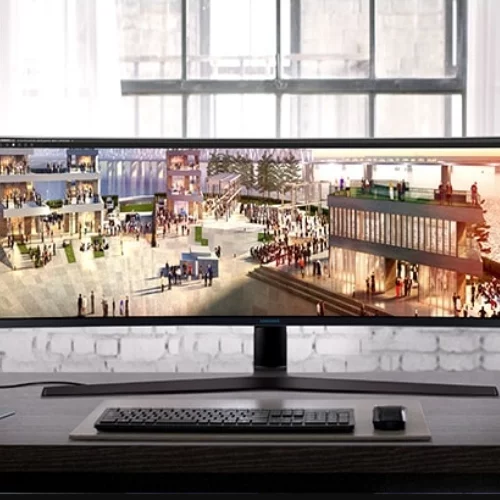 For the excel fiends and the content creators, an ultrawide monitor is the only way to go! Equivalent to 2x 27″ monitors, the SAMSUNG 49-inch Odyssey G9 will allow you to fit more on your screen and stay productive.
Xiaomi Mi 34″ Curved Gaming Monitor
The Xiaomi Mi 34″ Curved Monitor is a great alternative for those on a budget but still want the added benefits of an ultrawide monitor. Don't let the name fool you, although great for gaming, the monitor offers excellent colour accuracy and resolution for your home office needs.
LG 27MK600M-B 27
For those who do not have the space or the need for an ultrawide monitor, a standard 24″ or 27″ will still offer great benefits over using just your laptop screen.
Monitor Mounts/Desk Shelfs
Monitor mounts will help raise your monitor to eye level relieving neck and shoulder strain. As we mentioned above, if you're stuck choosing a monitor shelf, have a read of our in-depth article on desk shelves.
Trust us, your neck and shoulders will thank you! Here are some recommendations:
VIVO Single LCD Monitor Desk Mount Stand
VIVO Dual LCD Monitor Desk Mount
VIVO offers affordable monitor stands for both single and dual monitor setups. Just pick the one that suits your needs!
Grovemade Desk Shelf System
See Now: US
We have to mention Grovemade's desk shelf system because it is literally one of the most used desk setup items to improve comfort but also style your setup.
USB Hubs, Docks and Chargers
USB docks and hubs will help clear the clutter on your desk. Some even come with charging, so all you need is 1 cable to your laptop! Here are some recommendations: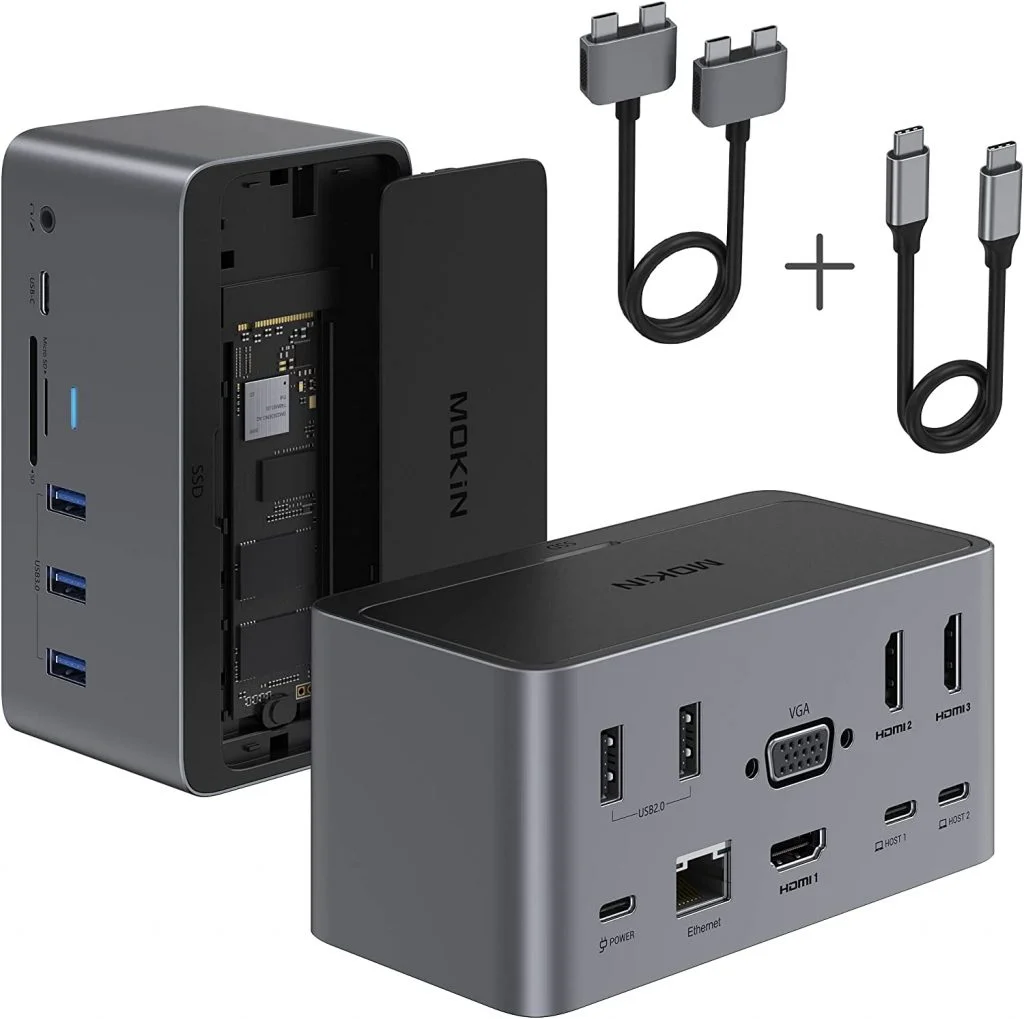 Keyboards and Mice
A keyboard and mouse set will help further improve your ergonomics and posture. Here are our top recommendations:
Logitech MX Keys and Logitech MX Master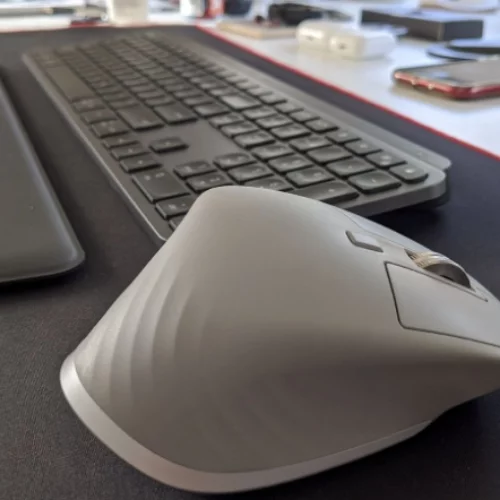 See Now MX Master 3S on Amazon
Whether you're a content creator or just want to improve your productivity, look no further than the highly regarded Logitech MX Keys and Logitech MX Master combo!
Logitech MK270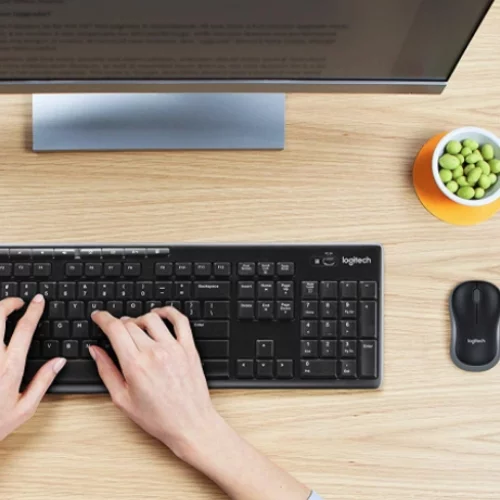 The Logitech MK270 is a great wireless affordable alternative for those on a budget, offering great battery life and conveniences such as dedicated media keys.
Webcams
Whether for online Zoom meetings or catching up with loved ones remotely, a webcam will go a long way in improving your video quality over the potato cams found on laptops. Here are some recommendations:
Logitech C920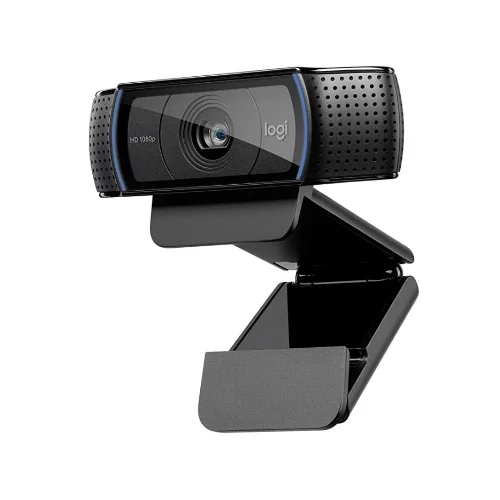 The Logitech C920 gets our top webcam recommendation for offering great image quality and great sound with a built in microphone.
Amcrest 1080P Webcam
For those looking for a more affordable alternative, look no further than the Amcrest 1080P Webcam. With a large sensor for superior low light performance, the Amcrest 1080P Webcam is a great way to improve the quality of your Zoom meetings.
A Few Final Tips
Setting clear boundaries for when you start and stop working can help you avoid overworking and going CRAZY! Get dressed in the morning so you can feel ready for work, make sure all distractions are turned off, and when you're done for the day, turn off the computer and disable work notifications.
Sitting all day is not good for your health. Get up and walk around the house every so often.
Finally, and most importantly, stay safe, wash your hands and wear your masks when leaving the house!
We hope you've enjoyed this article, and found some helpful tips for your home office setup . Stay tuned for more exciting content! If you've enjoyed this article please like, subscribe and join our mailing list to keep up to date.