I will be honest with you all, I was super excited to receive this monitor lamp after seeing the release on Banggoods. Wow, finally a monitor lamp that's designed for curved displays. However, after I got it and actually inspected it, my expectations were met quality-wise, but practicality-wise it still fell short. The cost was reasonable at the $99 AUD mark, for the premium quality it was worth it. You can also find the official specifications on the Blitzwolf.
I won't go into too much detail about why you would want a monitor lamp to begin with because that's been covered in other articles such as our article on how to perfect your desktop lighting.
First Impressions
As Always, you can't be disappointed to see a full aluminium body on the light bar itself, with a machined aluminium dial. It was extremely well made with a frosted top strip to allow for RGB back lighting.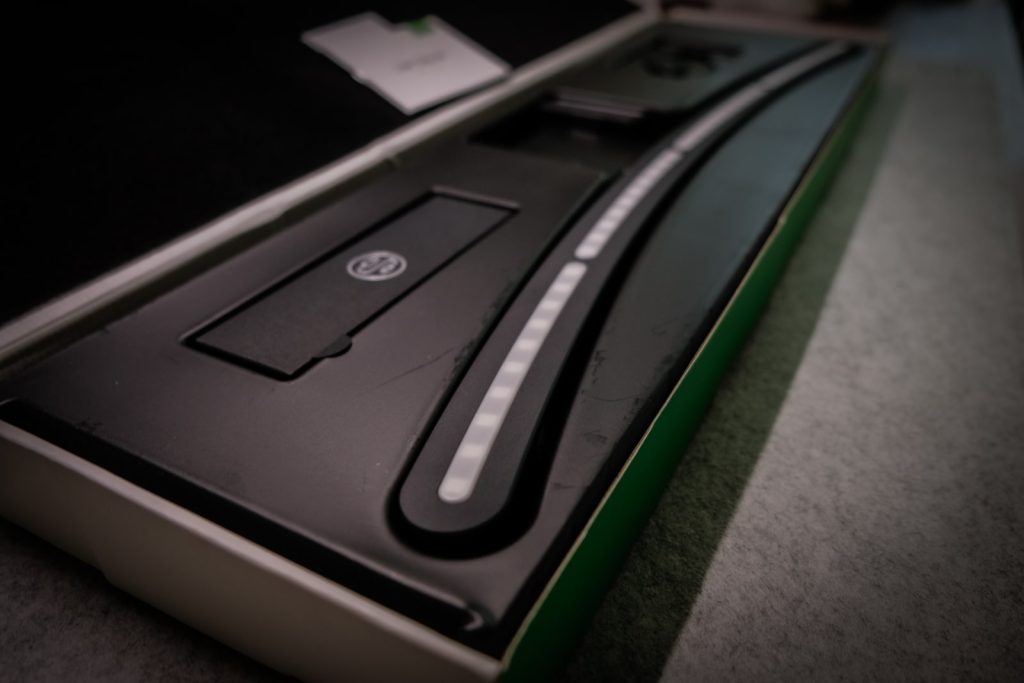 The biggest surprise was the size of the dial, it is much SMALLER compared to the Xiaomi Light Bar or Yeelight Monitor light bar.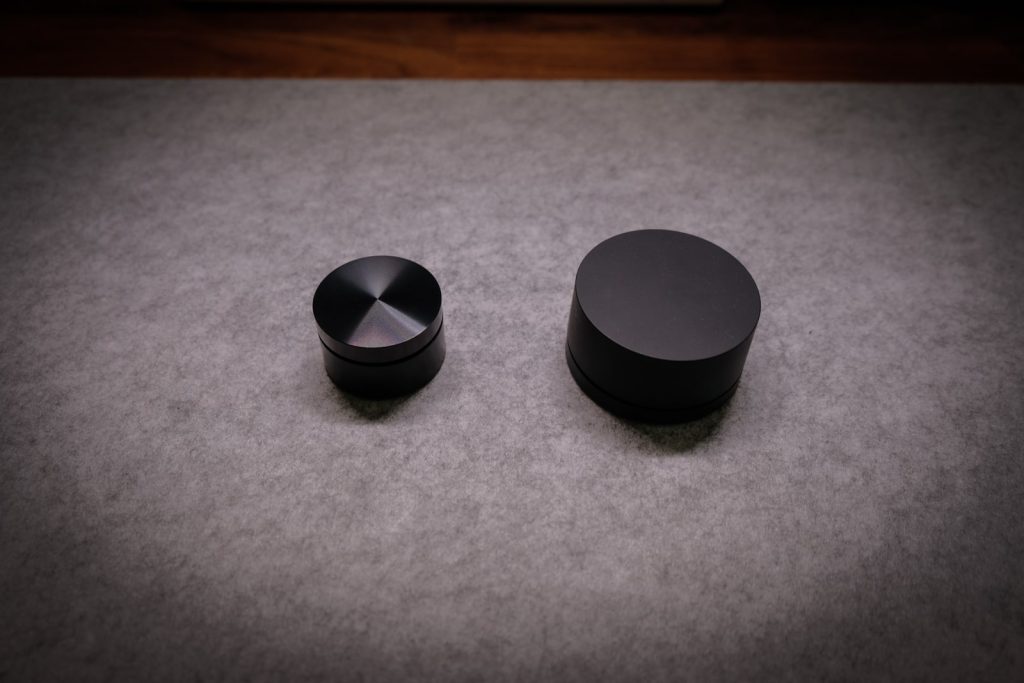 here is another shot of the controllers on it's side.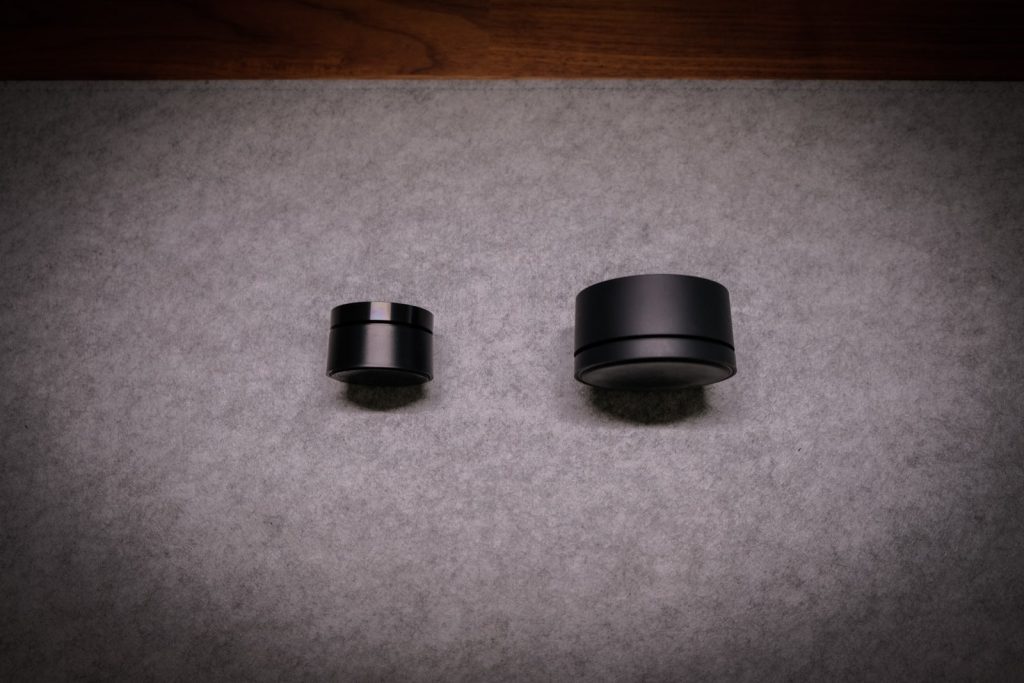 The light bar itself was way bigger than the traditional lightbars we've see thus far, it's about 10CM or 2.5inches bigger.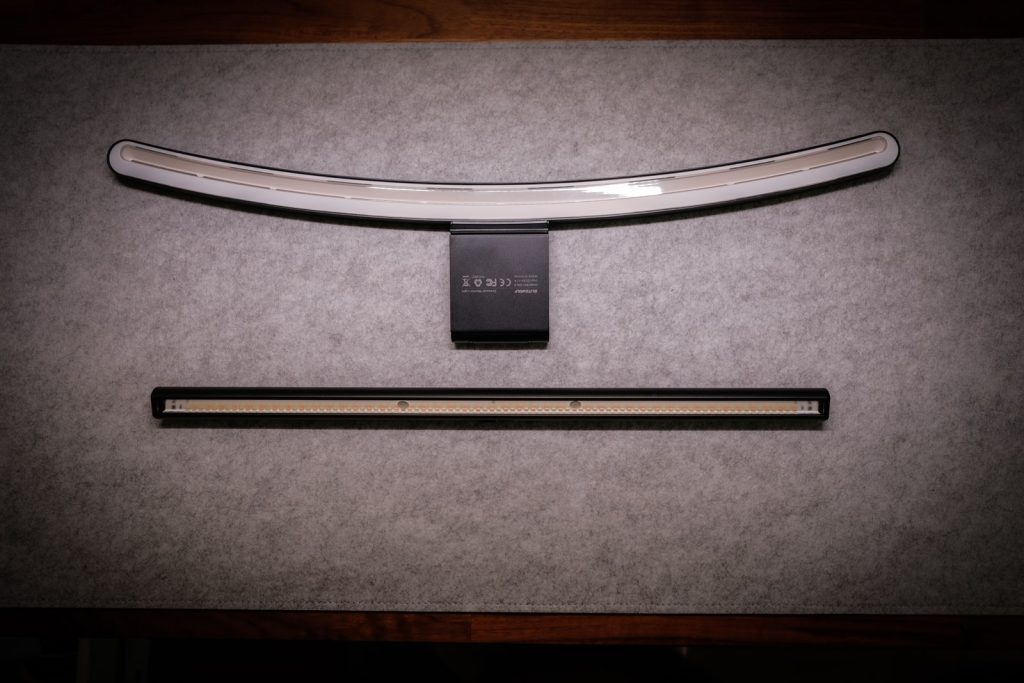 So what's actually included?
With this light bar, you get:
1 x Light bar with Mount that you can't take off
1 x Wireless controller
1 x USB Cable
1 x User Manual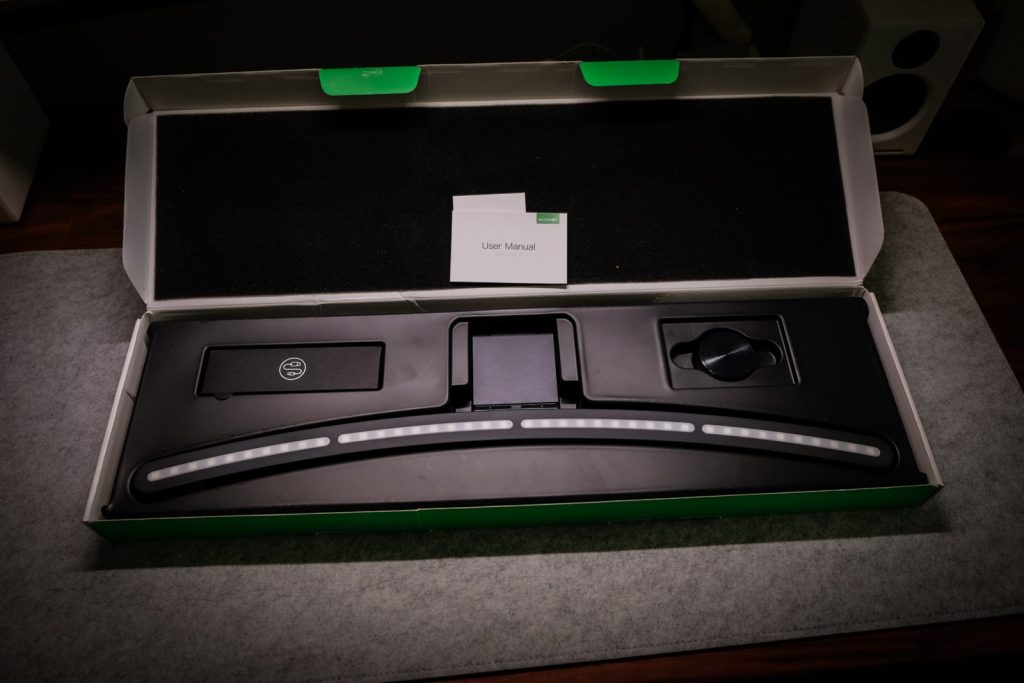 Bigger is not always Better.
One of the most interesting factors that I thought was that my desk was going to be more better lit with a bigger light bar. I was wrong. The Light bar still had a 5W input which meant that it would disperse light across a larger area but also dimmer as well because each LED light isn't using as much power. Keep in mind that that 5W is also going to power the back lighting as well.
overall, it was 50LUX lower than the Xiaomi Monitor Lamp or Benq monitor lamps, which is not terrible that it is noticeable. In addition, the colour temperature range is smaller than the other monitor lamps as well.
Oddly designed mounting mechanism.
So the monitor light itself is joined onto the mount, that's fine, but the mounting system is very odd and not very practical. I originally thought it was a counterweight system so I tried balancing it. See image below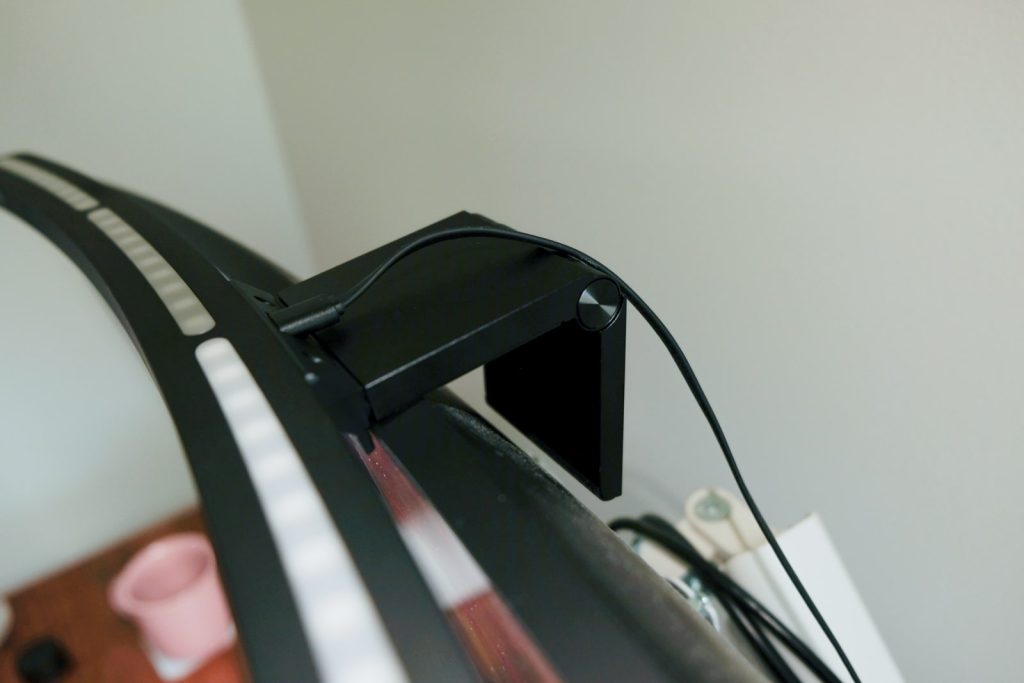 But damn, it turned out that the design was for a specific ridge that curved displays are supposed to have. See the image below taken from their instruction manual.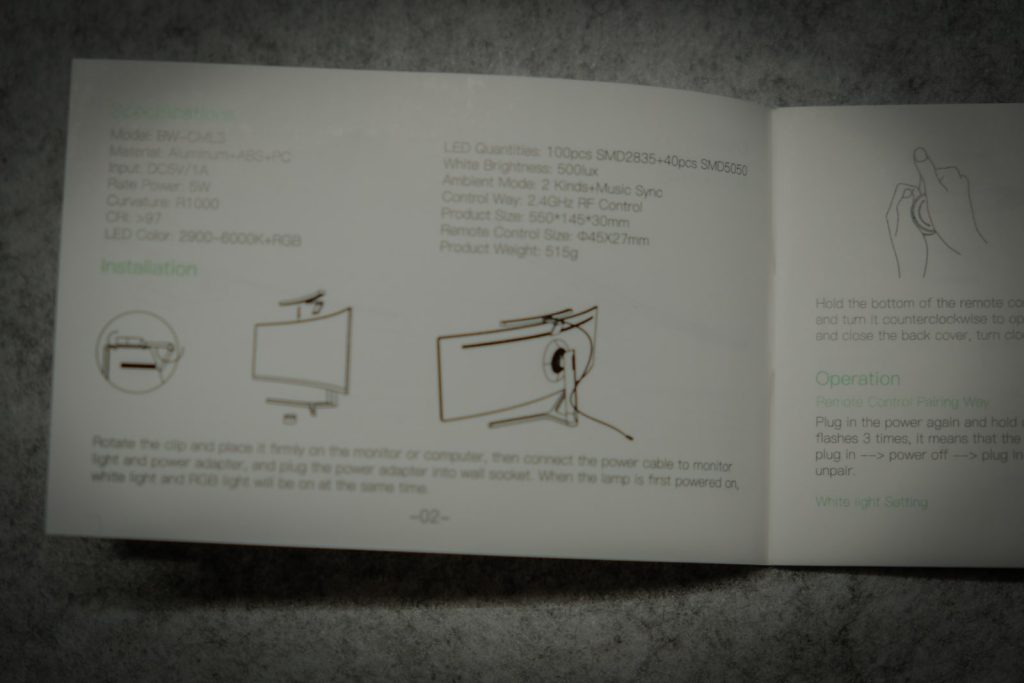 So this makes it very hard for people without this specific monitor to point the light onto it. This is slightly disappointing and I would have loved it if they use used a normal counterweight design instead of using this odd clip design.
The RGB backlighting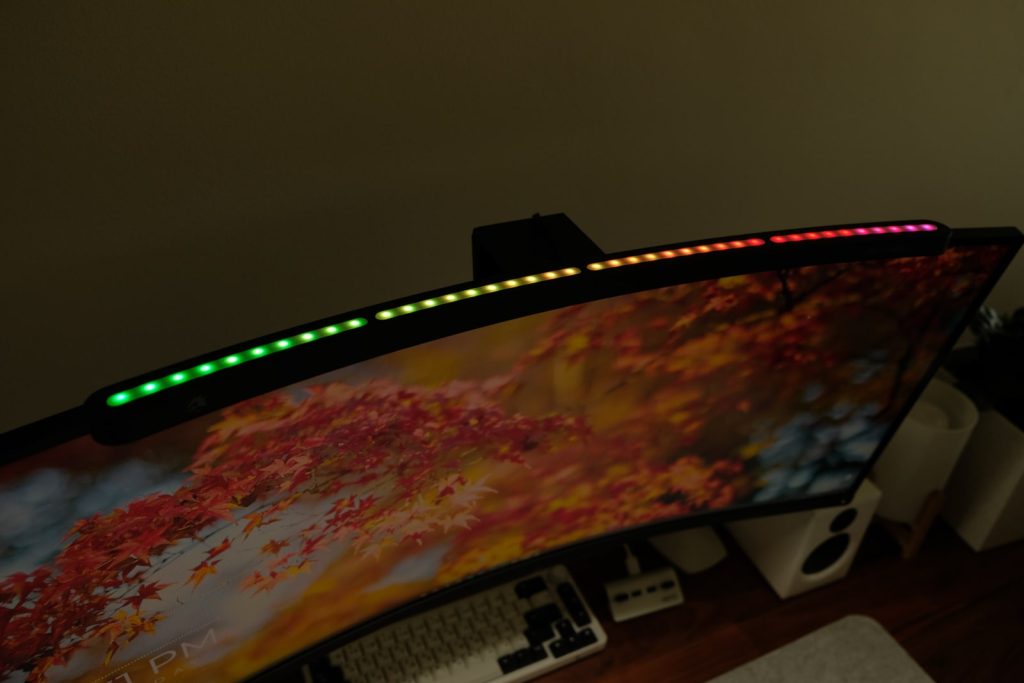 The RGB component was surprisingly well done, if your room is in complete darkness it will add some RGB tints to the wall. Due to the power splitting I mentioned above, it is still relatively dim. There are a bunch of different lighting modes with RGB, but I couldn't figure out how to customise the colour that I want and could only use the set lighting modes cycles by toggling it using the controller.
The quality of the light
As mentioned above, it's certainly not as bright as its competitors, but it affects a bigger portion of the table.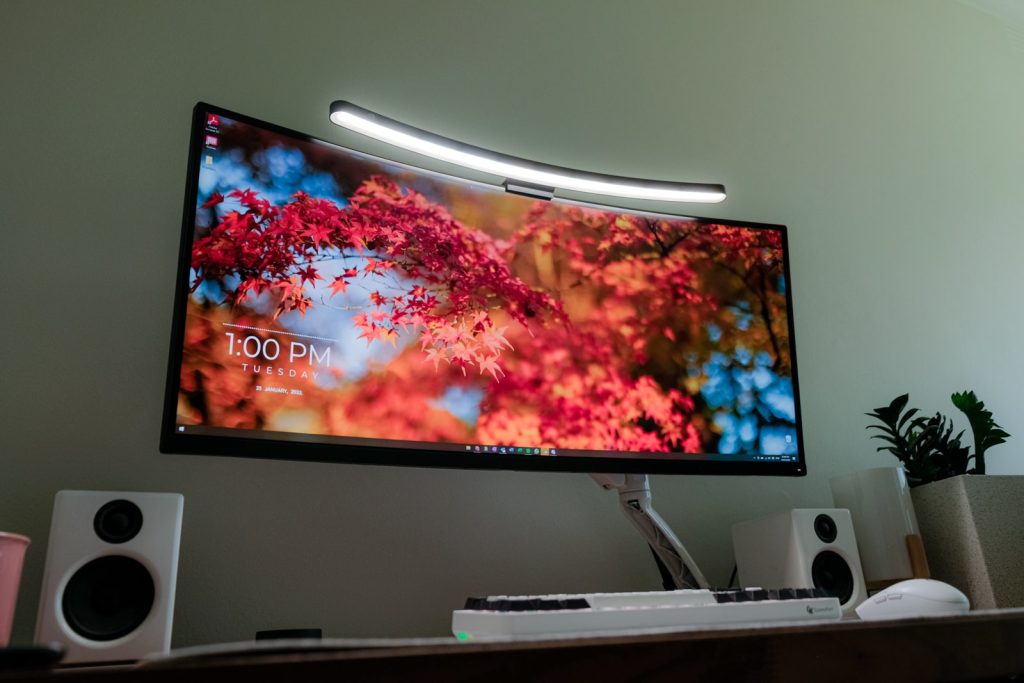 The light itself is projected out at a 45-degree angle to ensure that the desk is lit up and not the monitor, however because of the plastic seal that is used, a portion of that light is still diffused onto the top edge of the monitor. Not a huge issue, but it still happens. The colour temperature performs as expected.
Some extra instructions for the dial
For those who've used monitor lamps with wireless dials before, you probably don't need to worry about this. But the Blitzwolf dial comes with a few extra controls.
| | |
| --- | --- |
| Turning it On | Press Down and Let go |
| Changing Brightness | Rotate Dial Clockwise to increase Brightness |
| Changing Colour Temperature | Press Down and Rotate Dial Clockwise to get Cooler |
| Turning it Off | Press Down and Let go – when the light is on. |
| Turn On/Off RGBs | Long Press Down |
| Toggle Different RGB Modes | Press Down Twice |
Actions and Results of the Blitzwolf curved Monitor Lamp Dial
Closing Remarks
It's a very interesting light. I love the form factor and I love the quality of the materials. The lighting ability itself is a bit lacking. Some of the improvements could include using a wall powered solution, which will allow the device to get more power to each lighting element. I know that might not be feasible because you would need it certified in each country, but in its current form, the functionality is not as good as the market leaders such as Xiaomi, Yeelight and BenQ.