To optimise your workspace usage, it's important to consider using the vertical space available by adding a desk shelf or wall shelf. Let's take a look at some examples. The first example we have today is from @harrisonap, he's got a clean desk shelf that isn't really common. Let's take a look at what he's using in his setup.
If you need extra help with your home office setup check out our guide which details how to improve the entire home office using several key tips.
Why do we use the vertical space in a desk setup?
To utilise the space on your table more efficiently, the vertical spaces can potentially store more things such as laptop docks, laptops, pens, folders or anything else you need on your table but stored away. Not everyone will have a 6ft or 1.8m table at home. So I am sure some of you would appreciate having a desk shelf for your table.
5 Main benefits of a desk shelf
Gives you extra space to hide away laptop docks and monitor cables
Adds extra flare to your desk setup if you're able to match the table top with the desk shelf
Act as a concealer for all the cables coming from your keyboard's and mouse
Adds dimension in verticality to your desk setup
Improves the ergonomics of your setup as it keeps your monitor at a better height – although this benefit is negligible if you are using a monitor arm. We have an in-depth article on home office ergonomics if you're interested in finding out more.
What are some of the common desk shelves available in the market?
There are several monitor stands or desk shelves that been popularised over the internet through heavy influencer promotions. The grove mode desk setup is pretty much featured in every setup that we saw last year. The top 3 desk shelfs on the market at the moment are:
Grovemade Desk Shelf
Oaky Wood Desk Shelf
Samdi Desk Shelf
We go into a bit of detail below on what we think about each of the desk shelves.
1 Grovemade Desk Shelf @ 220 USD
We literally cannot get away from talking about this without mentioning Grovemade. The grovemade desk shelf is the original desk shelf that almost every Instagram desk setup account featured at the very start. Check out the setup below that features it.
Link to Grovemade's Desk Shelf
The cost of this desk shelf $220 USD which is a bit costly but it's made from high-quality timber along with refined cork for the legs.
Our thoughts: Whilst the design is immaculate as well as the practicality, we're just not sure that the price is worth it depending on your budget. The main advantages of a desk shelf are actually just the added storage or if you decided to go with an IKEA linnmon table and you're not able to use a table mount for monitors then using a desk shelf will solve the lack of elevation of your monitor. However – 220 USD is steep because you can get a pretty decent monitor arm for the same cost. Whether you think it adds to the visual flare of your setup that in itself is a subjective consideration. Overall, if your budget is huge, we would consider it as a top option.
2 Oakywood Desk Shelf @ 199 USD
The Oakywood Desk Shelf has been a more recent entry into the desk shelf market. It features a more simplistic design without the actual internal shelves with the desk shelf. It is also built from Solid walnut or oakwood depending on what setup you have a features simple steel legs with cork on the bottom side to ensure your table does not get scratched.
In addition, they also sell the monitor docks and valet trays to match the aesthetics of the desk shelf.
Our thoughts: Though it is newer to the market, we haven't really heard anything bad about it. It does it's job – the main advantage of this shelf is the ample range of walnut accessories that you're able to buy with it through Oakywoods. In terms of the lack of storage compared to the Grovemade desk shelf, we think that can be fixed by finding valet trays or tiered storage containers made from Walnut.
3 SAMDI Large Dual Monitor Stand @ 99 USD
This one is a bit more unknown mainly because it's from Asia. Samdi's desk shelf uses polished black walnut timber as the core of the desk shelf. It's pretty heavy but definitely offer's the sturdiness you need to support two monitors.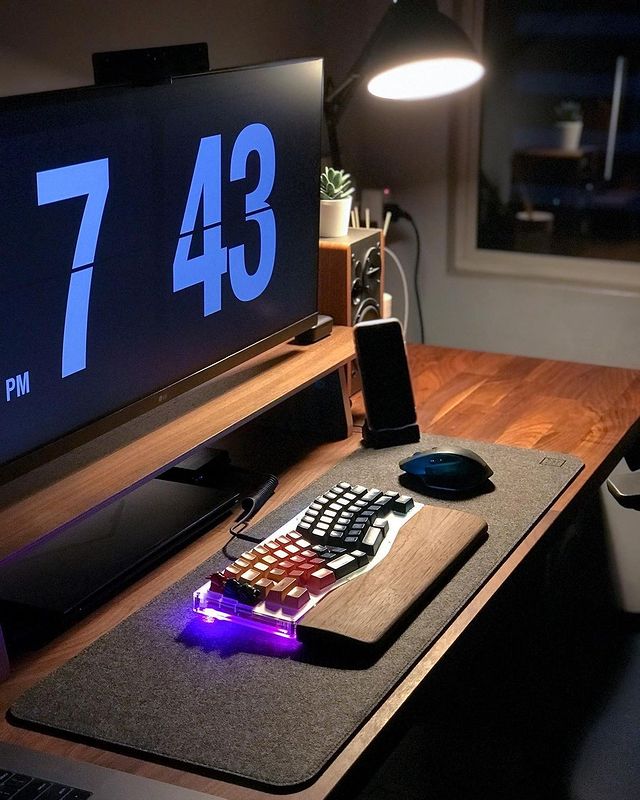 The design is simple but it looks amazing for what you need it for – especially if you're using the IKEA karlby. If you need ideas on how to use IKEA furniture for your home office setup, we also have an IKEA guide that goes through using items such as the IKEA Alex and IKEA Karlby to build the most basic IKEA Setup for around 170 USD.
Conclusion
I hope through this guide, you've gained some insight on how to improve your home office desk setup with desk shelves. If you have any questions, feel free to contact us over our instagram.
We will be updating this article with more tips as we collect more information about other desk shelves in the market. If you have any experience with any new ones – please let us know!