Building Your Ultimate Minimal Desk Setup
Welcome to Minimal Desk Setup's first Feature Article. In this article, we'll go through our top 8 tips to kickstart your journey towards a minimal desk setup. What is a minimal desk setup you might ask? For us, it is a desk that is clean, aesthetically pleasing and most importantly, a desk that you want to sit down at and enjoy. Whether for work or for play, a cluttered desk setup will make for a cluttered mind. Not only will having an organized desk look more appealing, but it will also motivate you to get more done. Let's get started!
keep in mind, if you ever inspiration feel free to visit our gallery!
1. Clear the Clutter
Our first tip is to clear the clutter on your desk. Items that are used every day can go on the desk. Put frequently-used items, like your smartphone home office or gaming supplies, within an arms reach. Less frequently used items can go in a drawer, underneath or to the side of your desk. The use of pegboards and desk organizers, such as shelving is another good way of sorting out frequently used items from ones that are not.
Here are some of our top recommendations:
2. Improve Lighting
Using lighting can help brighten things up! The quality of lighting can not only help increase the aesthetics of your desk setup but also your productivity. Poor lighting can reduce energy and may even affect your health, causing eyestrain and headaches, and ultimately impair your ability to work or game.
Our top tip is to allow for as much natural light as possible, whether via windows or a skylight, as warm natural sunlight will help improve any desk setup. You may need to account for glare during certain times of the day, however with the use of blinds or curtains.
In situations where natural lighting isn't enough. a well-defined light source will go a long way. An adjustable or articulating desk lamp can brighten up exactly where you need it and support a variety of tasks. The use of a screen bar lamp can also aid with lighting up your desk whilst reducing glare from your monitor.
Finally, ambient lighting and accent lighting can be added to help improve the visual character of any desk setup. Whether it's a fully-fledged RGB controlled system for your battlestation or some simple warm ambient lighting for your workstation.
Here are some of our top recommendations:
3. Desk Selection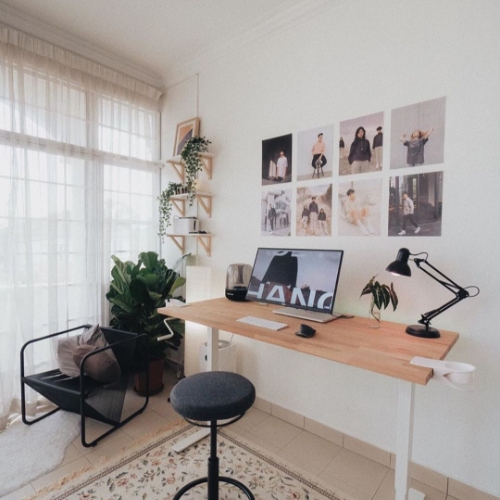 Our next tip is to select the appropriate furniture. The desk is perhaps the most important part of any setup as it can have a huge impact on factors such as; clutter, aesthetics and ergonomics. It is so important that it is even in the name of our blog! Consider the following when selecting an appropriate desk:
Select a desk according to how it will be used. Consider a desk with drawers if extra storage is needed, but for an extra minimal setup, consider a desk with trestle or steel legs.
Consider the dimensions of the desk. Allow for a minimum depth of 60cm (2 ft) to allow for monitors and accessories. When considering desks in a small room, be sure to allow for space for chair movement.
Consider the build quality and aesthetics. Desks made from solid timber and hardwood will provide exceptional durability and longevity and will provide a unique look, as no two wood grain patterns will be the same. If wood grain isn't your thing, gloss white/black/brown desks are also available for that minimal and clean look.
If you're running low on budget, we put together a collection of typical desk setups that are available through the ever-so cost-effective IKEA. Check out our IKEA starter pack article which should give you some idea on how to start with a small budget setup and upgrading each component as your needs grow over time. In this article, we detail that the most cost-effective setup is the IKEA Linnmon with Adil Legs. However, the best setup with adequate storage space is the IKEA Karlby with 2 Alexs as the Tabletop stands. We go into detail about the costs and how it can improve your productivity in that article.
Here are some of our top recommendations:
4. Consider Ergonomics
Tip number 4 is to consider desk setup ergonomics. Consider the following factors when selecting and setting up your desk:
Monitor Height: Using as adjustable monitor arm can help o reduce neck and shoulder strain. Look for a monitor arm with height, swivel and tilt adjust to dial in your exact settings.
Ergonomic Chair: Many adverse health concerns may arise when sitting for extended periods of time. Whether choosing a life partner or an office chair, it's important to know what to look for. Consider factors such as adjustability, support and comfort when choosing a chair. It also never hurts to try before you buy.
Keyboard and mouse: Typing or gaming for a long period at a time may cause discomfort in the wrist, arms and shoulders. Selecting the appropriate ergonomic keyboards and mice may help alleviate much of this discomfort, especially during prolonged work or gaming sessions.
Here are some of our top recommendations:
5. Equipment Selection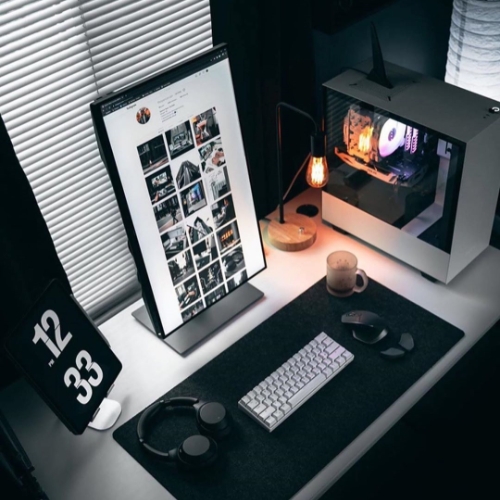 Equipment selection is the next tip on our list for your journey towards a minimal desk setup. Selecting the correct equipment and peripherals will go a long way in not only improving your productivity but the look and feel of your setup as well.
Wireless peripherals: The use of wireless peripherals such as keyboards, mice and headsets will go a long way in helping you maintain a clean and minimal desk.
Monitors: Without the right display, everything you do on your PC will seem lacklustre, whether it's gaming, watching videos on yYouTube or even just reading and editing a text document. The first step is to determine your monitor's main purpose; everyday use, gaming, professional use. Generally, gamers should prioritise faster refresh rates and low response times, professionals should prioritize colour accuracy and general use users will have less specific needs.
Hubs and Docks: If working from a laptop, a laptop dock or hub can help further in keeping your desk setup clean and tidy.
We know selecting a good keyboard can be a hard task with the vast options available. Hence, we put together a comprehensive Mechanical Keyboard guide that will help you weigh up the different switches, layouts and options. Overall, we recommend a 60-65% wireless mechanical keyboard to help achieve a minimal look with adequate functionality for your day-to-day tasks.
Here are some of our top recommendations:
6. Cable Management
Cable clutter is the bane of the minimal desk setup! Sure, using wireless devices as much as possible will help, but there will always be plenty of cable snaking around. Here are some tips to organise those cables once and for all.
Using cable management items such as cable ties and Velcro strips is a great way to bundle and route cables together making for a cleaner appearance.
Using cable management trays such as the IKEA Signum is a great way to get that rats nest of cables off the ground and hidden away. Cable management boxes are another great way to hide those nasty power strips and to give your set up a cleaner look.
Here are some of our top recommendations:
7. Cleaning and maintenance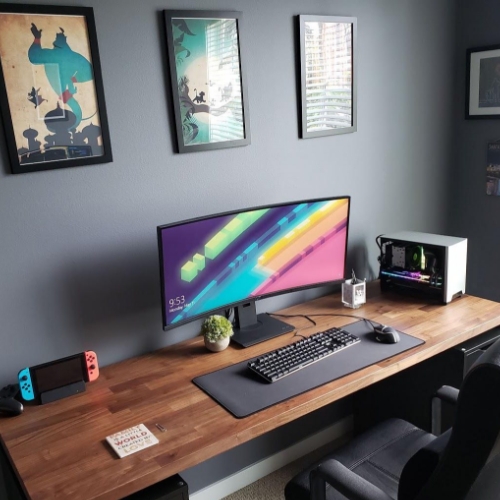 Once you have your dream desk setup complete, tip number 7 is to keep it clean. This will ensure that your setup remains clean and minimal for years to come. Here are our top tips for cleaning and maintaining your setup:
Assess your setup at the end of each day, and put away less frequently used items. You'll be surprised how quickly items can pile up!
Clean larger areas such as your desk frequently. Wiping down your desk with a damp cloth is a great way to remove dust and debris.
Clean frequently touched items regularly, such as keyboards and mice. Wet wipes are a great and simple method for this. A small brush is also handy for cleaning those hard to reach areas, such as in between keyboard keys.
Here are some of our top recommendations:
8. Make the space yours!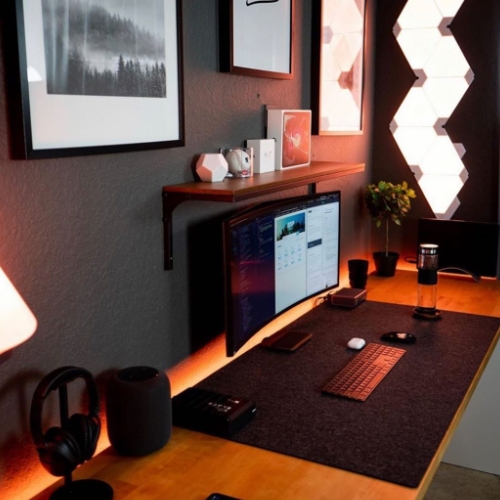 Finally, but most importantly, our final tip is to make the desk yours! At the end of the day, this should be a place you want to sit down and be at, Whether it is for work or for play. Decorate and personalise your space to inspire you to create, game faster and harder to work more productively.
Here are our 3 P,s to make your desk setup yours:
Plants: Plants are a great way to liven a room up. For those who don't mind a little bit of maintenance consider live indoor plants, but for those who tend to forget, artificial plants is the way to go.
Pictures: Pictures of loved ones, pets and past memories is a great way to personalise your desk setup. Whether on sitting on your desk or hung on the wall, pictures will definitely go a long way in creating a homey feel.
Paintings: Paintings and artwork from your favourite artist, prints of your favourite video game or artwork that you've created yourself will help complete your setup and give it that final touch of artistic flair.
We hope you've enjoyed this article, and found some helpful tips for your minimal desk setup. Stay tuned for a more in-depth article and exploration into each section. If you enjoy this type of content please like, subscribe and join our mailing list to keep up to date.