Welcome to another post, this is the first of many standing desk reviews we are planning on. With more and more workplaces transitioning to a flexible working arrangement, the home office has become an integral part in nearly all of our lives. We are all spending longer and longer at our desks, whether at home or in the office. That is why it is crucial to pick a desk that is not only functional but also comfortable for prolonged periods.
The Autonomous AI SmartDesk Pro is one such desk. It comes packed with features like cable management ports, dual motorised legs and generous spacing packed all in a compact package. It may be a little more expensive than conventional desk we are all used to, but it won't break your wallet and your back.
First impressions
Its big. But compact. That was the first thought that crossed our minds when we received the package. It came in 2 separate packages, one for the table top and another one for the frame and legs. Both packages were nice and heavy, which is a good sign for things to come as this often equates to sturdiness and stability. This is particularly important for standing desks, as a common issue once the table is at height, is the desk becomes unstable due to the lack of support. With the weight that we felt, it looked promising that this would be less of an issue with the Autonomous AI SmartDesk Pro.
Assembly process
Unpacking the items and laying it all out, there's really not a lot that goes into the Autonomous AI Standing Desk. Breaking it down:
1 x Table top,
2 x Legs,
2 x Motors,
1 x Frame,
Miscellaneous bolts, screws and accessories.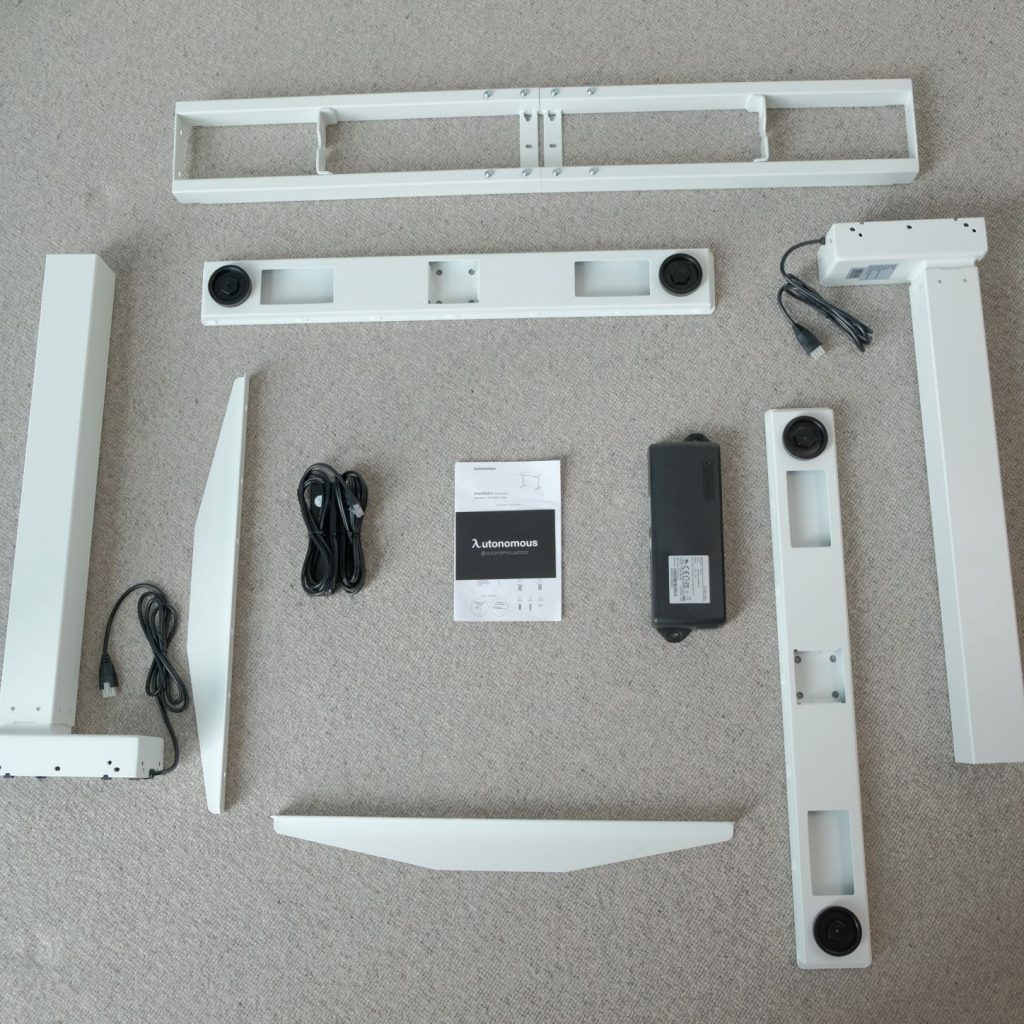 The assembly process is as simple as bolting all the parts together and then connect the cables and power. Once done, flip the desk over and you are good to go. We didn't find anything too out of the ordinary with the assembly. As long as you follow the instructions, you will not encounter any issues. We did find the instructions a bit difficult to follow at times and perhaps having a few instructional words would have made the process a bit clearer. However, a little bit of patience and matching the actual items to the pictures will still result in an assembled desk. Having a few power tools like a drill will help speed up the process though, you'll thank us for it.
The build quality?
After assembly and populating the table with our essentials, we can say that it certainly felt sturdy! It was solid enough that there was little wobble (at the low height). The material of the tabletop is made from a durable coating and is sturdy enough for a home office setup. The white finish was clean and there was no noticeable blemishes to the surface. We wouldn't hesitate to say that it is a nicely finished and designed product. Autonomous AI offer a large variety of customizability to suit any home setup.
Size enough for 2 monitors!
How big is it? We're sure that is a burning question that you all have right now. Well, we can confidently say that there is enough space to accommodate 2 monitors. With a monitor arm, we comfortably fit his 2 monitors with still plenty of on either side of them. If you want some tips on how to set up your desk setup, check out our ultimate guide here!
We have said it before but there are only benefits when it comes to mounting your monitors onto monitor arms. It not only elevates the monitor off the desk but also clears up your desk space for your accessories and peripherals. I mean who doesn't like a good pot plant for their setup? In addition, having your monitor on an arm allows for finer control of monitor position and viewing angle to reduce body and neck fatigue and strain when working.
The desk comes in at 29″ x 53″ (74cm x 135cm), which is both longer and wider than most standard table tops out in the market. For those that want a larger size, the SmartDesk Pro also comes in a larger size at 30″ x 70.5″ (76cm x 180cm). For most people, as long as you are efficient with your space usage, we believe that you will find there is more than enough room with this setup. For those of us with the flexible working arrangements, we will most likely be going with a laptop based configuration. There is certainly more than enough room to fit a laptop and monitor comfortably, and still have room for a keyboard, mouse and some writing space if required. In terms of space requirements, we found the Autonomous AI SmartDesk Pro comfortably met these requirements.
Standing or Seating? Why not both?
As you have all guessed by now, the Autonomous AI SmartDesk Pro is both a seating and standing desk. For the times that you want to be seated, leave the desk in its lower position and pull up a chair. Then when you feel like you want to be on the move, either manually control the height or use (your own) pre-saved height, to bring it up and continue working while you get the blood flowing.
One of the main advantages of standing desks is the fine height control that you get regardless if you are seated or standing. A common issue that a lot of us have is that the desk is a fixed height and then our chairs only go up or down to a certain height. This means that its hard to find the right combination of table and chair to get the perfect level of comfort. The SmartDesk Pro allows you to control the lower table height to complement the height of your chair so that you will always be in the perfect comfortable position. Then when you are ready to stand, you can raise it all the way up to a level where everything is still ergonomic just upright.
Height adjustment of the SmartDesk Pro can be controlled by about half an inch increments. The dual motors handles the height adjustment very smoothly, but we did experience some issues when stopping. Whilst there is a soft stop when descending, there is no soft stop while ascending, this caused the table top to stop quite abruptly when it reaches your desired height. This is not a major issue but it does highlight the inherent stability of standing desks at height. There is a noticeable movement to the desk if sufficient force is applied. But once more for a normal user this will be negligible to the experience and use, but still a factor to take into consideration if you will be spending prolonged periods standing.
Extra features
The Autonomous AI SmartDesk Pro does its intended job as a standing/sitting desk without any issues. But what's nice about the desk is the added that features that come as part of the package.
Stainless steel construction

While standing desks are inherently unstable at height, the strong stainless steel material gave us confidence that at least when it was at height it would still be able to support itself and the contents on top.

Dual motors

Dual motors is a nice addition to the design of this desk as it allows for greater load capacity and faster adjustment speeds

Cable routing channels

A very nice but not necessary addition. This meant that we could neatly and conveniently route our cables to the side and underneath to the power points without making things look messy.
Final Thoughts
We have found the Autonomous AI SmartDesk Pro performs strongly for its intended purpose as a seating and standing desk. There is generous space on the desk and we had no issues fitting all of our items on top. It was critical for us to be able to support a dual monitor arm and we can confidently say it passed that test with flying colours. While we did highlight the stability issues that it has while working at height, we think that they are negligible to the overall experience for a general work from home user. It is a solidly built product, has plenty of extra features to help keep your setup clean and its simple enough to suit that minimal desk setup look we are always chasing here.