[Updated 2nd August 2022] To get straight to the point – you can find our desk pad at the following link. (Desk Pad by MDS) It is a minimalist wool felt desk pad that is designed specifically for those who care about their desk setups. If you need some help with making it work with your desk setup, I highly recommend you have a read of your ultimate minimal desk setup guide.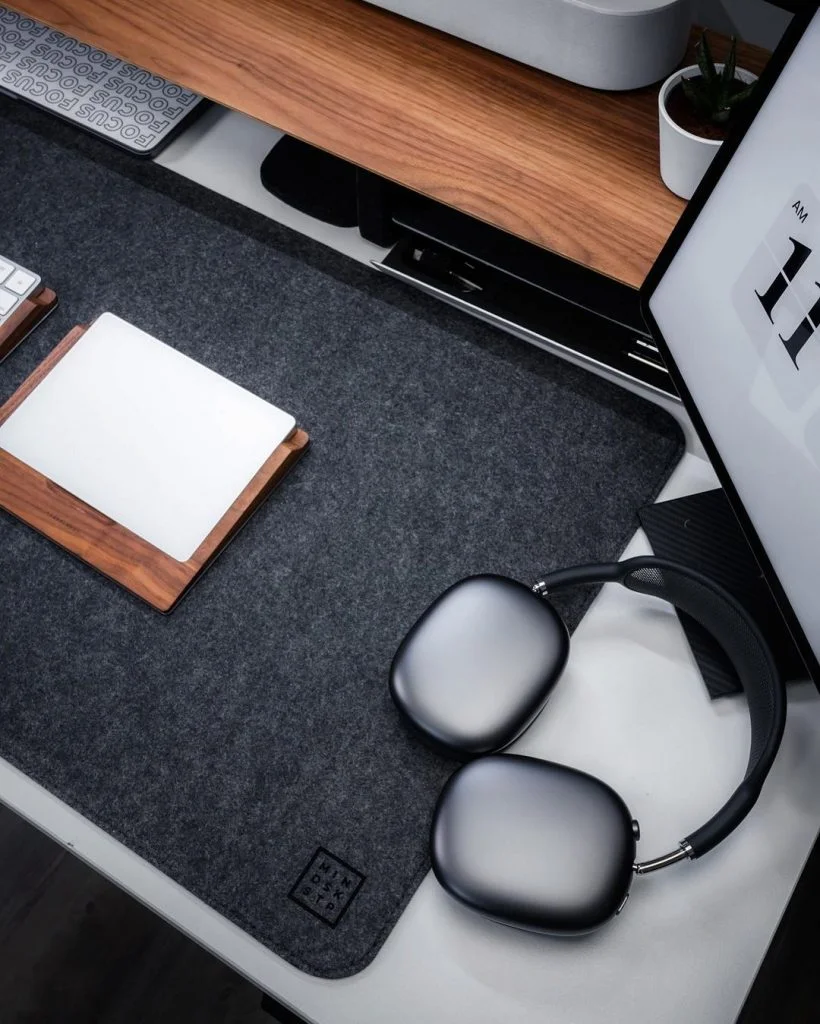 Designing our desk pad was definitely a drawn-out process because we wanted to perfect and optimise a lot of elements within the Desk Pad. A lot of you probably thought it was an exaggeration when we said that a couple of hundreds of hours went into the design. Despite it looking like an average desk pad that you can find on the market, there is a lot that is different. A lot of it is hidden in the functional improvements we made when compared to our competitors' desk pads. In this guide, we go through some of the key elements that were considered and why we chose this iteration to be our first version of the Desk Pad. Key elements that were considered for the Desk Pad was as follows:
Function
Material
Size
Packaging
Below we go through how these considerations converted into our final design.
What Functionality do we want on a Desk Pad?
The function of the desk pad was a point of paramount significance. We wanted something that would not only improve the look of the desk setup, as we value the aesthetics a lot, but also serve a practical purpose for you.
It needed to protect the surface of your table. Particularly in areas where your keyboard would rub against the table, causing wear and tear.
It needed to not slip during your daily usage.
It needed to have a good level of water resistance, in the instance you spill your drink on the desk pad and it needed to be cleaned.

We found a lot of our competitor's desk mats were absorbent in nature, due to the material used, and this basically meant that it was hard to clean when an accident occurred.

It needed to add warmth and cushion to the desk – a soft feeling when the forearm or wrist rests on it.
It needed to be durable to survive everyday office use.
How did we achieve these functions?
To be more durable and protect your surface
In order to protect the surface and create a product that was longer-lasting. We opt for a wool felt blend that was more durable the trade-off being that it was a slightly rougher feel than other available desk mats on the market. In addition, we made sure the sizing was enough to cover the main working zone of your table. More details on sizing is explained below.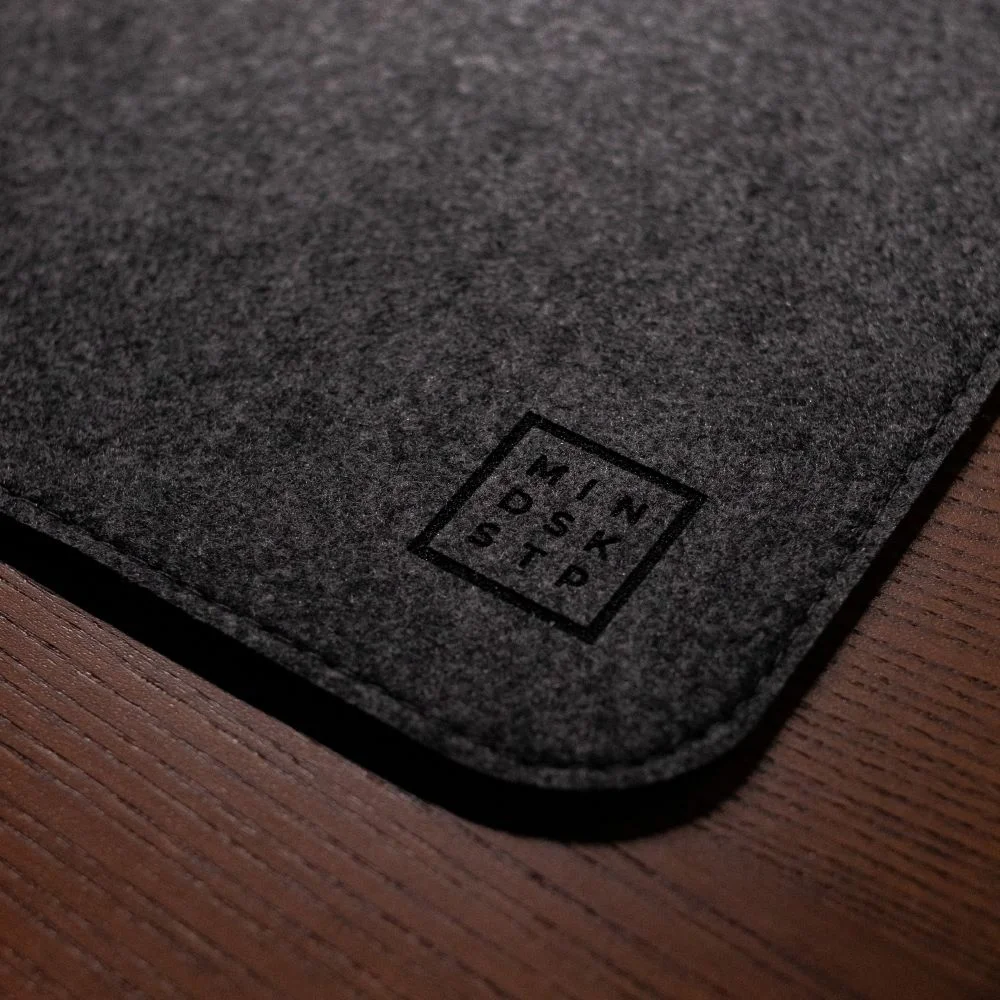 To not slip
In order to make sure the desk pad, we added a tremendous number of rubber-micro feets to ensure that the desk mat has enough grip and direct integration with the table top. We can guarantee that this desk mat will not slip.
To have Adequate water resistance
We talk about this a bit below in terms of how the material achieves water resistance. As you compact wool felt and make the material denser, the chances of immediate water absorption decreases. It's not that it won't happen but it gives you a window to clean the water or liquid off before it gets absorbed.
What about the material of the Desk pad or Desk Mat?
When we started experimenting with different felt materials, certain things became very clear, very quickly. As you increase the softness by using thinner wool, you end up losing durability because of the material properties associated with thinner wool. When we say thinner wool, we mean merino wool or even cashmere. The reason why they are so soft is that those wool fibres are finer. Normal wool strands average about 40 micros whilst merino wool strands are in the 20-25 micron range. Due to this alone, merino wool is a much more sought after material because it's softer, provides better insulation and waterproofing ability. However, you sacrifice durability and affordability. There are methods that other manufacturers use to strengthen the wool by increasing the density of the thinner wool which may help with durability but significantly increases the cost of the Desk Pad.
During daily usage, your shirt sleeves and mouse rub away at the wool surface, and the finer nature of merino wool will wear away at a much faster rate. We selected the wool from Australian sheep mixed with synthetics to improve durability against abrasion from mouse and shirt rubbing. The ratio of the blend was optimised, to ensure a good level of water resistance. We also wanted the feel of the pad to be soft and give off a cosy feeling.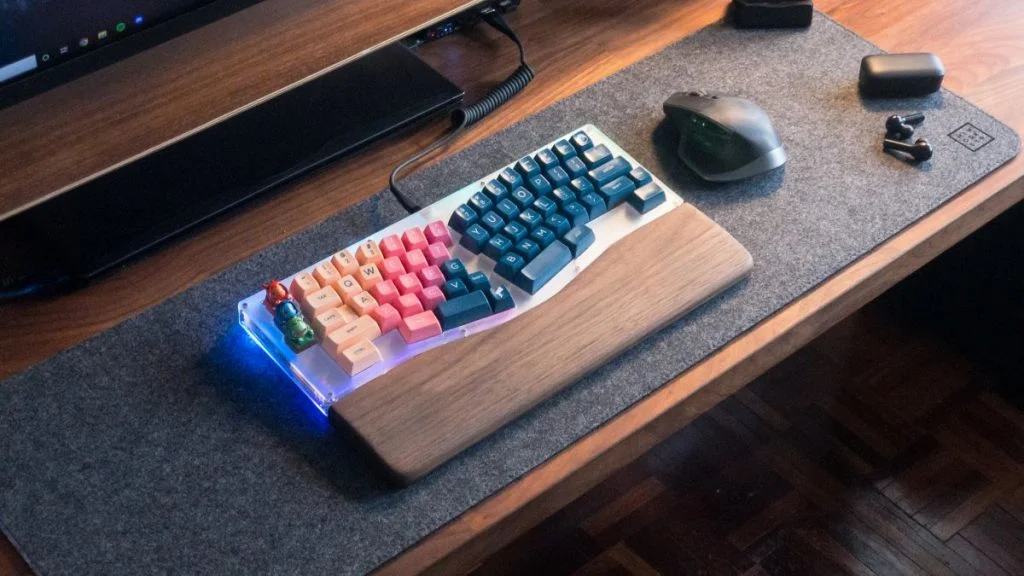 What about the size of the Desk Pad?
We had to look at a wide variety of tabletops, in order to decide on the size. We chose our medium sized offering to be 30 cm depth-wise and 90 cm width-wise, for some very critical reasons. Firstly, having 30cm of depth would allow people to use it quite comfortably on the IKEA Karbly; one of the most used tabletops in the world of desk setups. Secondly, having 90cm of width will allow everyone to have enough space for their full-sized keyboard and at least 30cm remaining for the mouse area.
For daily use, we believe that that much space would be enough. We were mindful of not adding too much depth to the Desk Pad because it would make the table look cramped, particularly if anyone had speakers on their table. However, if you did have a deeper desk, then we designed a large version with 40cm of depth. This should give those people more coverage but still space for their peripherals. The small sizing is targeted towards anyone with a compact desk setup or a small table (often measuring 1.2 metres long). This is very common in Asia, where the room sizes themselves aren't that big. So we wanted to give everyone enough options to cater to the majority of tabletop sizes out there.
It was a hard decision, but we decided, for the time being, not to release an even bigger full-sized version. This would cover the majority of the table. We looked at having a 70 x 120cm Desk Pad, which would cover the entire depth of the table. But logistical issues of shipping the larger sizing would cause the price to be too high to pass onto the end consumer. So, we decided to postpone it for the future, when we have the capacity to make logistics and shipping cheaper. (See Final Product)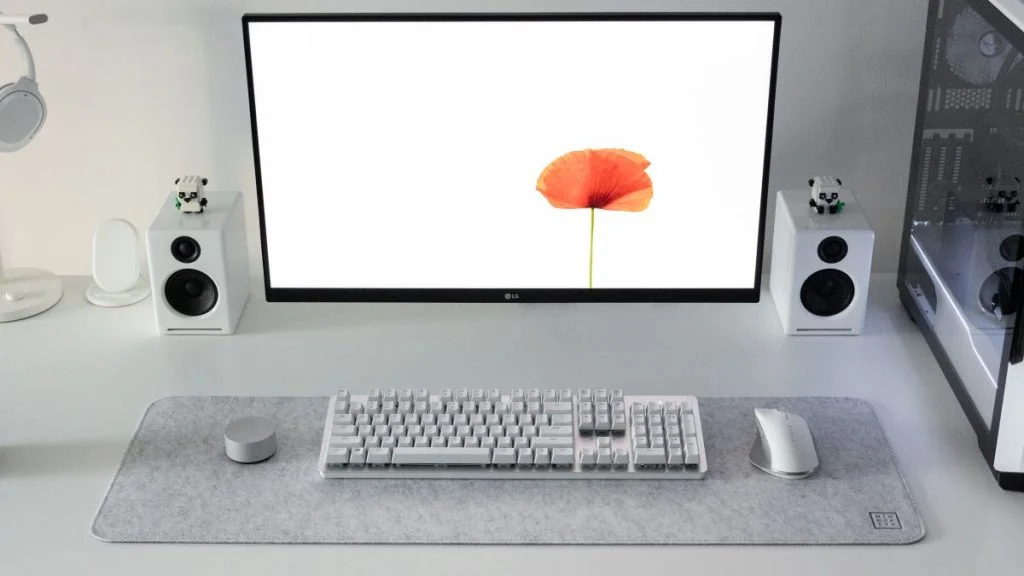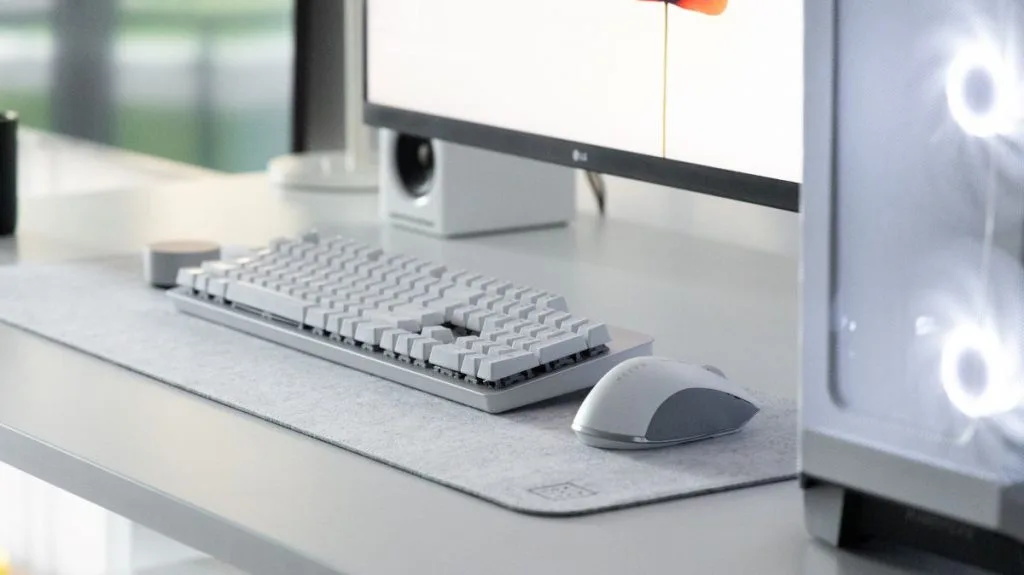 Large-sized version of the Desk pad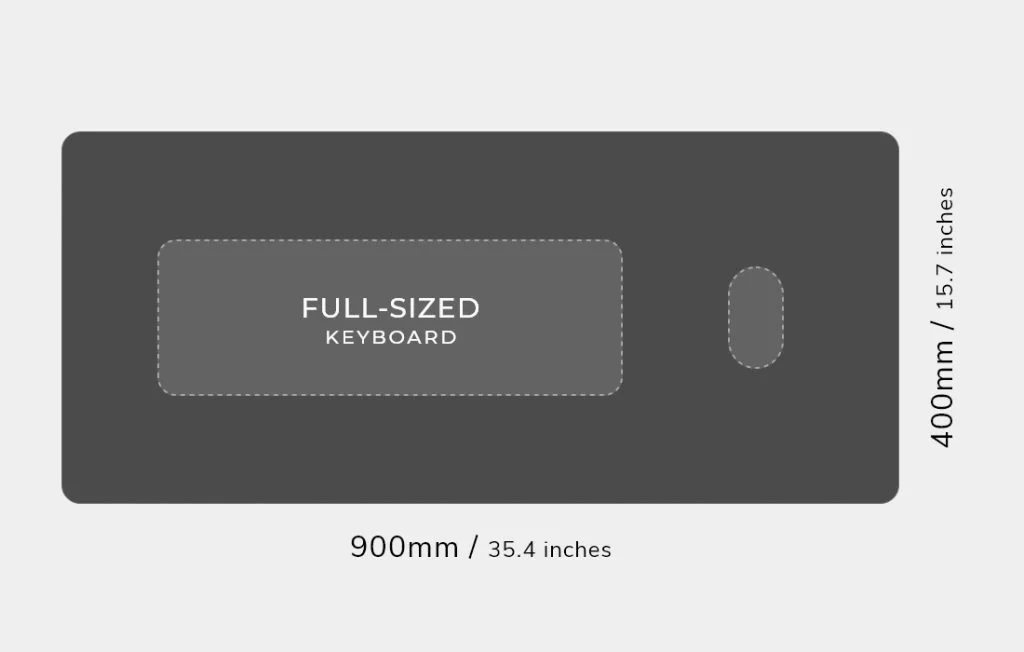 The large-sized version was designed to fit a full-sized keyboard as well as comfortable spacing for regular mouse use.
Medium-sized version of the Desk Pad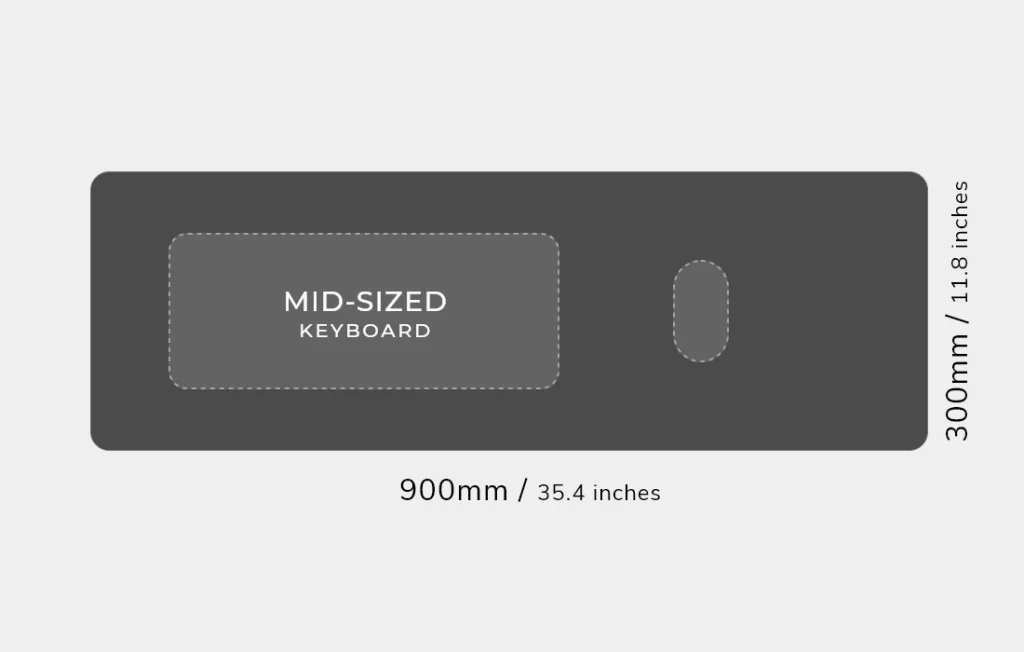 The medium version is designed for slightly narrower tables like the IKEA Karlby and other desk setups where the depth is shorter than average.
Small-sized version of the Desk Pad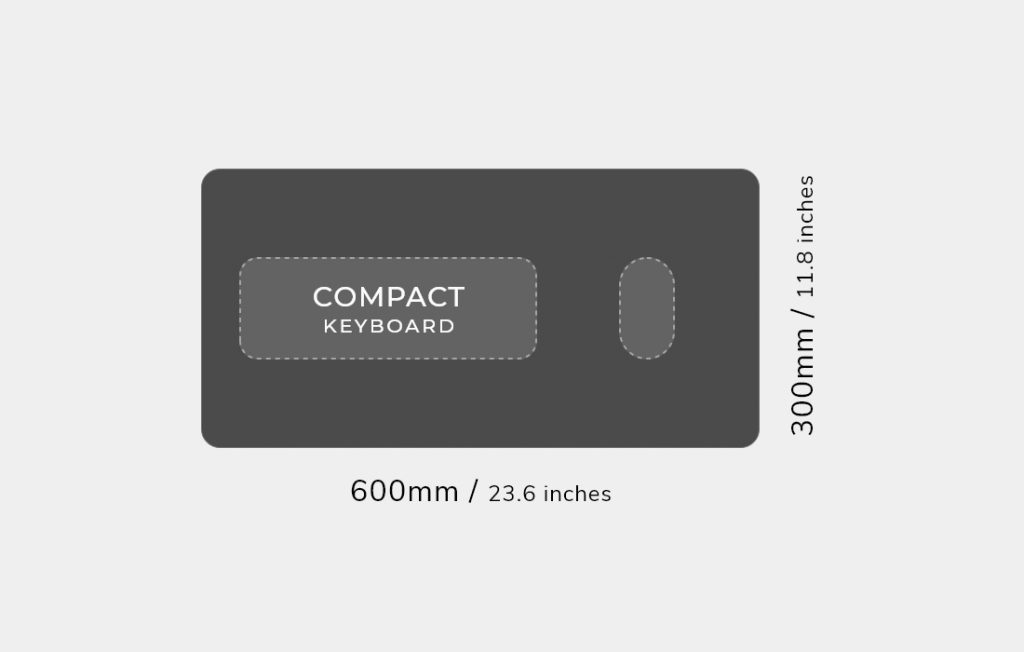 This one is really only suitable for people who have smaller tables and are looking to travel with this. This version is highly portable and can be brought to work and can be more low-key due to its size. It will fit a MacBook 13 inch and mouse with no issues. Anything bigger form-factor keyboards or laptops will take up the entire desk pad.
Why was packaging an issue?
Well, if you're wondering why we took extra effort in the packaging there was a couple of main problems we addressed to separate ourselves from our competition.
All of our competitors used really tight packaging on the desk pad so that they could save on shipping costs. This resulted in creases that were permanent and could not be removed. See images below of competitor's product with creases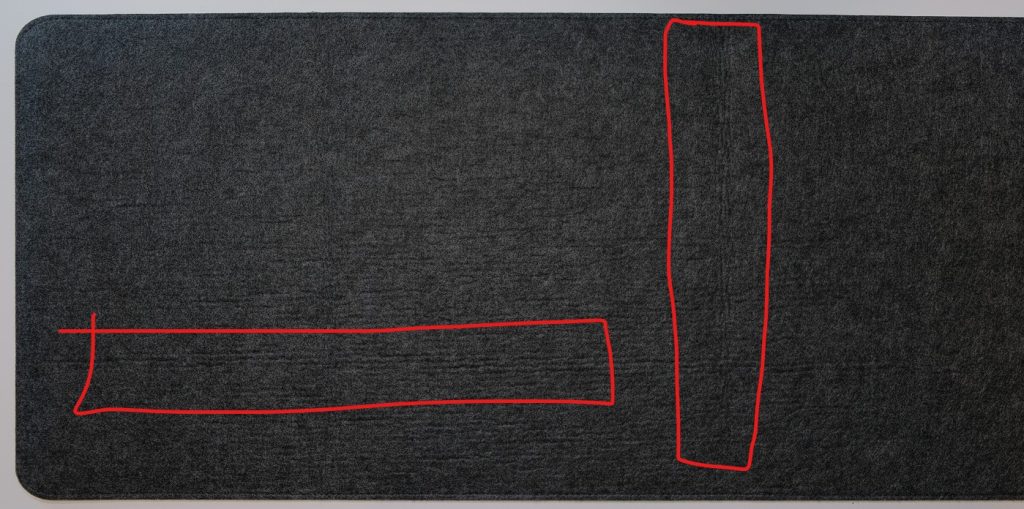 We saw this and we wanted to avoid it entirely. So our solution was to dramatically increase the box size so that the desk pad would not crease from rolling it too tightly. This resulted in a desk pad that was delivered with no creases at all even from being beaten down during the international shipping process. See our desk pad after shipping.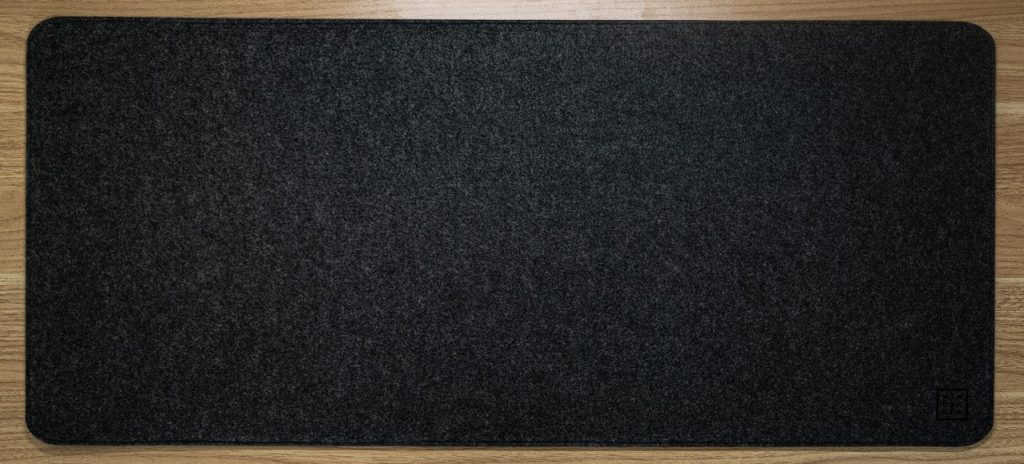 Apart from the box-sizing, we also reinforced the box with thicker cardboard so that it wouldn't get crushed during the shipping process. Although we tried, it sometimes still happens because the postal service has been unreliable in protecting it. But when it does happen, the desk pad usually ends up being okay, but the box is slightly deformed. Out of the thousands of orders we have fulfiled to date, only maybe 1% receives their product with significant damage due to the shipping process. I would say that's a huge achievement considering how unpredictable international shipping is.
With that said, we've considered further upgrading to the box itself. The final upgrade for this version could be a rigid box for the desk pad itself. We used a rigid box for our coasters which has certainly increased the cost by a little bit but has made the item indestructible during shipping unless of course, an elephant sits on it.
The Reviews and feedback so far
Our desk mat has certainly done well based on the feedback we're receiving averaging 4.9 out of 311 reviews. The feedback has been good so far in terms of quality matched with their expectations as well as the value of the product itself. See reviews here – Scroll to the bottom.
The stiffness that we optimised for durability has been flagged by a small number of people as a bit rough which we understand and we'll continue to balance to make sure people can get ample use out of our desk pads.
Other things are mainly shipping related – we had a few (9) crushed boxes due to the freight company not handling our products correctly – we have since addressed that and switched to a more reliable shipping company. In addition, there was a period of time in Australia where coronovirus heavily affected the logistics industry and places were shut down for weeks. Now that, that's over we've returned to normal shipping times of 8-14 days for Australia.
We'll continue to listen to feedback, so if anyone has anything else to say, please DM us on Instagram and we're generally pretty responsive (within 12 hrs) to these sorts of enquiries.
Things to be improved
We're quite transparent on what we want from this desk pad and what our expectations are. One of the main things we noticed from this release is that the desk pad is not really suitable for heavy gamers especially for people playing FPS games. The roughness of the wool felt material that gives the pad its texture will slow down the mouse movement speed and at times affect the tracking accuracy of your mouse. Hence to solve this issue, in the future potentially we may create an add-on for the desk pad to allow an upgrade of the mouse zone to cloths material for higher accuracy mouse use in that zone.
In the meantime, for general use and casually playing games, it will perform fine. Playing MOBA based games like Dota 2 or LoL should also be fine as well.
We've put some thought into our next iteration or variation of the desk pad. It's most likely going to be made from a cloths material which will give the desk pad some added durability. We thought about doing zones for the desk pad, but having two different materials kind of disturbs the minimalistic look. The Vegan leather alternative could work well as well we will need a bit a testing to find out.

[Update April 2022]
At this point, we've sold well over 5,000 desk pads with 241 reviews at an average rating of 4.9 Stars. With some of the latest changes to the material, it has become slightly softer to help with comfort. At the same time, we've improved the way we shipped this product to reduce the chance of the boxes being crushed during shipping. Of all our orders so far, UK seems to have suffered the most box crushing events with Royal Mail. We've communicated these issues with our freight agent and we've found ways to mitigate these problems.
[Update August 2022]
As we continue to collect data about the desk pad, there has been more and more feedback regarding linting or balling or piling, which is a common issue when using a felt desk pad for a prolonged period of time. The data shows that this could happen after the 6-month mark assuming that you've been using your desk pad moderately. One of the solutions we've come up with to further extend the lifetime of the desk pad is to use skates with your mouse (typically mx master 3) to ensure a more frictionless or lesser abrasive contact between the mouse and the desk pad.
In addition to this, we've spent an immense amount of time developing our gaming desk pad which has just been released.
Ideas for the next release of desk pads
Cloth and leather desk pads – Allow for more accurate mouse cursor movement – more suitable for gamers
Colour options – light grey to help with white themed desk setups – Released
Sizing options – cater for bigger tables.
Improve the rigidity of the box
Ending Remarks
This was our first product and we wanted it to be perfect. We knew that it would take more time, but what was also important to us was to understand what the community needs. So that's why we're already preparing to iterate the Desk Pad to improve performance and feel for the future. If you have messaged us through Instagram, you already know that we are trying really hard to get feedback on the feel as well as the features. Some improvements that we have already considered include optimising the mat for heavy users like gamers that need accuracy as well as smoothness. A cloth or leather-based design is not too far away in our product line. As always, feel free to contact us if you do have any comments about the Desk Pad, we're only one Instagram DM away!