I have finally had a chance to review the Epomaker TH80, one of the first keyboards from the Epomaker to include a knob. The Epomaker TH80 is a 75% mechanical keyboard that features hot-swappable switches, three modes of connectivity, and PBT keycaps in MDA profile with dye-sublimated legends. The TH80 also has amazing RGB effects with south-facing LEDs and is programmable with software.
Our First Impression
I received the keyboard from abroad, and it came in perfect condition.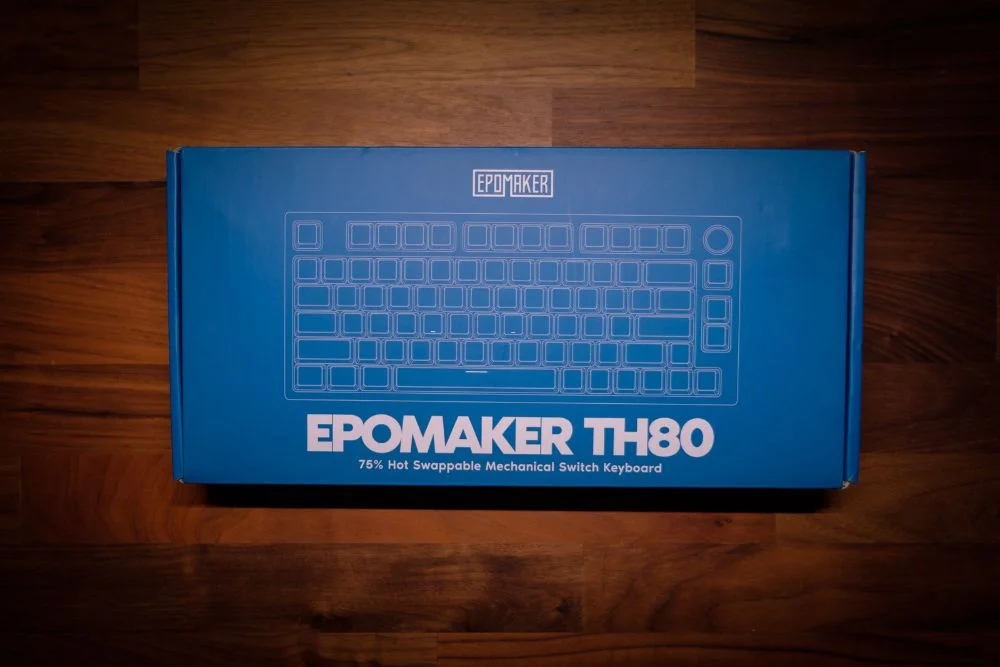 Unboxing this keyboard was a pleasure as it came with all the necessary pieces to get started. It included:
A manual
A Keycap Puller
A Braided USB C to A cable.
Most important the keyboard itself gave away a stunning retro look upon first look.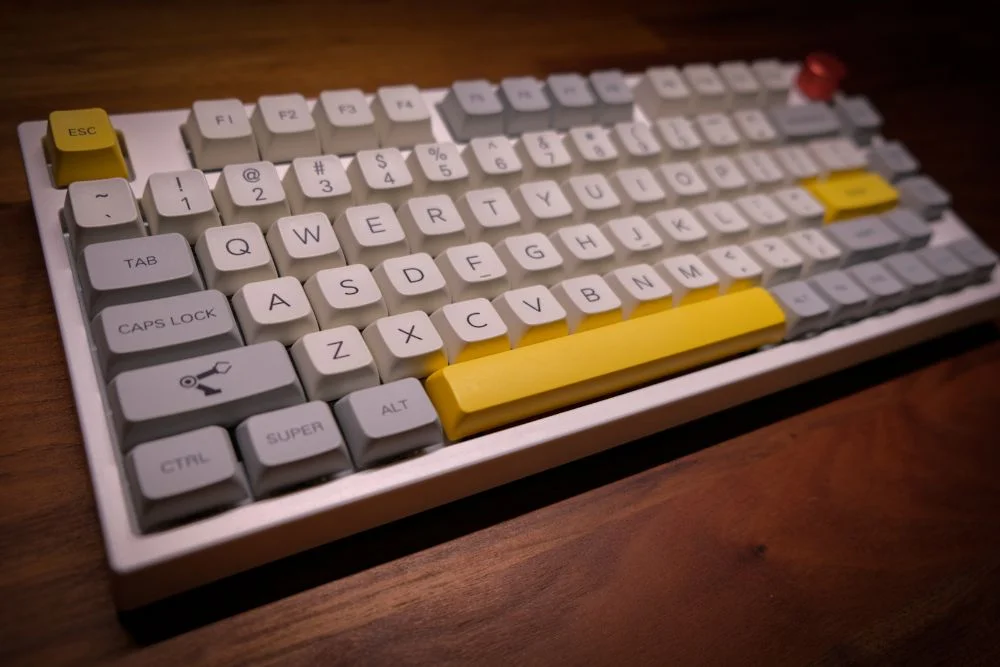 It's the big elephant in the room so I might as well as talk about it. The Knob. I am so glad to finally see more and more keyboards adopting a rotary controller to help with volume control and other functions that are available with macros.
The Build Quality
I want to start by reminding everyone that this keyboard is priced at $89.99 USD on Amazon. Which is extremely competitive for a keyboard built that has a control knob. The plastic exterior is as expected and is fairly light compared to GMMK Pro 75 – which has the same form factor but is 4-5x more expensive. I think that this keyboard is a good value for the features that you're receiving.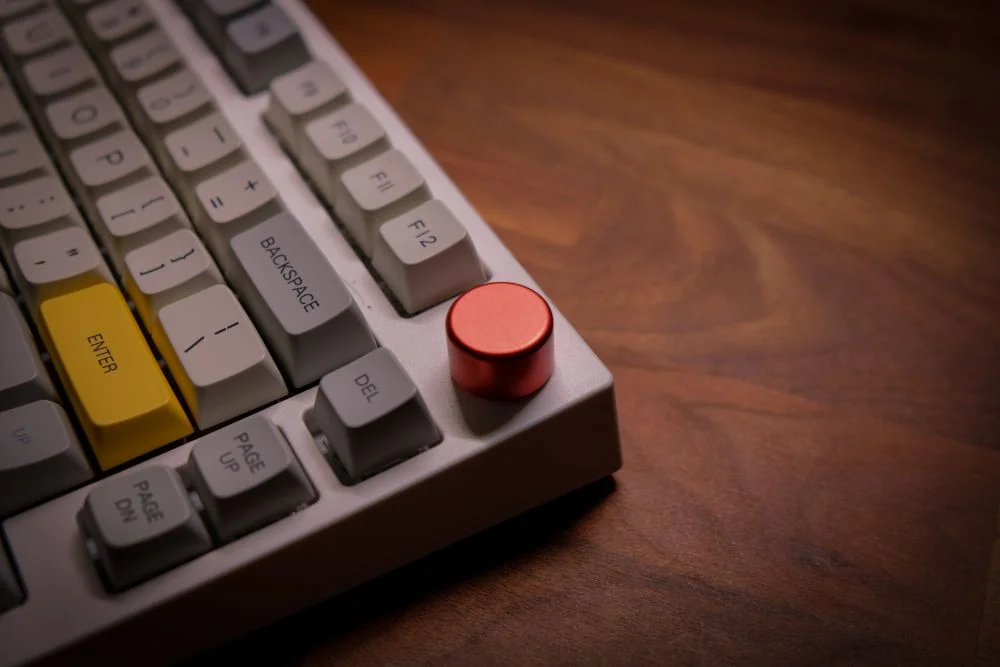 The knob had a nice finishing. The control knob or rotary encoder itself was very stiff and offered stepped control of the volume. It doesn't make any sound but can also be rotated infinitely clockwise and anti-clockwise.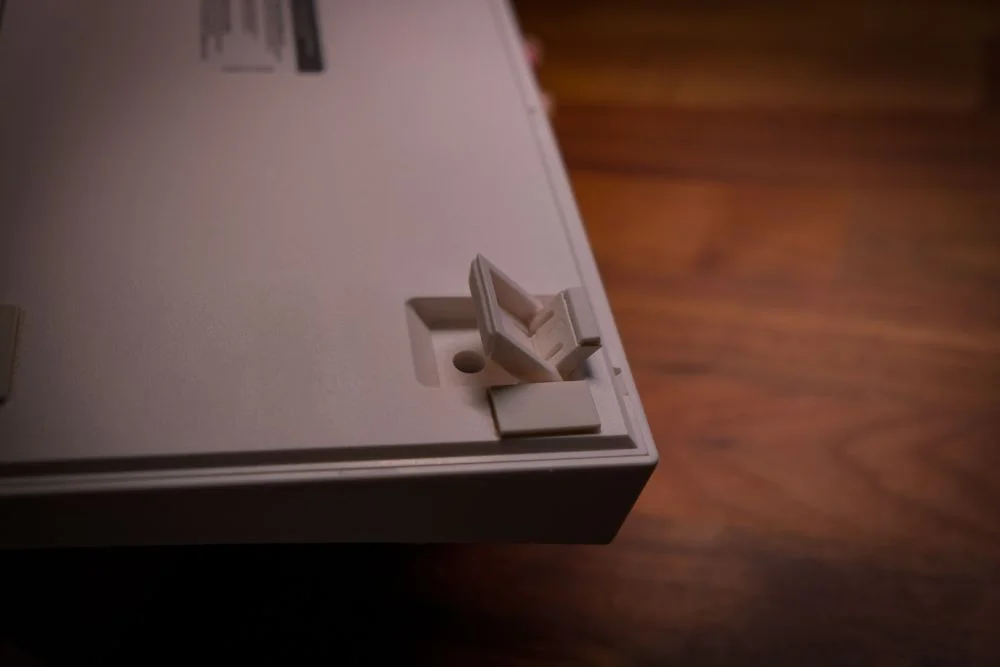 The keyboard comes with an array of plastic rubber feet at the bottom that a quite thick. I would say it does its job. The Epomaker TH80 was relatively stable when typing on a desk pad and would not budge.
The Keycaps
The keycaps on the Epomaker TH80 are dye-sub PBT in MDA profile. It's an interesting profile to use because it's higher than the profile that we're used to. I sometimes do miss keys because I haven't adjusted to the exact shape of the keys or the height. The build quality of these keycaps are superb though.
The Switches
The Epomaker TH80 allows for hot-swapping. Our particular review unit was fitted with Gateron Pro Blues, and it was smooth. Though, it still would not compare to a switch that was manually lubed.
If you need a bit more help selecting the best switch for your Epomaker TH80, take a look at the chart below.
Or you can have a read of this Gateron switch guide.
The Bluetooth experience
It's been a while since I've seen a keyboard that has the Bluetooth dongle embedded into the bottom side of the case. That's right, with this keyboard, the 2.4GHz dongle is magnetically attached to the underside of the keyboard through a slot that is magnetised. It's a very nice touch to this package and I would argue adds a slight bit more portability than some of the other keyboards.
The Epomaker TH80 can support up to 3 devices using the Bluetooth 5.0 chip, so it really helps with productivity if you want to tab between your various devices. The connectivity speed between the different devices is pretty fast and responsive, which we thought was a great upside to this feature. Just like all other Bluetooth keyboards, the Epomaker th80 will go into sleep mode and will wake after pressing any key. The wake time is about 1-2 seconds.
Conclusion
All in all, I think that the Epomaker TH80 is a great keyboard for its price point. It offers a lot of features that are usually only found on more expensive keyboards, such as hot-swappable switches, RGB lighting, and a programmable control knob. The build quality is good for a plastic keyboard, and the keycaps are high-quality PBT with dye-sublimated legends. I think that this keyboard is a great option for anyone looking for a 75% mechanical keyboard with Bluetooth connectivity. I love it and it's worth a look if you're looking for a TKL keyboard with a knob.