Desk setups have started to change in recent times. There has been a noticeable shift from static desks that have been the staple for over the last 50 years. Workplaces are looking to give their employees more choice about how they work, and with the rise in work-from-home scenarios, flexibility has become a key point of consideration. Standing desks have become a popular choice in the last few years, due to their ability to double up as standing and seated desk. This gives everyone the ability to choose how they work, in a way that utilises the best of their time and productivity. Today we will try to guide you on how you should be choosing a standing desk for your minimal desk setup. If you need help with optimising your desk setup check out our 8 tips on how to build a desk setup.
Why do you need a standing desk?
A standing desk can help with a lot of different elements of your day-to-day life. With most of the benefits coming from health-related outcomes. Check out our 6 reasons why standing desks are essential in 2022 article for the full list and why people working from home would want a standing desk.
Some Reviews we've done
Autonomous Smart Desk Pro – Fairly easy to assemble and comes in two packages. There is little wobble at lower levels but wobbles a bit at full height. The build quality is excellent in that the parts are fairly heft and structurally sound. The sound of the motor during actuation is fairly audible and would be noticeable in a normal office environment. Overall, great desk for working from home.
Best Standing Desks from Amazon?
We've written a detailed guide on some of the top electric standing desks that can be found on amazon. If you're interested check out our ratings on the Top 5 standing desks on Amazon in 2023.
1. Length & Depth Of Standing Desks
The first place to start should be deciding how big of a desk that you need. You may be constrained by the space that you have available, but that doesn't mean that you will be locked into a specific type of standing desk. There are other factors that come in when picking your desk and we will go into them in further detail down below.
If space is not an issue then you need to answer the next two questions:
What sort of setup will I be running? Laptop only? Laptop and monitor? PC?
How many monitors will I need?
Answer these 2 questions at the start and save yourself the headache of trying to source another desk to fit your configuration.
Length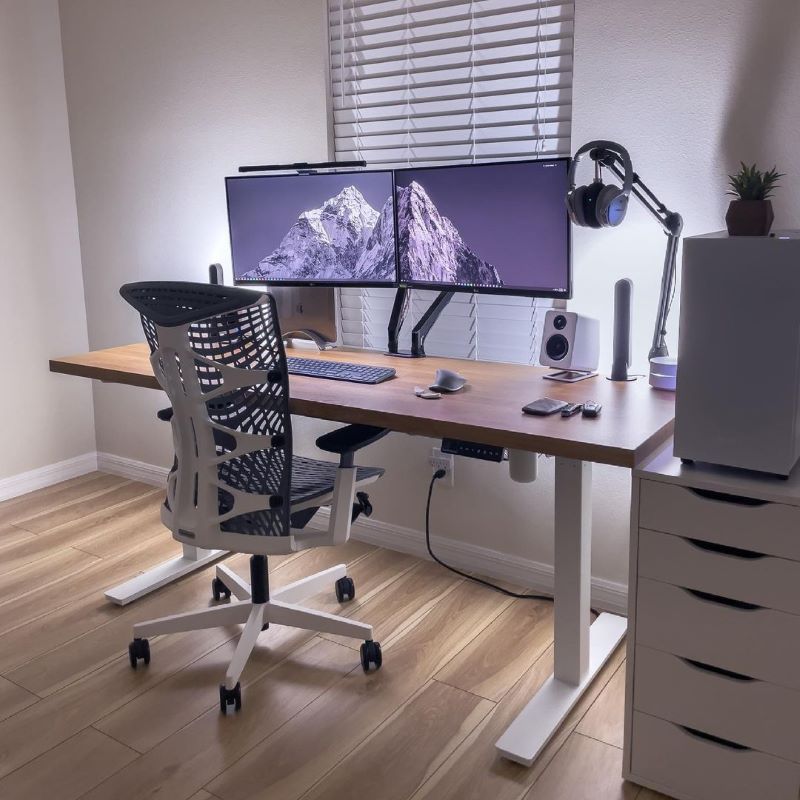 We are going to get straight to the point, and say, if you are planning to run anything more than a single monitor, you will need a standing desk longer than 120cm (47"). A lot of us will use monitors larger than 22", and this equates to a width of 48.7 cm (19"). Two of those monitors side by side and you will be using up 100cm of your 120cm desk, which doesn't leave you with much room on either side for anything else. We recommend that you go for the long desk from the start, something in the range of 160 – 180 cm. At this length, you can comfortably fit most 2 monitor setups or even a single ultra-wide monitor (such as Samsung's Odyssey G9 monitor at 49").
Now, you could be smart with the arrangement of your peripherals and accessories but then you are going to start running into some depth problems, which we cover in the next section.
Depth
Most desks have a depth of approximately 60cm (23"), which in certain circumstances, will be more than adequate. If you are planning on only working from your laptop with speakers, keyboard and mouse, 60cm of depth will not be an issue. But the moment you introduce an external monitor, you will start running out of space. Very quickly. Imagine then 2 monitors and you will find that 60cm of depth will not be enough. This only gets worse when you run a PC setup with 2 monitors and the case on the desk. We tried it so you wouldn't have to, trust us when we say it doesn't work very well.  
A simple way to free up depth space on your desk is to use a monitor arm. Monitor arms clamp onto to the edge of your desk or are installed into the desk itself, and raise the monitor off the tabletop. This means that you can remove the base the monitor is attached to. The monitor base takes up an incredible amount of space that you could otherwise be using for other things.
Our suggestion is to definitely use a monitor arm, this frees up what would otherwise become dead space. This means that you can start looking at table tops with a depth of 60cm minimum. However, we think a depth of 70 – 80 cm is the perfect spot to be in. If you do not want to go to a monitor arm, try to not push more than one monitor as you start to lose the space that you need for your keyboard and mouse or writing.
2. Tabletop Choice
Tabletop choice plays a critical role in how your desk setup looks. It will determine how much you can have on your wood standing desk desk and how you can arrange the items. A flimsy tabletop will flex in the middle and chances are you may only be able to fit a laptop and some smaller peripherals. It definitely would not accommodate a monitor arm as the pressure exerted by the arm could be enough to break your tabletop. Because of that, a sturdier table top is a must as it will allow you to have the accessories that you need on your desk and arrange it as you like.
Laminate
Laminate tabletops are probably the most common type of tabletops that you'll find on the market. The reason is that it is much more strain and scratch-resistant than others. It is also more affordable to create these tabletops as it's made from multiple layers of wood laminated together.
Plywood
Plywood is a type of combination wood where layers of wood (know as veneers) are glued to one another. This gives it the characteristic layered side profile that you see so often. This gives the tabletop strength, particularly when high-quality wood is used. With plywood, you will be able to mount your monitor on an arm comfortably and confidently. It will also have enough strength to withstand all of your items without flexing and bending.
Hardwood
Hardwood is composed of a single type of wood, there are no layers glued together and it is considered consistent throughout. As such, hardwood is considered denser and stronger than plywood. This means that you can easily mount more than one monitor or monitor arms, have a PC case on top and all the additional accessories that you can think of. All of that without the worry of the tabletop breaking on you at any point in time.
3. Cable Management Features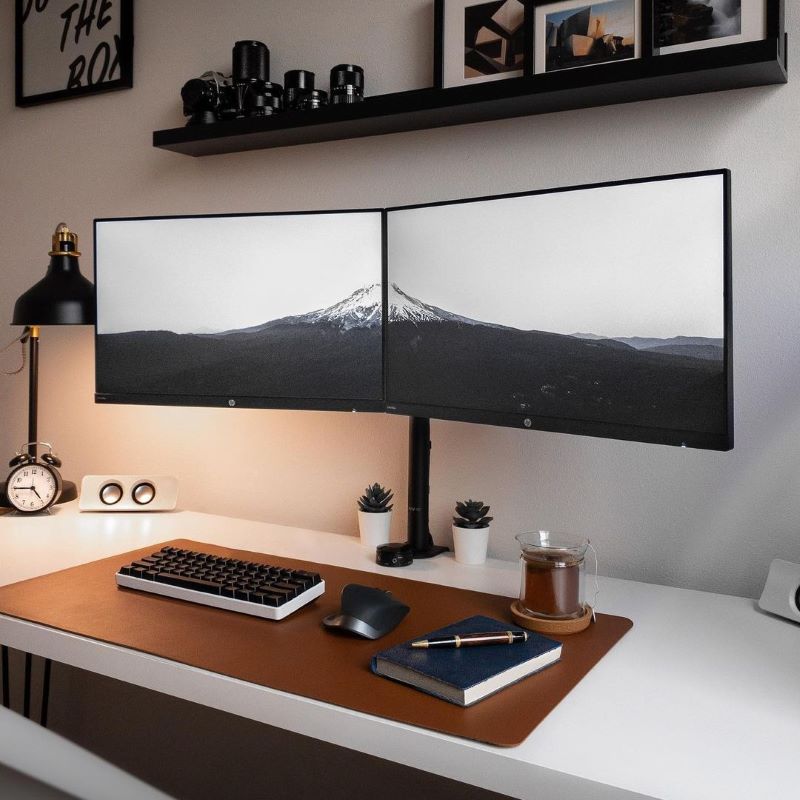 Cable management when not done properly makes every desk setup look incredibly messy. We should all spend time making sure that we route the cables tidily and hide them where possible. A lot of desks available on the market have built-in cable management features which make this even easier. And for the tables that don't, there are plenty of 3rd party accessories that make it just as easy.
Cable Routing Ports
Some tables will have cutouts on the back edge of the desk and these are great for the running cables down and then along the bottom side of the table. And if you don't like seeing the cutout, you can easily hide them by placing your speakers in front. This allows you to hide the pesky cables that connect to and power your speakers. It also gives them a wireless aesthetic.
Cable Trays
Another feature will be an inbuilt cable tray undeath the desk. This allows you to elevate and store all of your power bricks, power boards and thicker cables. This clears up space directly underneath and there are no superfluous cabling that gets in the way of your legs and comfort. It also gives your setup a cleaner aesthetic.
4. Standing vs Sitting Desks
Sitting Desks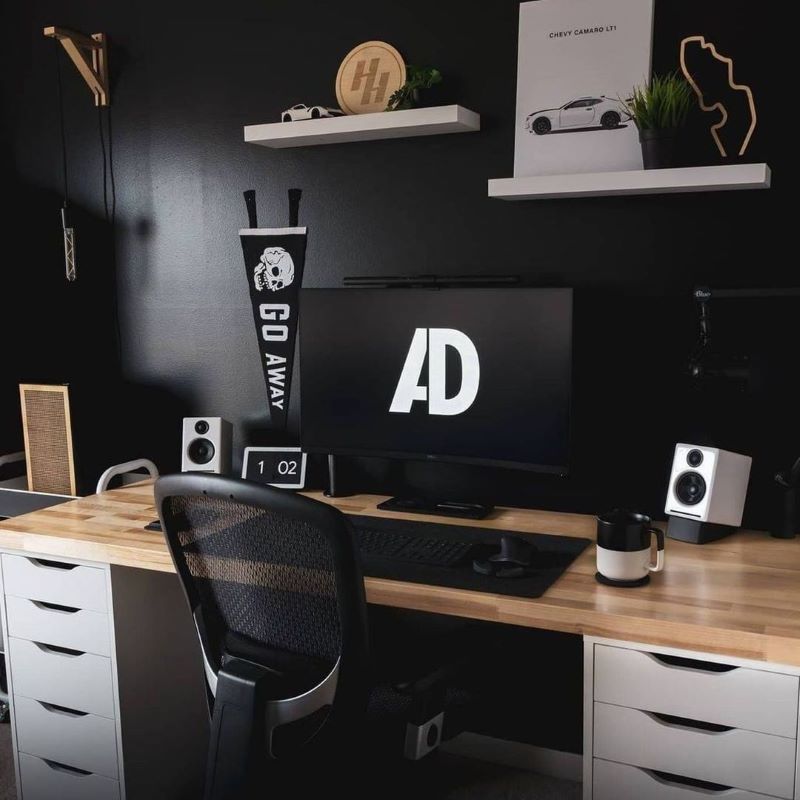 These are the traditional desks we will see in nearly all desk setups and offices. They are static once you put them in position and have no vertical movement. Ergonomics, comfort and working height is often dictated by your chair. The table design is very standard with a tabletop above table legs or drawers.
Legs
Choosing the table legs option allows you to use nearly all of the space available underneath the desk. This means that you can fit bulky items such as a PC case, sub-woofer and even a drawer if you wanted to. This is great for cable management as you can hide cables in a manner where they will look tidy and inconspicuous. In addition, table legs take up a small amount of space and you will have all the legroom that you will need. The downside of using table legs is if they are not sturdy enough, you will be limited you the type of tabletop that you can use.
Drawers
Drawers is another option to use as supports for the tabletop. Using draws allows you additional storage space for all the less frequently used items on your desk. In addition, Using two drawers gives you the ability to use a heavier and sturdier (and potentially longer) tabletop for your setup. This means that you can use items such as monitor arms without the need to worry about your tabletop flexing. However, the downside of using of drawers is that they can be quite space-consuming and then this will reduce the amount of legroom available.
Standing Desks
Slowly becoming a new norm in desk setups and offices, standing desks offer all the benefits of a sitting desk but then give you the ability to control your vertical height to a relatively fine degree. Your seat and table adjustments are now independent, working together to get your perfect fit rather than being dependent on your chair. Some benefits of using a standing desk include:
Removes pressure off lower back due to sitting for extended periods
Keeps you moving, burning energy and increase quality of life
Allows you to change things up by reducing monotony which increases productivity
All the benefits and features of seated desk
However, choosing a standing desk, you will be limited to having legs rather than drawers for its legs. This will be due to motor requirements for moving the desk up and down. This will be considered that you need to take when choosing between standing and seated desks.
Motorised or Manual
There are 2 types of standing desks. The more accessible alternative is to use a manual hand winding option. You crank a handle to move the desk up and down. It doesn't provide you fine height control but you will get a quick arm workout as you turn the handle. In the event the handle malfunctions, you will be unable to adjust the height of the desk. For motorized standing desks, you will also encounter this issue if the controller malfunctions. However, most controllers will be able to store multiple heights in their memory allowing you to quickly adjust your desk height with one button. No physical exertion is required, you just stand up and then adjust the height with one button until the height is just where you want it. Motorised standing desks do come with a much more expensive price tag due to the parts required to construct and program them. Standing desk converters are also a popular option.
Stability
One aspect to take into consideration, particularly for people on the tall side, is the stability of the desk at height. All standing desks will experience some degree of wobble once they are elevated past a certain height. There are a number of factors that come into play including lack of cross support, support systems on the legs and the design of the motorized leg as some things that will play a part. Designs have improved over the last few years and desks have become sturdier and more stable. But if wobble at height is a concern for you, always test the desk out first before committing to buying it.
Some Final Words
We hope that this guide has somewhat made things a bit clearer when it comes to choosing your desk. Work within the constraints that you have for your setup and always try to plan ahead. You will save yourself a world of pain down the track as you won't have to upgrade the largest and bulkiest item of your setup, the desk itself.
We hope you've enjoyed this article, and found some helpful tips for your home office setup. Stay tuned for more exciting content! If you've enjoyed this article please like, subscribe and join our mailing list to keep up to date.