Have a look at this home office setup by @maybejensen, it demonstrates some amazing home office ideas to make your setup flourish. If you need a comprehensive guide on how to build a home office setup, please refer to our guide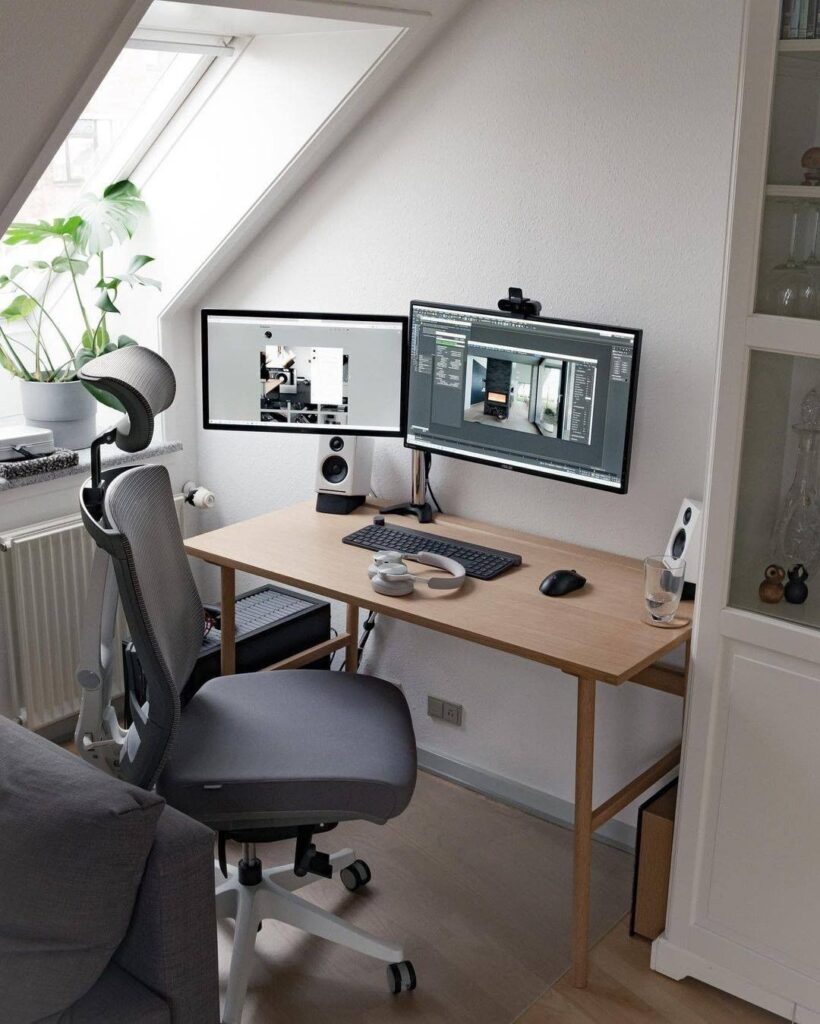 Here is a quick digest of his setup before we dive into some quick tips on how to materialise these home office ideas.
What's great about this home office idea?
The key point in this home office idea is simplicity and lighting. This article from The Spruce also detail how to get better home office lighting, it's worth a read as it is fairly short and easy to digest. From MaybeJensen's setup, you can tell that he doesn't have that many items on the desk itself, that really helps minimise the clutter and reduces the possible distractions there are on the table itself. The natural lighting really helps light up his setup so he can work for long hours during the day without straining his eyes. Whilst it may be hard getting some of the furniture that exists in the setup as it is very specific, the idea of using bright lighting should be easy. As it gets darker, you would want to opt for a monitor lamp to brighten your setup without taking up the desk space.
Working with peripherals?
We've mentioned it many times, but this time as a home office idea, we really recommend you consider acquiring some wireless peripherals such as the Logitech MX master + Logitech Craft in the photo above or even the G Pro which really helps reduce the cabling and improves the overall productiving and ergonomics of your day to day work flow. Asthestics aside, there are benefits of having these wireless devices as they:
Reduce clutter on your table
Usable on odd surfaces
Extremely portable if necessary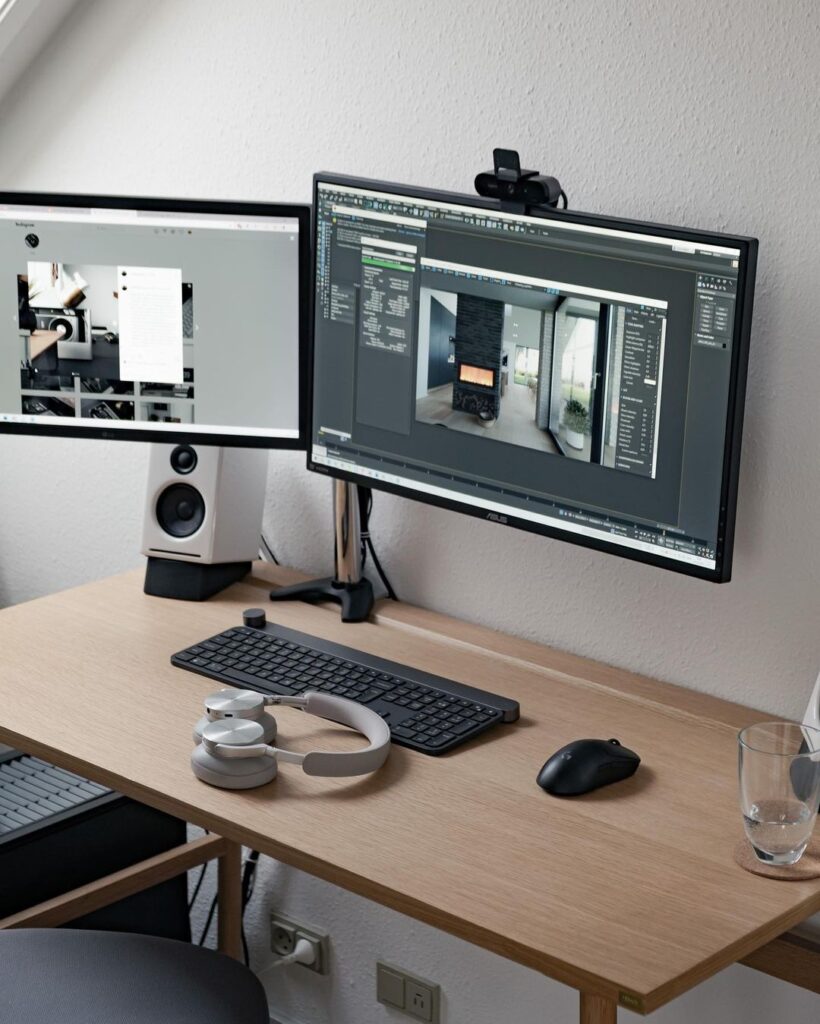 What About Home office ideas for storage?
Yes, it's clear that MaybeJensen does not have any storage solutions implemented in his setup. To build on why think about how much paper you actually use these days. I think it's job dependent, not every job do you need to keep a stack of paper on your table or stored somewhere nearby. For a digital designer, you really only need a notebook, and sometimes you can even use a digital noting app like Notion or EverNote, so it's not even necessary to have physical notes.
For those, who really need it, you can always consider looking at our IKEA Home office ideas that we detail in our definitive guide.
You can always try to recreate something like this: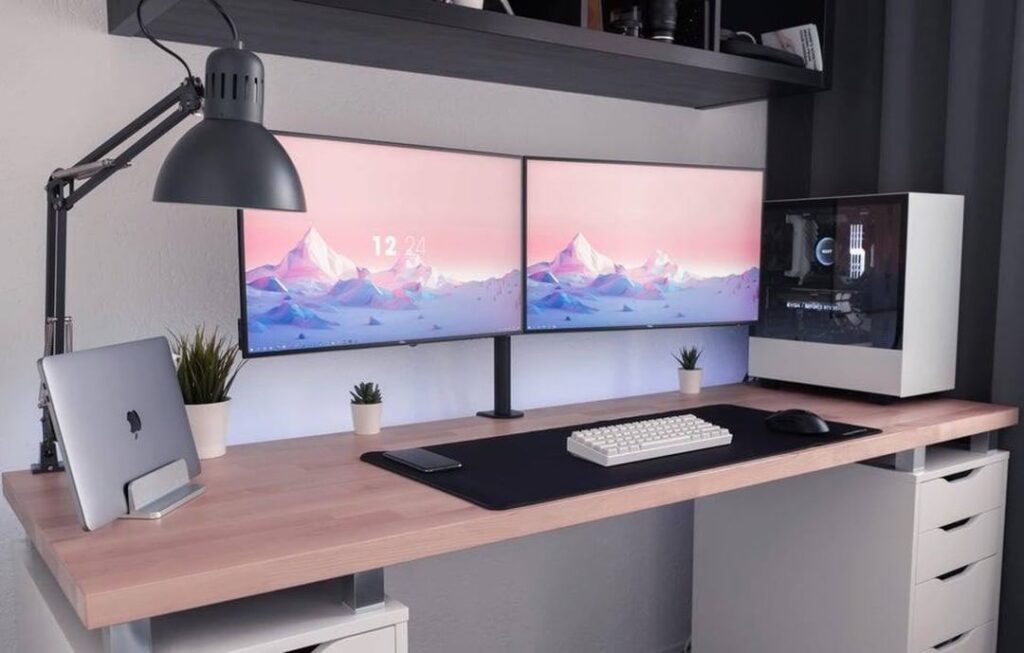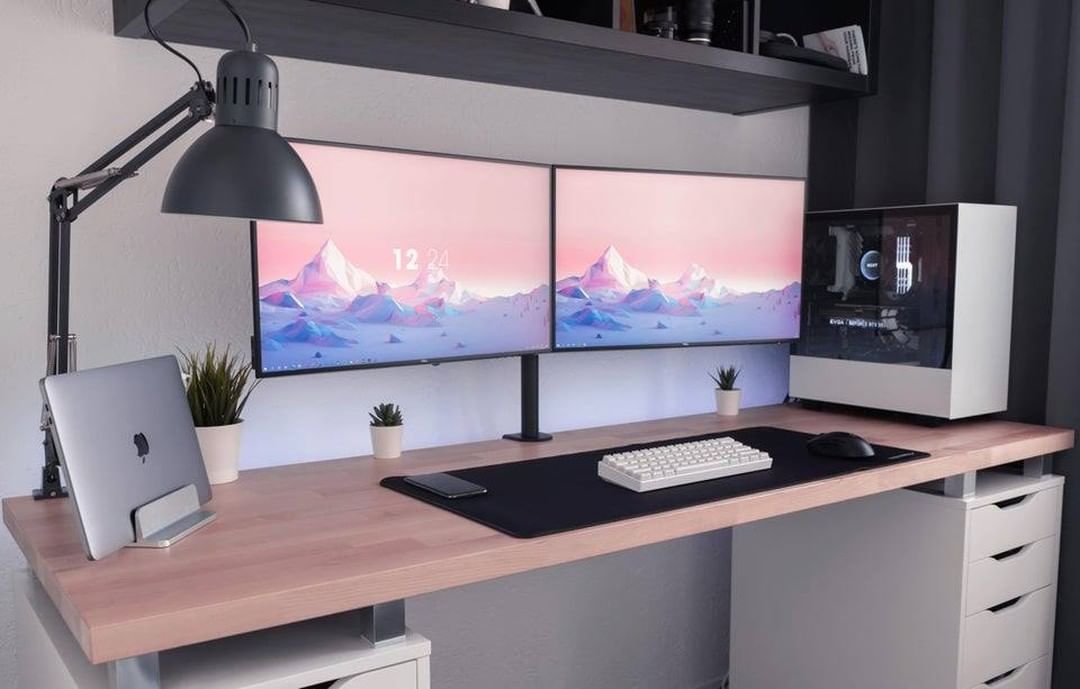 Very clean right? but it's actually very easy to do. All you need to get is an IKEA bench top with two IKEA alexes followed by some table legs like the CAPITA.
Light or dark home office ideas?
It doesn't really matter if you decide to go light or dark for home office setups. You really just want to keep it consistent to look good asthestically if you want that to be a factor to consider. I think for me, for dark setups, it takes a lot of effort to light up especially at night, you'll want warm lighting on it to make it look optimal. However, I would say that is a personal choice and depending what you want it can be easily varied. In essence, lighting in any setup is incredibily important in producing a setup to which you can work effectively but also look asthetically good. I wouldn't try to create a setup without at least a monitor lamp, side lamp or even being near a window.
Anyways, that's all from me today. I really just wanted to keep it simple.