A Journey from Relocation to Creation
Venture into the world of Ana Bond, a diligent UX designer who has masterfully combined her penchant for colors with the necessities of her tech-oriented remote job. Discover how a relocation led to an office room's transformation into a vibrant workspace – a combination of escapism and function.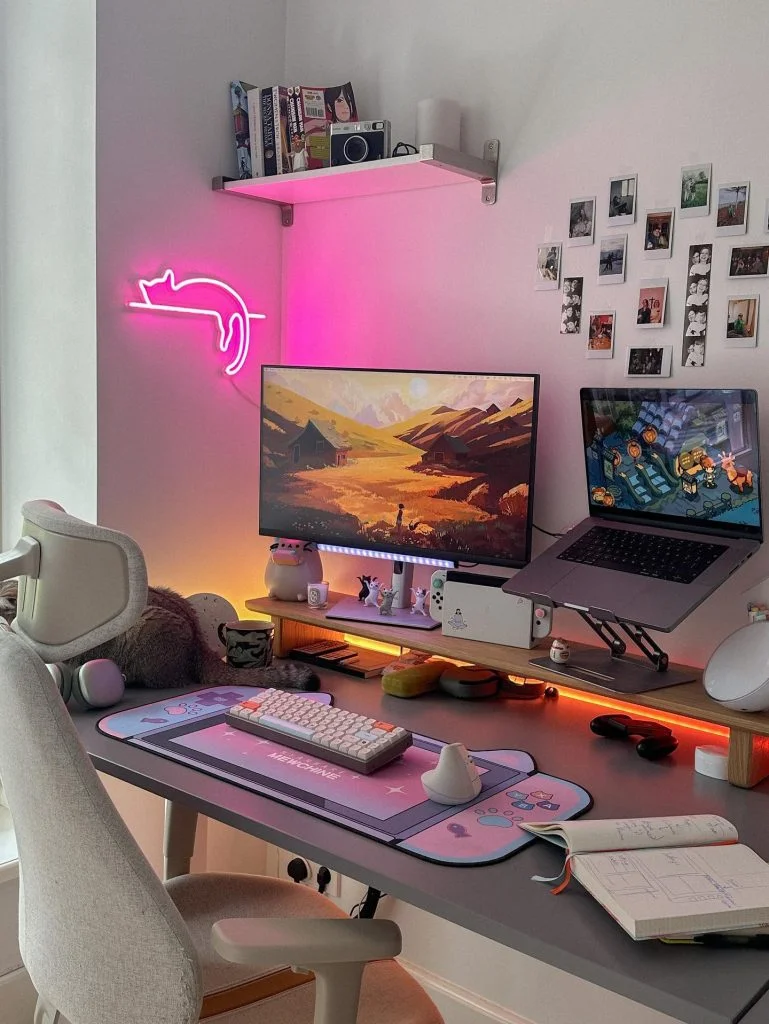 About Ana: Designing with Colors and Joy
Ana's commitment to her work as a UX designer in a tech company demands hours of dedication. Given her remote work nature, it's imperative to have a workspace that doesn't just speak productivity but also vibrancy. The relocation journey wasn't just about moving to a new place for Ana; it was also about healing and creating something she had always yearned for: a dedicated workspace.
Set against this backdrop, her workspace isn't just any ordinary setup; it's a vivid collage of neon and eclectic lights. For Ana, these aren't just decor but represent life, positivity, and the energy she infuses into her work.
Setup and photos by Instagram: @nbondarchuk
Let's take a closer look into the reasons behind her special selection of some of the key items above:
Keychron K6 Wireless Mechanical Keyboard: Every craftsman needs the right tool, and for Ana Bond, the Keychron K6 Wireless Mechanical Keyboard is that tool. With its tactile responsiveness and wireless convenience, it offers the perfect blend of functionality and style, fitting perfectly into her colorful and creative workspace.
Philips Hue Ambiance Gradient Lightstrip: Ana has adopted an innovative approach to lighting with the Philips Hue Ambiance Gradient Lightstrip. The dynamic lighting, adjustable to match her mood or task, not only creates a vibrant atmosphere but also improves her focus and productivity. This light strip, with its various hues, is a fun addition that brings life to her workspace.
We also have a guide that helps you find the perfect desktop lighting for your setup here.
Logitech Lift Vertical Ergonomic Mouse, Wireless: With the Logitech Lift Vertical Ergonomic Mouse, Ana maintains her productivity without compromising on comfort. Its ergonomic design minimizes strain during long hours of UX design, while the wireless functionality helps keep her desk clutter-free, aligning perfectly with her goal for an organized workspace.
RODULF Desk sit/stand – grey/white 140×80 cm: Balance and flexibility are central to Ana's work philosophy, reflected in her choice of the RODULF sit/stand desk. This adaptable piece of furniture allows her to switch between sitting and standing positions effortlessly, reducing strain and promoting health during long work sessions.
GRUPPSPEL Gaming chair: The GRUPPSPEL Gaming chair stands out as a testament to Ana's commitment to ergonomic design and comfort. Its support and style go hand in hand, offering the perfect seating solution for extended hours of work and gaming.
Ana's thoughtful selection, which includes the Keychron K6 Keyboard, RODULF Desk, and GRUPPSPEL Gaming chair, has resulted in a workspace that exudes vibrancy while promoting productivity and well-being. It's a shining example of how workspace aesthetics can merge seamlessly with functionality, leading to an environment that's not just conducive to work but also inspiring and energizing.
Need more tips about setting up your dream desk setup? Read more here.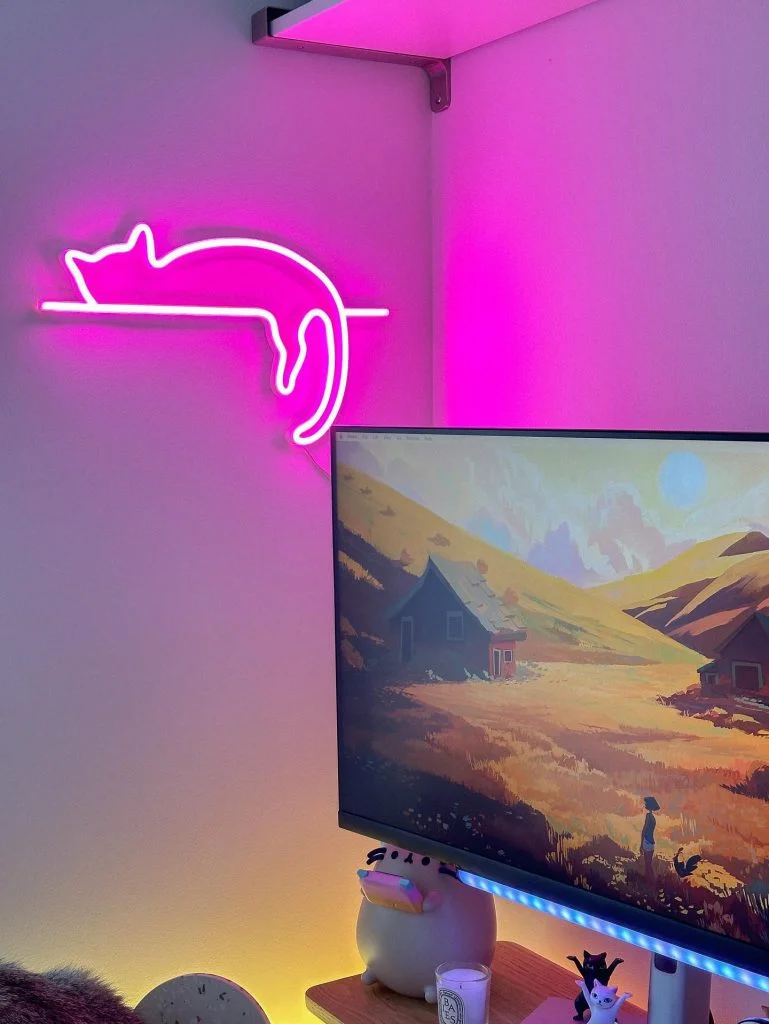 The Art of Ana's Setup
Ana's setup design is genuinely unique, not emanating from a preconceived blueprint but evolving organically, piece by piece, reflecting her emotional journey. Here's a look at her key features and the philosophy behind them:
Colors and Lights:
For Ana, her workspace isn't just functional; it's a living entity. The neon and varied lights aren't just aesthetics; they represent the zest and vivacity she brings to her projects. They act as an instant mood enhancer, making her more energized than if she were, say, working from her couch.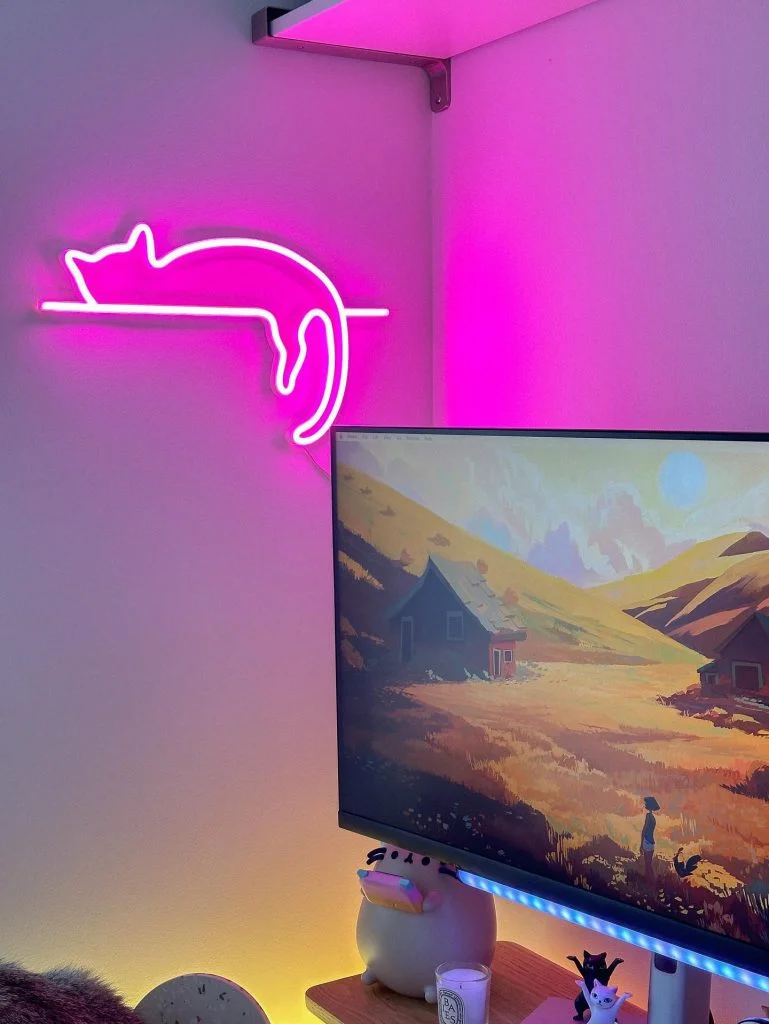 Balanced Screen:
With the demands of her UX design role, managing multiple windows is crucial. Ana's choice of either a full-width massive screen or dual screens ensures she never misses a detail. This balance ensures she's always on top of her game, executing tasks with precision and creativity.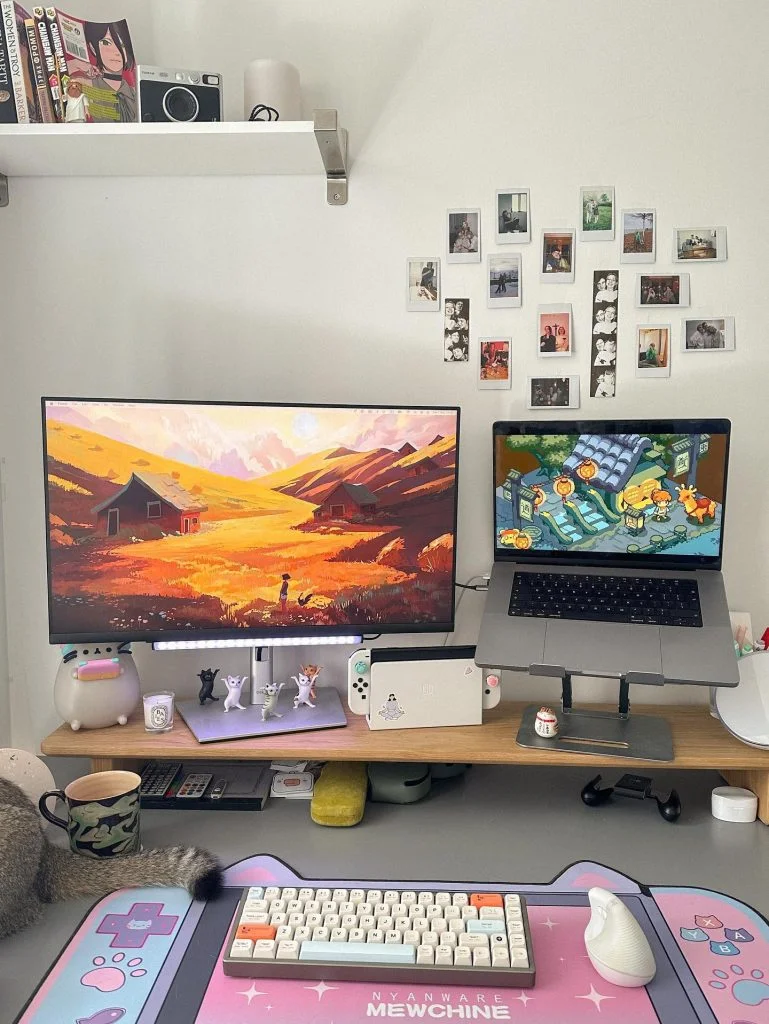 Organized Space Equals Organized Mind:
Ana believes that when her workspace is orderly, her mind mirrors that organization. This intrinsic feeling propels her to give her best, every single time she sits down to work.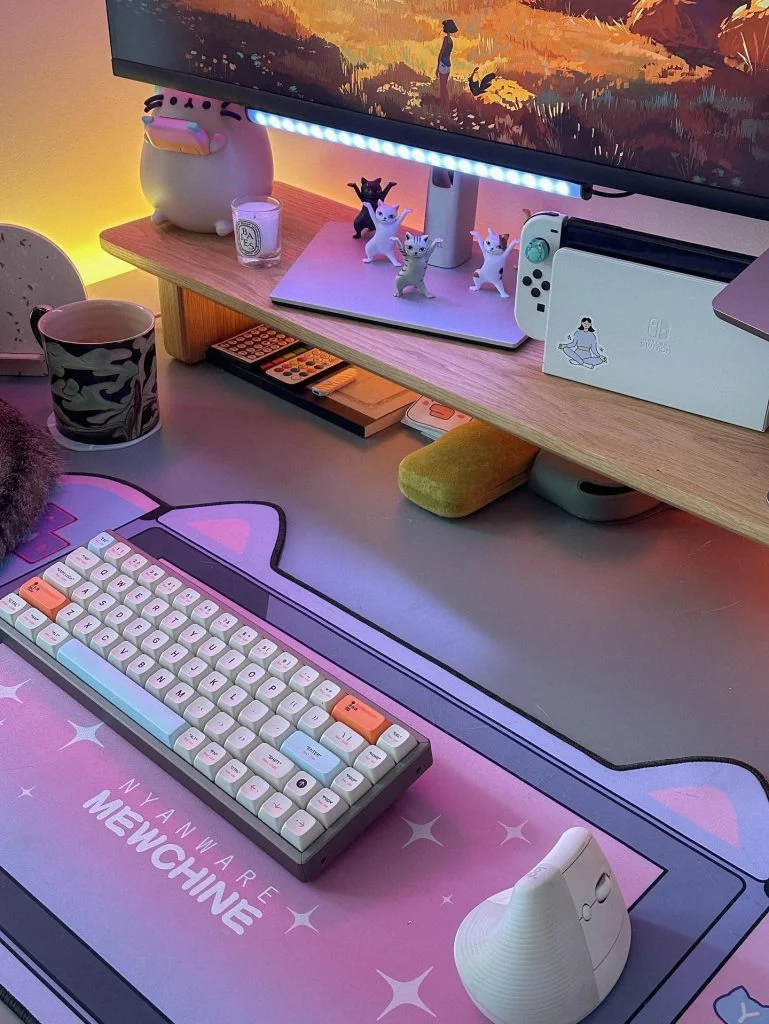 Ana's Workspace Wisdom: Design with Intention
As someone who crafted her workspace somewhat spontaneously, Ana has some golden nuggets of wisdom for those venturing into designing their setups:
"Always start by identifying your needs. Understand why you're creating this setup. Once you've laid down the essentials, then let your imagination play. But most importantly, invest time in research and perhaps even create a mood board. I embarked on this journey somewhat haphazardly, and while I love my space, a little more planning would have added clarity. Oh, and don't forget a good chair; your back will thank you."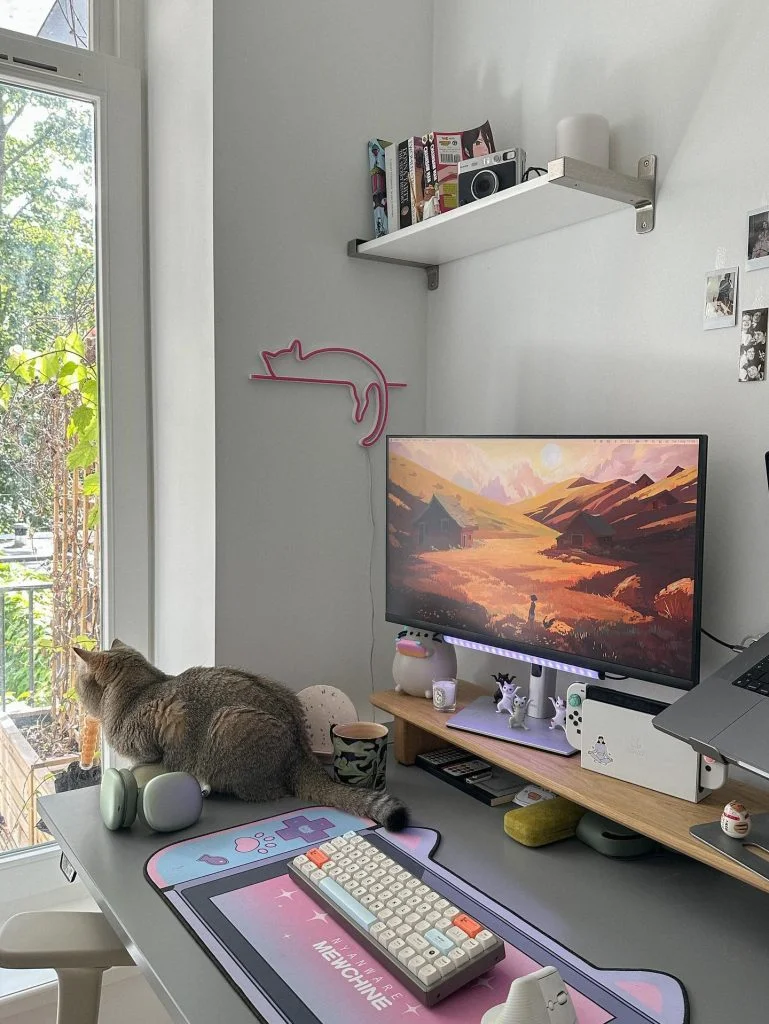 Conclusion: Crafting Spaces that Echo Your Essence
Ana Bond's workspace is a testament to the powerful blend of purpose and passion. By intertwining her emotional journey with practical needs, she has sculpted a setting that energizes and motivates.
Are you looking to design a space that mirrors your soul and work needs? Dive deeper into design philosophies, blending functionality with personal touch with our Desk Setup reviews. Discover how professionals like Ana craft their optimal environments to drive productivity and well-being.