There is a lot to say about this mouse but in essence, it is the perfect budget gaming mouse and would probably rank #1 in its budget range against its competitors. It takes their top range GPro gaming mouse and strips away all of the necessary flashiness to produce the most minimal version required for an FPS gaming experience. I've used the Logitech g305 extensively over the last year, so in this article, I am going to give some of my thoughts on this incredible mouse.
Out of the box, you get
1 x Logitech G305 Mouse
1 x Lightspeed USB-A Receiver
1 x AA battery
A bunch of random documents and manuals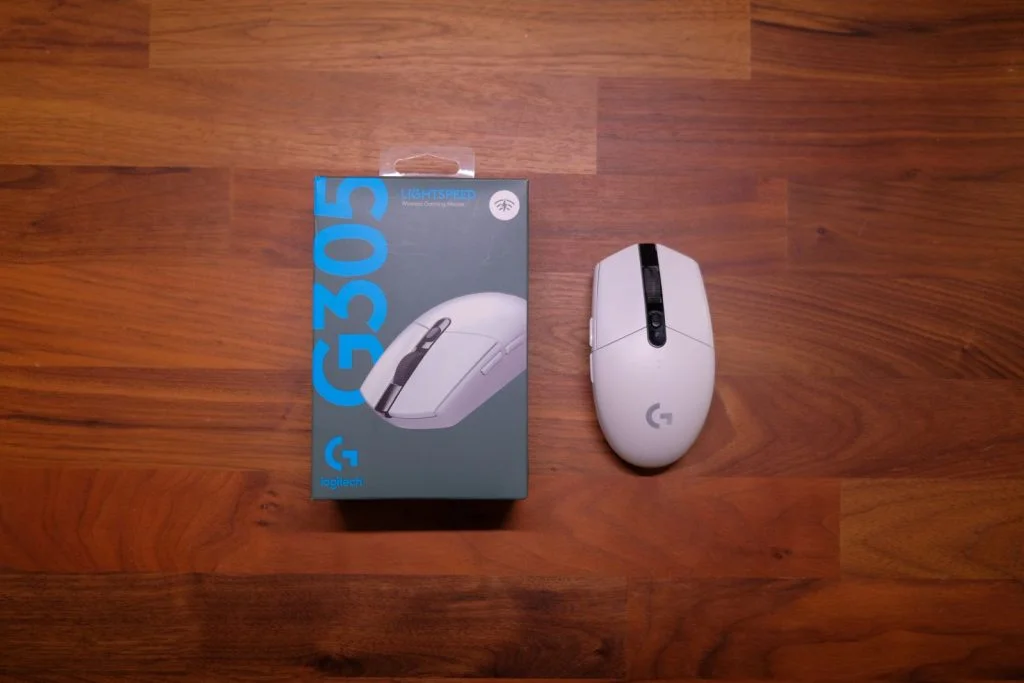 If you want a TL;DR introduction for this product, see our youtube short video below which demonstrates its functions in 30 seconds.
Performance
Daily use for office work
In terms of day to day use, I cannot really say much except that it will meet anything you need it to do. Whether it's for the need for accurate control for graphics design-related work or fast-tracking for video editing, it can do it all with its high-resolution sensor. There's no shuttering with the Logitech g305 which was an issue that I had with other wireless mouses that were in the same budget range. The hero sensor ensures precise movement and the lightspeed tech ensures a delay-free experience.
Gaming Use
I am going to say I am quite an avid FPS gamer. With this mouse, I played at least 1000 hrs of FPS games according to my steam library. I've played PUBG, CS, Fortnite (only a little bit), Warzone and now Valorant (not a steam game) with this mouse. My experience varied in each game but I realised there were a few elements you want to consider depending on the complexity of the game.
There were no delay and accuracy issues, I would say if you are experiencing aim issues with a wireless mouse in general, you should also take a look at the mouse pad you are using. If your mouse pad is too "slippery", it's actually bad for control because you'll end up overshooting your flicks and have to rely on a lower mouse sensensity to compensate which is not always good for you.
One of the biggest downsides of the mouse is that it only comes with 2 extra keys that can be programmed to do other things. If you play Valorant and you want to hotkey your skills on it, it shouldn't be an issue. But if you played an RPG game and you wanted to set a whole heap tonne of different skills on your mouse then this isn't the mouse for you.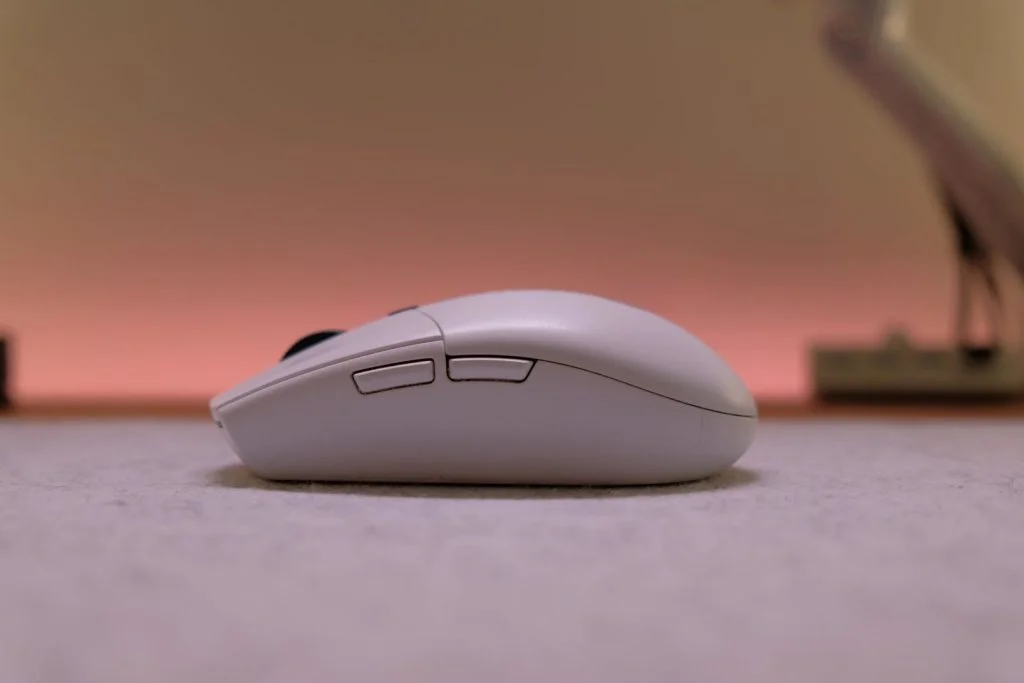 A few notes about the wireless receiver
I want to point out here that I position the receiver for the Logitech g305 within 50cm of the mouse, so it's relatively close. I put it on a USB hub which is positioned under my monitor (see picture below). If you do something similar, you should make sure that the USB hub has enough bandwidth to support multiple devices because I had an instance where the mouse started to glitch because I had a 5.0GHZ receiver on it for my keyboard which was also wireless. Turned out the hub that I used did not have enough bandwidth and caused data throttling and my mouse and keyboard were taking turns disconnecting and reconnecting. After I switched our my hub it was working again.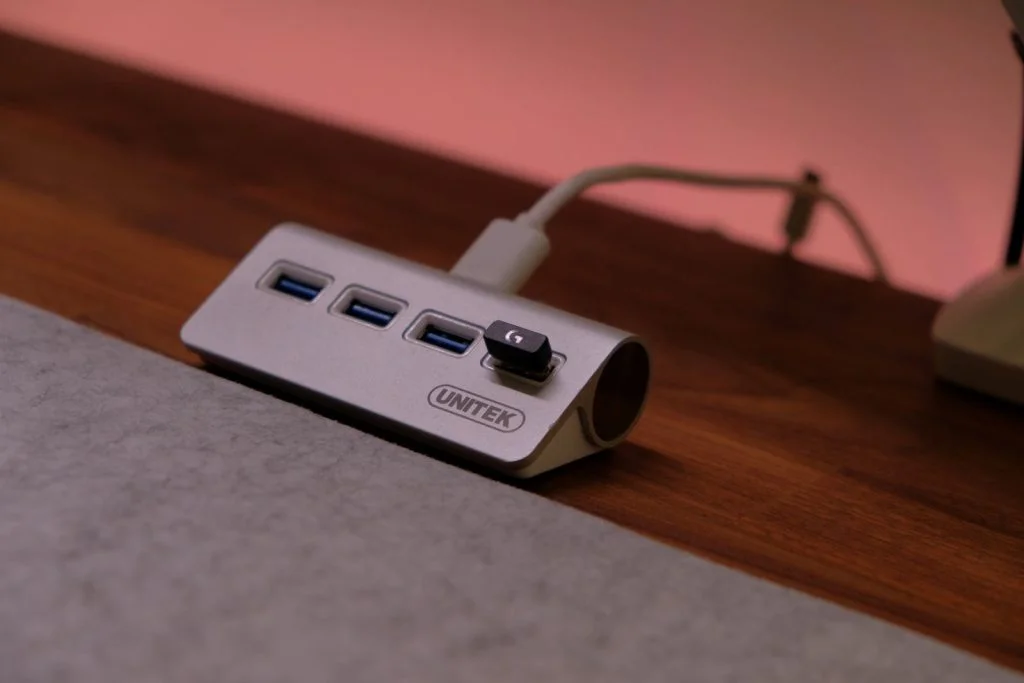 Shape, Ergonomics and Features
So this mouse follows the same ergonomic design as the g102 and g103 designs. The shape of the mouse is relatively compact, ovular and small. This design makes it not an ergonomic mouse for people with big hands and may also be hard to use as well. If you have big hands and you want your palm to rest on the mouse, this mouse is unlikely going to be for you. It's not the most ergonomic design, so if you are doing work that requires a lot of precise clicks like 3D CAD or design related work, it may cause fatigue in your hand as the whole hand isn't properly supported by the mouse's small form factor. You may also want to consider a wrist rest if you still intend to use it for a long period of time doing CAD related work. I bring up CAD-related work because I did heaps of work on Solidworks and I noticed that it started to fatigue my hand after a continuous session of 1 hour.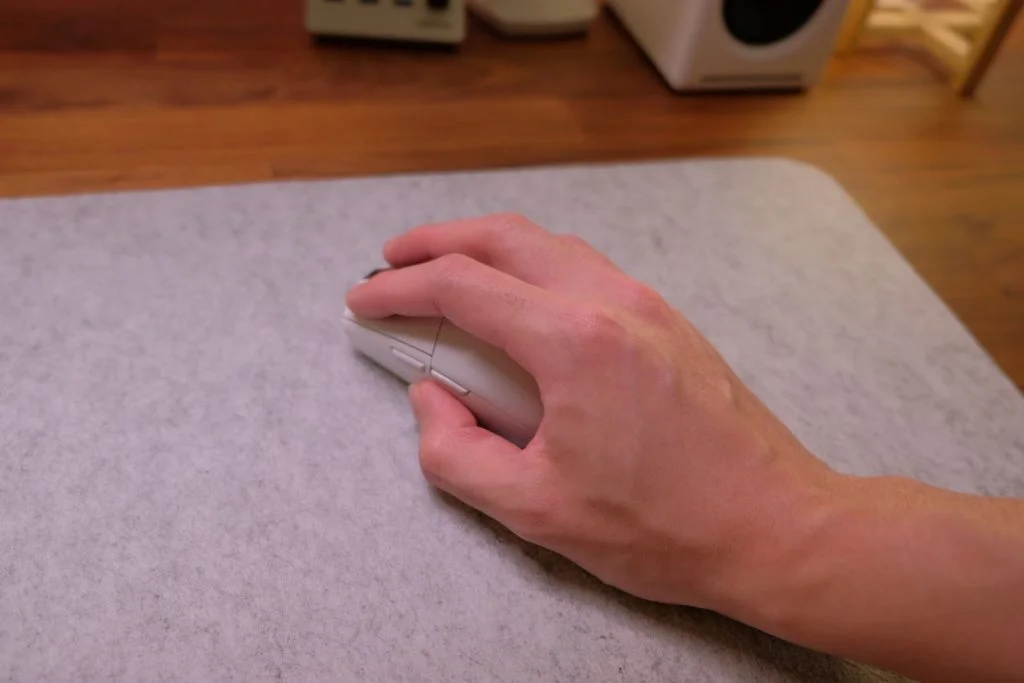 However, with that said, if you're doing normal office work using an assortment of Microsoft apps, this isn't really an issue that would affect you.
Gaming-wise, if you have a big hand, I feel like the ergonomics definitely isn't there and you will get fatigued if your play style is to use your wrist to aim (High Sens) rather than your entire arm (Low Sens).
Feature-wise, it lacks the hyper scroll feature that most of the higher-end g-series mouses come with, which lets you flick the wheel and have it scroll for ages. I use to have it with my G502, but I realised later that you don't actually use it a lot unless you're trying to bunny hop in CS….. (bind jump to scroll up). I realised that in my daily workflow, I never scrolled through a long document page by page, I would be using my ctrl+f to search for specific things.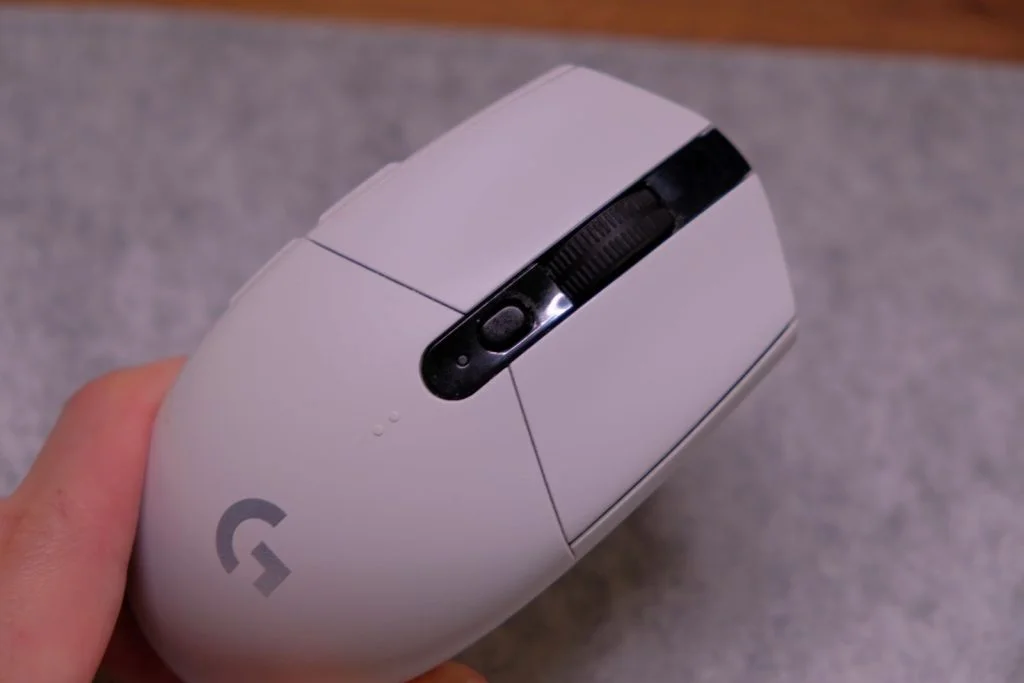 Other than the lack of the scrolling feature, I mentioned above it only had two programmable keys on the side of the mouse, by default, they are programmed to 'go back' or 'go forward' on your browser. I think it's okay considering it's meant to be minimal, and if you need more keys for copy and pasting or even video editing hotkeys, then you should look into another mouse like the MX Master 3. From a gaming perspective, these keys should be enough.
The Aesthetics
I don't know if anyone else has had the same struggle as I did look for a WHITE WIRELESS mouse. Apart from this one, the rest of them were either poor-performing, looked weird with honeycomb patterns on the backplate, or were really expensive.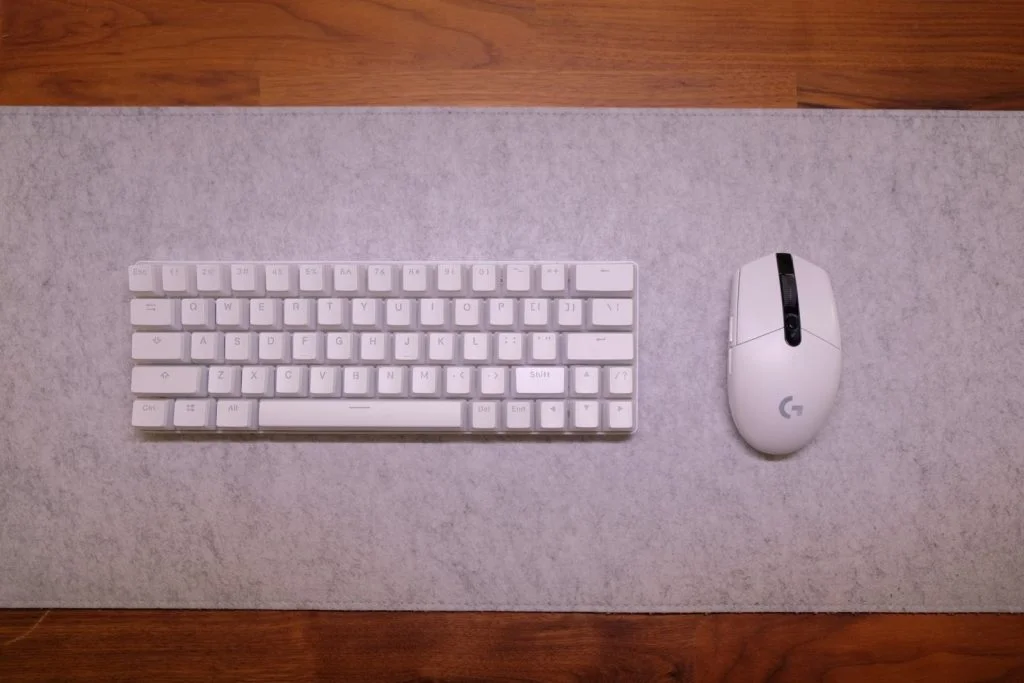 The look of this mouse I find to be fairly minimal, with no RGBs. It's fair enough that it doesn't come with a lot of design flare like the Razer Pro-Click, since it costs like 1/3 of it.
If you needed something to pair with your white mechanical keyboard, this mouse is a very good option if your budget is limited.
The Verdict on the Logitech G305
Excellent Mouse for the price would buy again if it breaks. haha, but in all honesty, I can't really fault it much being the ultimate value mouse in its price range. I would urge you all to check it out if you need something that fits in well with your setup. The issues I've had with it are all situational and were pretty minor. If you need an upgrade for a wireless gaming mouse, this might be it.