What are computer monitor lamps?
If you're not aware of what a Computer Monitor light bar or a Computer monitor light or a Computer monitor lamp is, it is a lighting solution that sits on top of your monitor to help light up your workspace and improve the overall lighting ergonomics of your office area.
From our comprehensive desktop lighting guide, we highlighted that the main benefits are:
Monitor lamps or light bars are a brilliant solution for tight desk spaces as it takes up the vertical space above your monitor
They are all lightweight and bright
Improves workspace ergonomics by allowing you to adjust colour temperature.
They ensure that the ray of light is focused on your workspace and not on your monitor which is a standard issue that most table lamps cause.
These are just some of the main benefits. Below, we go into detail on each individual light bar or monitor lamp, discussing their unique pros and cons. Our ranking is based on value for money, feature set and build quality.
In 2022, there have been some interesting developments. A wireless remote to control the light bar has pretty much become the standard.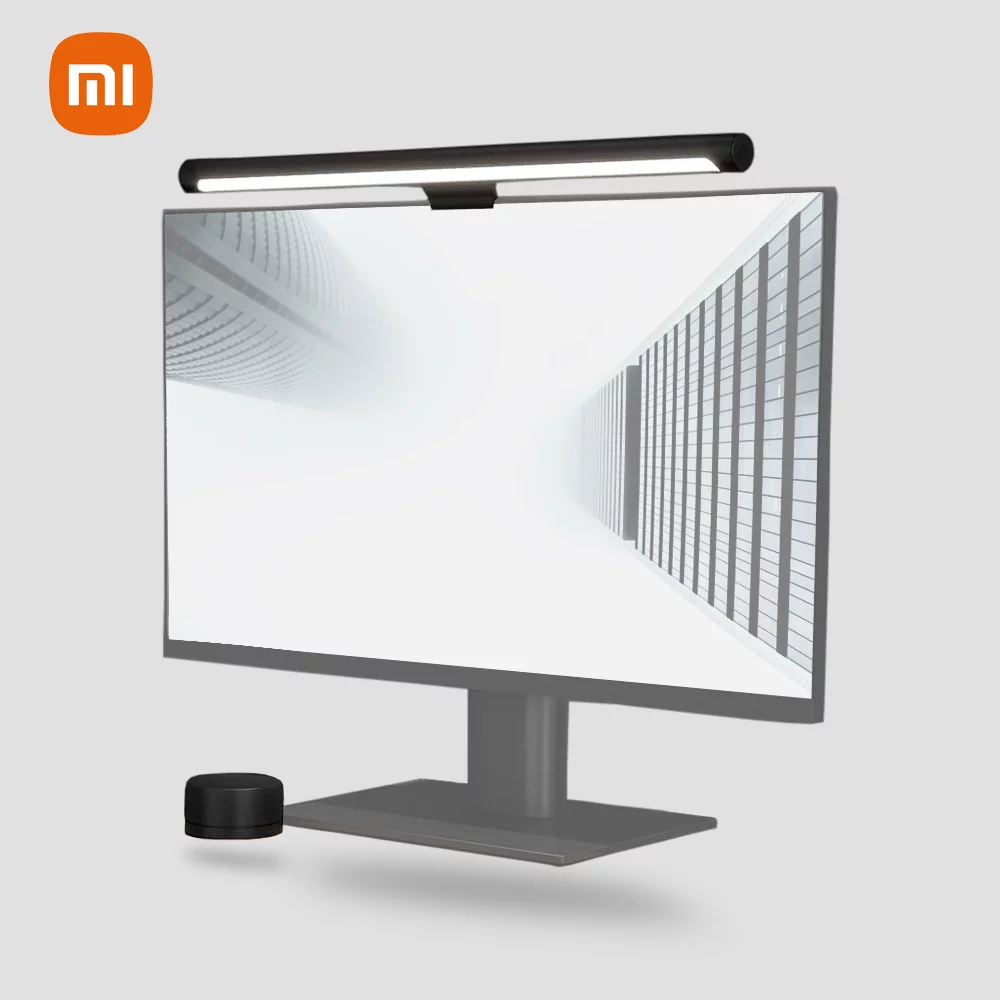 Pros:
Great Fitting Adjustability – This lightbar was pretty much designed for the Xiaomi 34 Inch curved widescreen. so it comes with a high degree of adjustability
Great Lighting Adjustability and colour temperature adjustability – Comes with infinite stops
Wireless Remote – This is by the bar the biggest and most unique feature. No other light bar allows for a wireless controller of brightness and color temperature.
Durable and Cheap – Many reviews have pointed out that the Xiaomi light bar has lasted them over 2 years. Considering that it's only $55 USD, it offers a good bang for your buck.
Cons:
Angle of adjustment could be more. But otherwise no cons.
Our Thoughts
In terms of build quality, it's equal to the BenQ screen bar which is insane for the price point. The main advantage is the infinite levels of control you get with the remote. The fact that it's also wireless is what we've given extra points for. We've preached many times that the more wireless you go, the more minimal your desk setup comes. The weighted mount on the light bar ensures that it stays in place on your monitor. The lighting level adjustment is great, but the colour temperature adjustment levels are overwhelming. Overall, for the price point, this monitor lamp is insane. At half the price of the benQ screen bar, we would happily buy this one every time.
If you want an in-depth review, you can check out our comprehensive review of the Xiaomi monitor light bar. Alternatively, you can watch our 3-minute review of the light bar to get an idea of the product.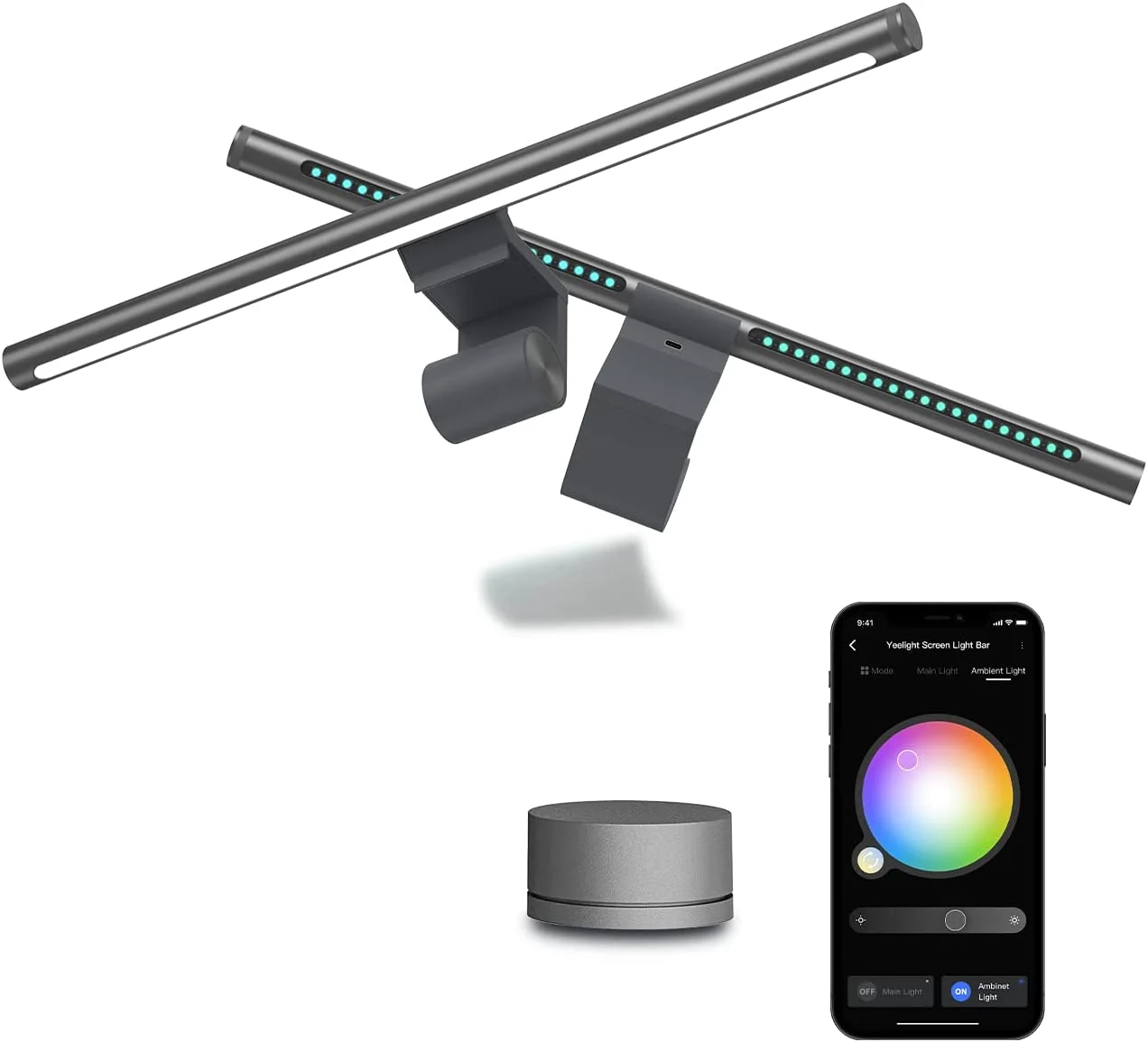 Pros:
Links up to your wifi to act as a smart light – app works with Google Home
Easy to use remote – being able to adjust both back and front lights
10W Power supply provided – Stable lighting with stable power supply FINALLY!
Constant firmware updates – A bonus feature that comes with smart lighting features, there is a big support team that works on updating the bugs in the software and the firmware of the light bar, which helps improve the user experience over time.
Cons:
The Wifi Capabilities do rely on a stable wifi connection – So if you don't have one it might cause some issues with the app connection. The remote still works, though.
Overwolf + Razer Chroma have shown a varied level of stable performance, but app integration was not done as cleanly.
The backlight is fairly dim if you're too far from the wall.
Our Thoughts:
We deem it as the upgraded Xiaomi Light Bar. The controls and the build quality of the light bar matches that of the Xiaomi Light Bar. The only difference really is the length and the onboard technology. The Yeelight Light Bar Pro is roughly 3CM longer and is equipt with smart lighting technology. The smart lighting feature is compatible with Google Home and Amazon Alexa as well. We have an in-depth review of the Yeelight Light Bar Pro, if you want more information.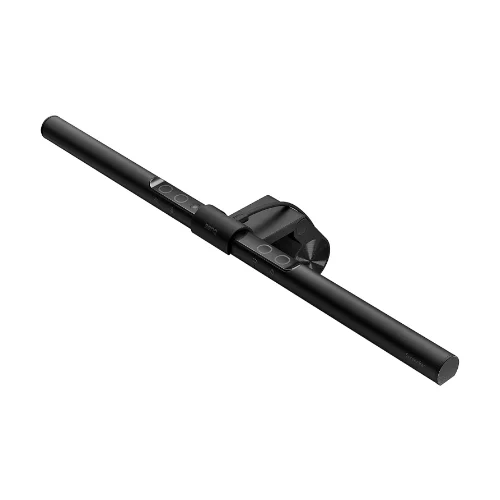 Pros:
Incredible build quality – aluminium finish gives you confidence it will survive any situation
All-in-one package – a plug-play lighting solution for your setup
Auto brightness functionality – don't worry about trying to find the right light setting, let the ScreenBar do all of the hard work
No light flickering – power source is connected directly to the ScreenBar, so you never have to worry about inconsistent lighting
Cons:
The auto-Brightness function seems to be a bit bright, and when the room is dark, it ends up being a hard adjustment for your eyes.
The touch controls on the light bar sometimes shake your monitor if you're using a monitor arm. Using the dial eliminates this problem, though.
Our Thoughts
The build quality of this light bar is better than the rest but a fair margin, however, we're not sure it justifies the price point of being almost double the cost of the other options when in terms of functionality, they're almost at the same level. The only difference is that it comes with an auto-brightness function that a lot of other light bars do not come with. When considering a light bar or monitor lamp is literally just a sleeve of LEDs being at $109 USD or higher makes it hard to justify. The brightness and functionality of this light bar are comparable to the rest as well. Overall, it does offer all the great features of high quality. It's not the best budget Monitor Lamp but it's the best in terms of quality. We have a full review of the benQ screen bar, so check it out.
In the review, we took a look at a few crucial things like the difference between the PRO version and the STANDARD version is and all of the other key features of the light bar. In summary, premium construction is guaranteed with a bright max output. The touch controls are responsive.
Pros:
No Screen Glare & Flicker Free Anti Blue Light Design – Unique asymmetrical optical design that only illuminates your desk and keyboard, ensuring there is no glare coming off your screen.
Auto-Brightness – Built-in ambient light sensor automatically adjusts the brightness to a comfortable level. The touch control panel is located at the top and directly in front of you for easy and quick access.
USB Powered and Space Saving – Being USB powered means that you can connect it directly to your computer or power bank and it is ready to go. Save space as you will no longer need a dedicated power port and connects directly on top of your monitor.
New Remote – In 2022, they've joined the trend with a easy to use remote
Cons:
It is not suitable for curved monitors as the pressure exerted by the mounting clip is not designed for curved monitors.
The auto-brightness function does not seem to respond correctly all of the time and tends to be on not enough light to compensate side.
Material and build quality are on the cheaper side.
Our Thoughts
For its price, the Quntis Computer Monitor Lamp is a very affordable entry into the Monitor Light Bar segment. Priced at $69.99USD it is priced competitively with the other light bars that we have in our ranking. It has auto-brightness control which is a nice to have feature. Coupled with an easy to use remote, this makes it a breeze to adjust the brightness and warmth of the light bar. It's easy to assemble, which is always a plus. Clamp it all together and then place it on the top bezel of your monitor, no tools and all hands. The USB connection allows you to connect it to your PC or to a power source such as a power bank or wall plug, allowing you to use it independently of your PC being turned on. For its price, there is not much more than we can ask for it to do, it was a serious contender for our number 1 light bar, and it didn't miss it by much.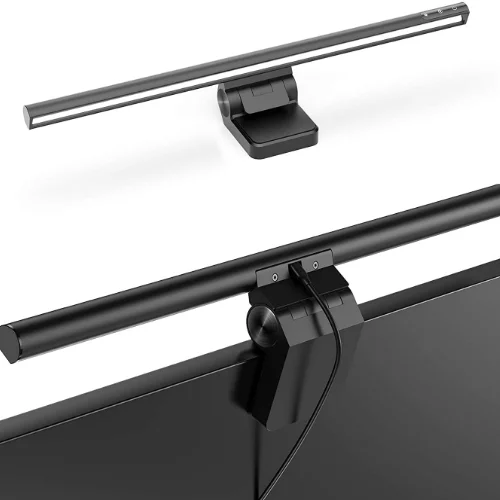 Pros:
Affordable price – At only $49.99 USD
Great build quality – All Black Aluminum Body
Glare-free and flicker-Free – Eliminates reflective glare off the screen found on most normal desk lamps
Cons:
Only 3 colour temperatures: warm light(2800K), mix light(4000K), white light(5500K). Other light bars have a wider adjustable range.
It is not suitable for curved monitors as the pressure exerted by the mounting clip is not designed for curved monitors. – MANY Reddit horror stories.
Our Thoughts
The Baseus Monitor Light Bar comes in next on our list and is comparatively less expensive than other competing products at $49.99 USD. At this lower price, there are some creature comforts missing, mainly, the automatic brightness adjustments and the wider range of colour temperatures. That being said, there are some great things we love about the Baseus Monitor Light Bar. It has intuitive touch controls built into the light bar. It is USB Powered, any USB outlet (5V/3A) can power the lamp whether it is a computer, wall charger, or power bank. Its tool-free design also makes it easy to use and install.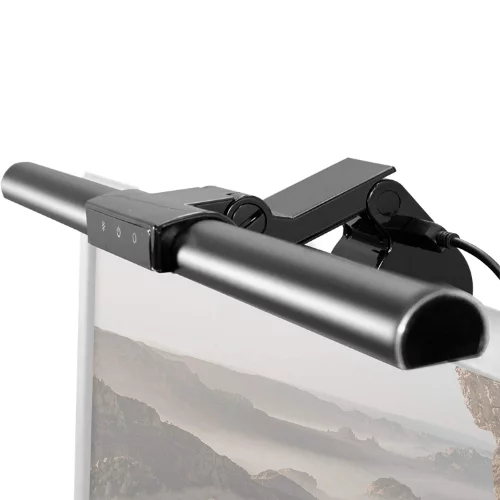 Pros:
Most affordable out of the ones reviewed – at only $39.95
Offers 5 levels of colour temperature adjustments, more than some competitor products which only offer 3 levels
Cons:
Only 5 brightness settings, may not be bright enough for some
Build quality not as premium as the competition
Our Thoughts
Vivo has been a manufacturer of the most well-known monitor mounting solutions, it has only recently entered the market for light bars. Its technology is relatively untested but from our analysis, it seems that they have most of the right features sets. This monitor lamp's build quality is fairly average, but with that said it comes with an astounding 3 years manufacturer warranty which is indicating to us that they're extremely confident in the durability of their product. It only came with 5 adjustment levels for the light, which is not great but not bad either. We feel that potentially what may set it apart from its competitors is the style of the light bar or monitor lamp, it's designed to be sleeker and the control directly accessible by the user.
Conclusion
There were a lot of contenders for the number 1 light bar category and there wasn't much to separate them at all. But for us, the Xiaomi Light Bar stood out from the pack due to its premium construction and finish and features. It offers glare and flicker-free lighting and the ability to control your temperature and brightness through a wireless dial. And to top it off, the aluminium finish was hard to pass up on when most of its competitors (for similar pricing) were offering plastic body finishes. Any of these monitor lamps will light up your desk brightly and adequately, but for its price and features, Xiaomi takes out the crown of Number 1 Light Bar in 2022, with the Yeelight Light Bar Pro being a close 2nd.