So what makes the NuPhy Air60 unique?
The NuPhy Air60 has a really sleek design and it's very comfortable to use. It also connects quickly and easily to any Bluetooth-enabled device. It's an innovative ultra-slim wireless mechanical keyboard. This is a lot to pack into the 60% form factor, which is our favourite choice of keyboard size. In addition, it's fully hot-swappable, meaning that you can easily change up the switches for a different feel (more on that below). In fact, we loved it so much we made this short video on it…
NuPhy claims that they are using the world's thinnest PBT spherical keycaps, which is a higher material when compared with ABS plastic keycaps, and the preferred choice of keyboard enthusiasts. It has three connection modes: wired, bluetooth and a low-latency 2.4g wireless connection (using a USB dongle). All of this functionality in the 60% layout is simply a rare sight in the current keyboard market.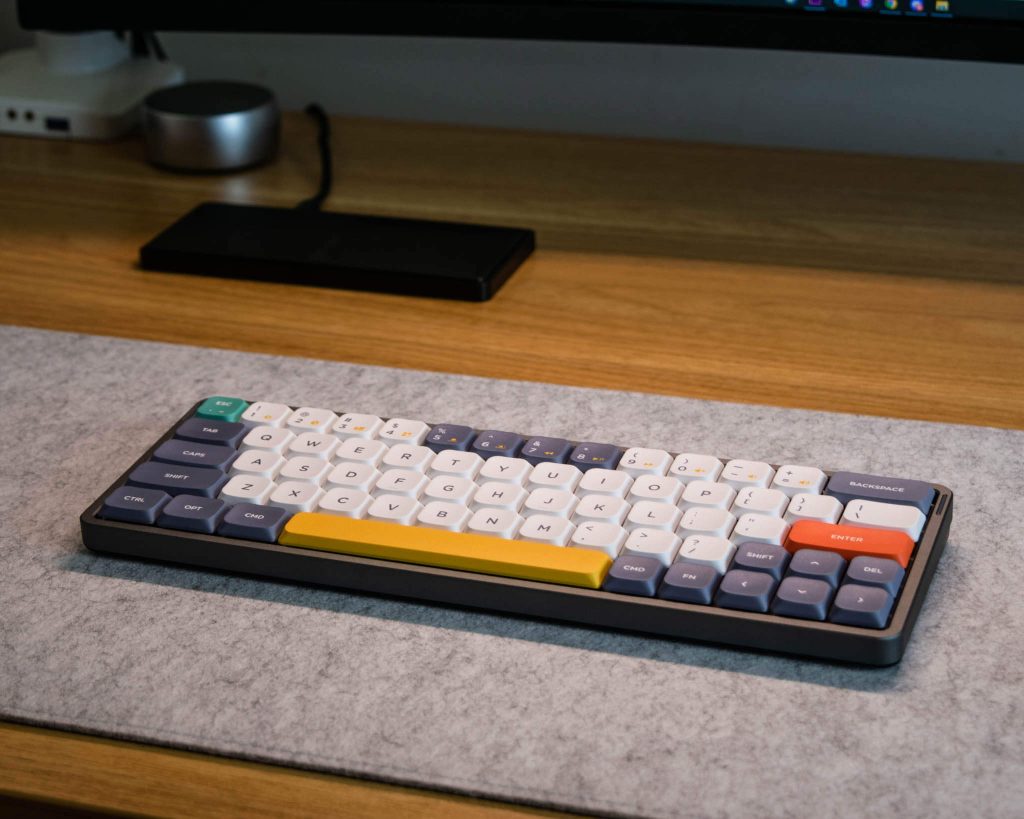 It's the Perfect Wireless Keyboard for On-The-Go Users
The Nuphy Air60 has three bluetooth modes and can connect to four devices, switching at the touch of a button. So whether you're using your computer, tablet or smartphone, this keyboard has you covered. And if you need to type in a hurry, the low-latency wireless mode is perfect for getting those quick thoughts down without any lag. As mentioned, the Air60 is super slim and lightweight, making it easy to take with you wherever you go.
NuPhy's lab tests indicate that the built-in 2500mAh recharable battery can last up to 48 hours, which is plenty for users on the go. With my own testing and experience, it seems to last about that long. I just change it to 'Wired' mode when I need to charge at my desk. It can charge and be used at the same time unlike products like the Apple Magic Mouse.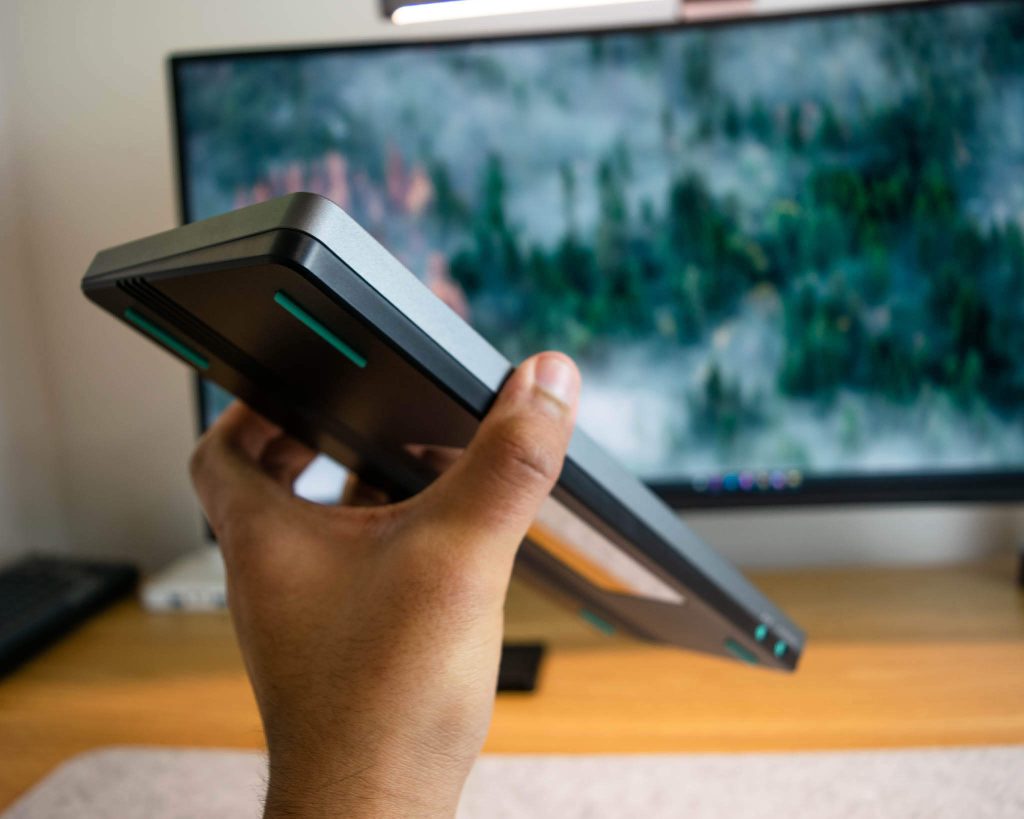 The NuFolio V2 has brilliant design
The NuFolio V2 not only protects the keyboard, but can also transform into a stand when unbuttoned and folded, supporting all the iPad Pro/Air, iPad mini and iPhone etc. It's so simple yet brilliant. When not being used as a stand, the NuFolio V2 protects the keyboard, and lets you bring it along in your bag while keeping the keyboard safe. But as soon as you need to prop up your iPad or Phone, just unfold and button it up and you're good to go. It also looks beautiful. That bright yellow is attention-grabbing and also perfectly matches the yellow space-bar.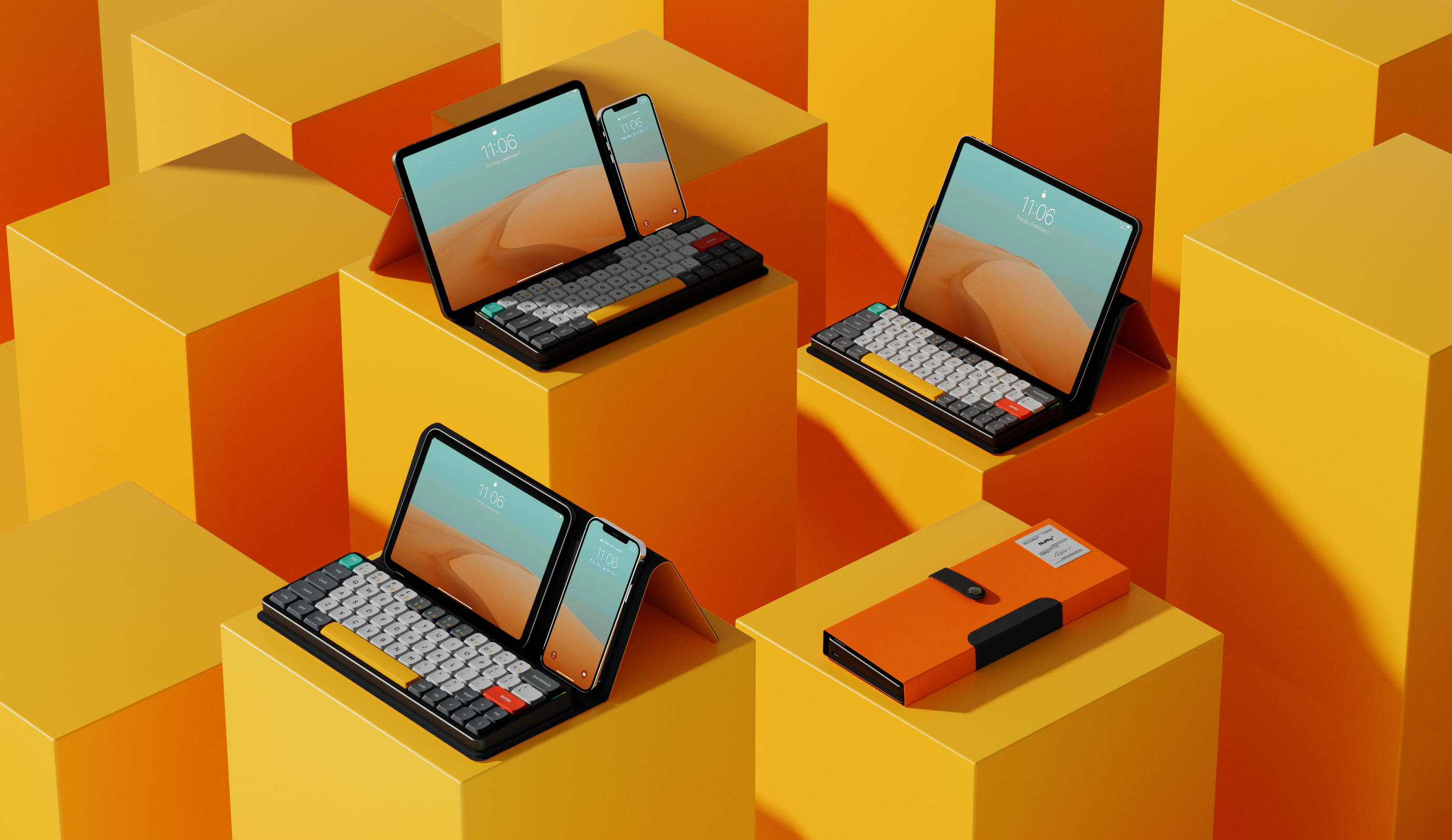 How is the Typing Experience?
Many members of the NuPhy Discord Server report that lubing the switches makes a world of difference. I have not yet done that and am using it stock with Brown Gaterone Low-Profile Switches. They have a small tactile bump, but it's definitely less pronounced than some of the normal profile keyboards we've reviewed. I'll talk about this more in the next section regarding hot-swapping. But basically with low-profile switches, the actuation point is shorter since the switch itself doesn't protrude as much. This makes for a snappier typing experience that some people prefer. I'm still getting used to it, but so far I'm enjoying the feel. It is also "faster" for gaming compared to regular switches. As such, we believe it would pair amazingly with a wireless gaming mouse such as the Logitech G305 that we reviewed earlier. However, others report low-profile switches not being as "clacky" or enjoyable as normal switches – I don't really agree with this point of view as I also enjoy the quiter typing experience.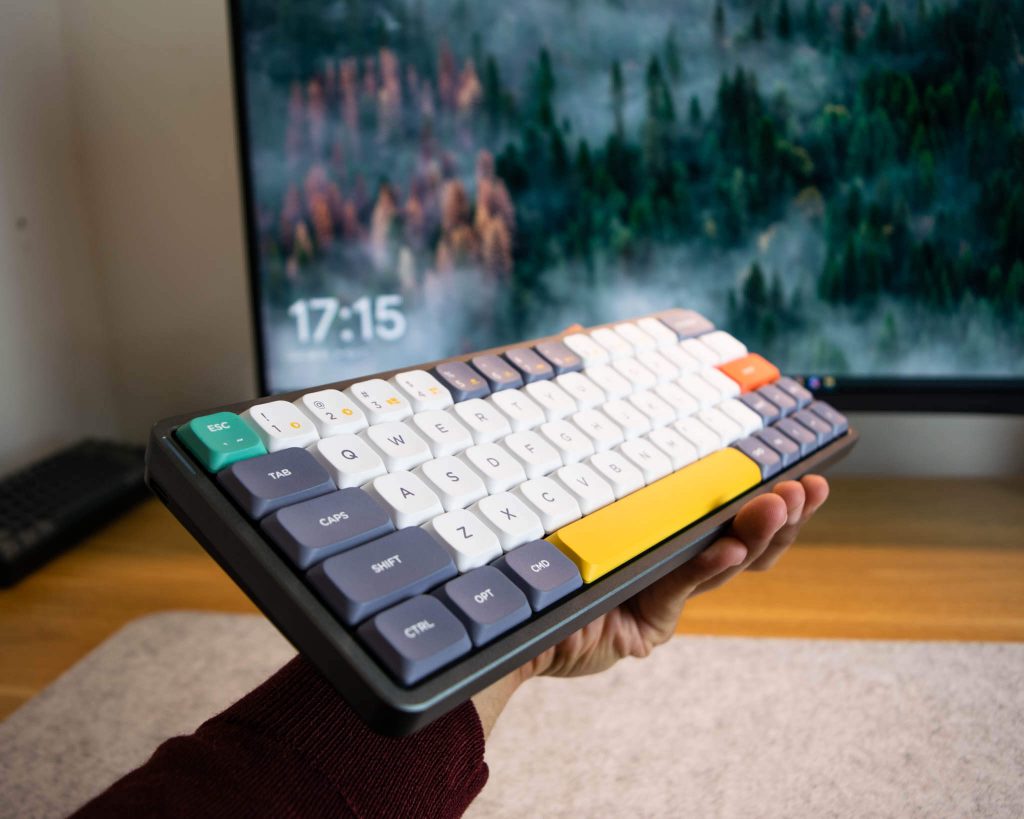 A favourite of keyboard enthusiasts – It's hot-swappable… but there's one major problem
On the surface, one of the best features of the NuPy Air60 is that it's hot-swappable. This means that you can easily change out the switches for a different feel. If you're not familiar with hot-swapping, it's basically a way to change out the switches without soldering. Normally, this provides keyboard enthusiasts with endless possibilities when it comes to what type of switches they want, including Clicky, Tactile and Linear as we covered in our mechanical keyboard guide.
However, the NuPhy Air60's ultra-slim design presents one major problem in this area. The only switches compatible with the keyboard are the Gateron Low-profile Mechanical Switches. This means that although it is "hot-swappable", in reality, you are locked into the three currently available Gateron low-profile options (Red, Blue, Brown).
To sum it up, the low profile switches sound decent and can be improved with mods (such as lubing as a start). The shorter actuation of these switches means that they aren't as loud and clacky as normal mechanical keyboards, and they could even offer faster speed for gaming applications.
What are the other downsides of the NuPhy Air60?
One potential downside of the NuPhy Air60 is that it doesn't have a numeric keypad (just like any 60% keyboard). This isn't necessarily a dealbreaker for everyone, but if you need a numeric keypad for work or school, you'll want to look elsewhere. Additionally, the keys are spaced pretty closely together, so if you have large hands you might find the keyboard a bit cramped. Overall, though, these are minor quibbles.
The RGB Experience is Limited on the Nuphy Air60
It can be hard to show this on camera, so I'd like show you some comments from a Reddit thread that I read while researching.
I essentially have the exact same opinion. That is, the RGBs don't shine through at all with the Coast Keycap set. It's not really a big deal for me, as I'm not huge on RGBs in the first place. But for those who are, don't expect any intense lightshows.
As u/MacSources points out, you can swap to the darker grey keycaps to allow for better lighting.
Shipping Inconsistency Seems to Be Everywhere on Their Social Media
Shipping consistency seems to be a major problem if you look through Reddit, Discord and their Facebook Group. Many customers say that it takes them a long time to get the item ready for shipping, and then when it finally is shipped, it takes another 2 – 4 weeks or more to reach them. On top of this, there are many users that report their keyboard being bent in transit.
After contacting their customer support, they will definitely replace the keyboard for you in this situation. But I think they should just use more protection in their packaging to make sure it happens less.
As for shipping times, shipping from their warehouse in Shenzhen understandably takes a while when it needs to get around the globe. But this is where using Amazon provides a suitable solution for those customers in the US. With Fulfilment by Amazon services, US customers do not need to worry about damage in transit and long shipping times. Amazon takes care of it! And this is definitely the option you should take if you're interested in this keyboard and live in the U.S.
Screenshot from their Discord Server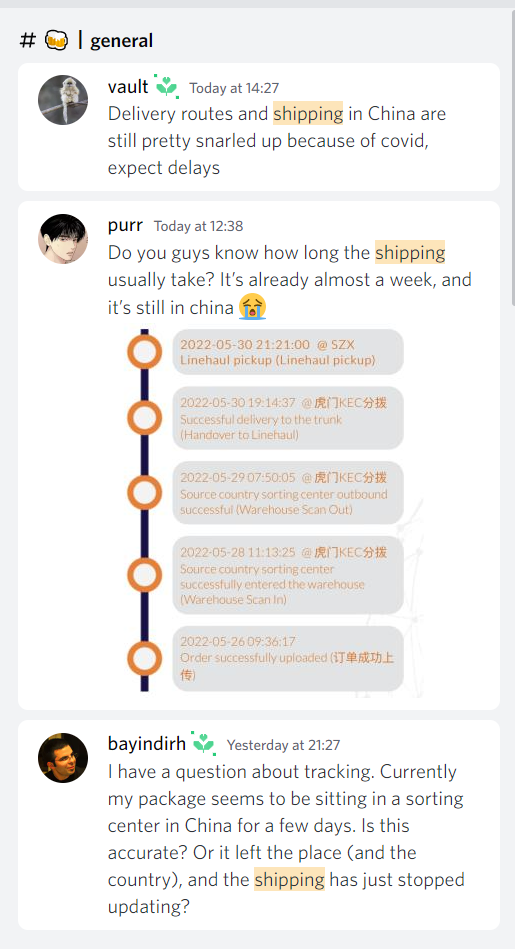 Conclusion
If you're looking for a portable, ultra-slim wireless keyboard, the NuPhy Air60 is definitely worth considering! Despite some shipping inconsistencies, it's a great option for those who need a high-quality Bluetooth keyboard that can easily switch between devices. So if you're in the market for a new keyboard, be sure to check out the NuPhy Air60! Just be sure to use get it on Amazon if your country supports it to avoid long shipping times and damage.