Why are desk accessories important? Based on a study conducted by McKinsey, working from home will become the norm in the years to come now that companies have trialled it and seen the benefits. So I guess it's time to get serious about adding in desk accessories that can bring value and efficiency into your working from home setup. In this article, I am going to go through top items that will help you improve the functionality and aesthetics of your desk setup.
What desk accessories to prioritise?
There are two types of desk setups that would probably change the desk accessories you would want to prioritise.
Firstly, for a desk setup that revolves around using a desktop PC or Mac Mini, you would probably want to prioritise Monitors, Monitor Mounts, Monitor Lightbars and then all the others afterwards.
Reason: Increasing the screen real estate you have to work with is probably the most important and then adding in the ergonomic factors to help you work for longer is the next most important element. Having more screens will allow you to do work more efficiently. Choosing a monitor arm and monitor light bar will help you with reducing bodily fatigue and hence increasing the time you can work for without straining your body in the long term.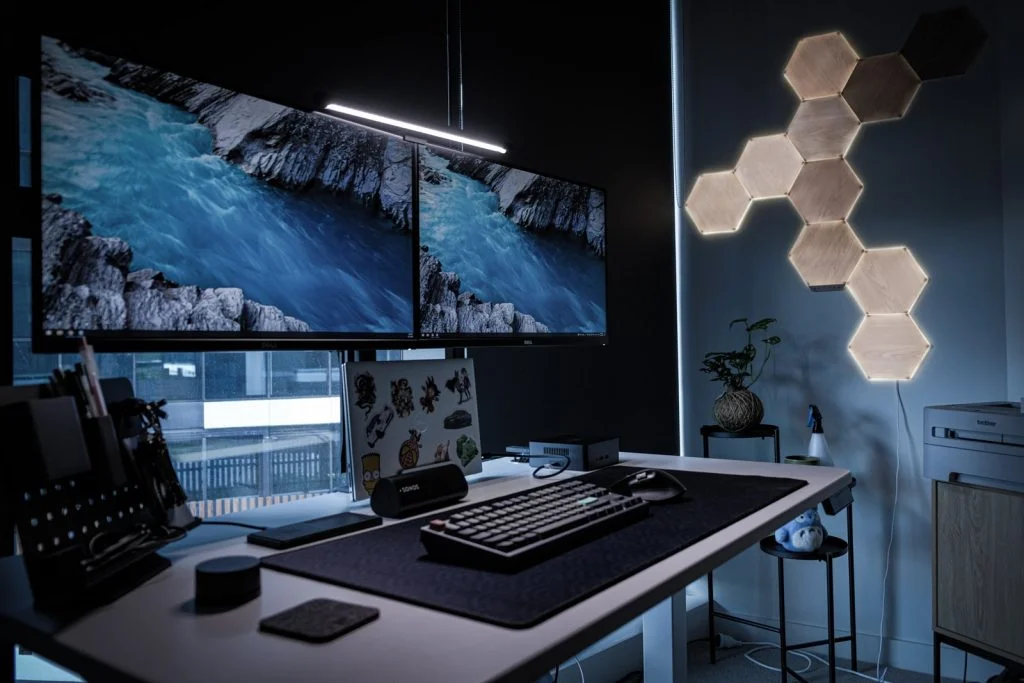 Secondly, for a desk setup that revolves around a laptop being the driver, you would probably need to prioritise a docking station, USB Hub and then a laptop mount as the main desk accessories to add to your shopping list.
Reason: Having a docking station will allow you to reduce the number of cables you need and then increase the screen real estate you have to work with by allowing you to work off multiple monitors. The newer laptops from Apple always ship with fewer ports, hence it becomes more important to use a docking station or USB hub to expand the number of ports you have. If you have those, it gives you the added benefit of just needing to plug in your laptop instead of needing to plug several different cables into your laptop at a time.
Desk Pads
If you don't already own a desk pad, it's worth taking a read at our comprehensive guide on how we crafted the top-rated wool felt desk pad by MDS. The main reason you would want a desk pad is to help soften the interaction between your wrist and the table, but also help segment your workspace into functional zones. It's probably one of the most common component in people's desk accessories line up.
Desk pads come in all different materials such as wool felt, cloth, and leather. They have all their own advantages and disadvantages. Wool felt desk pads are the most balanced in terms of look, durability, and cost. With that said, Wool felt desk pads are not exactly suitable for gamers as the rougher texture will slow down the mouse movement by a little bit, which is why it's recommended that gamers that play a lot of FPS games should look into cloths desk pads.
Finally, leather desk pads are not really true leather these days and most of them are vegan leather or PE leather. This synthetic kind of leather can last longer than normal leather but is also easier to maintain in some cases. They still cost a bit more than the other options mentioned above but are still worth a look.
Overall, you should choose a desk pad that suits your needs and we would recommend going for either a felt desk pad or clothes desk pad as they are generally quite affordable for good quality.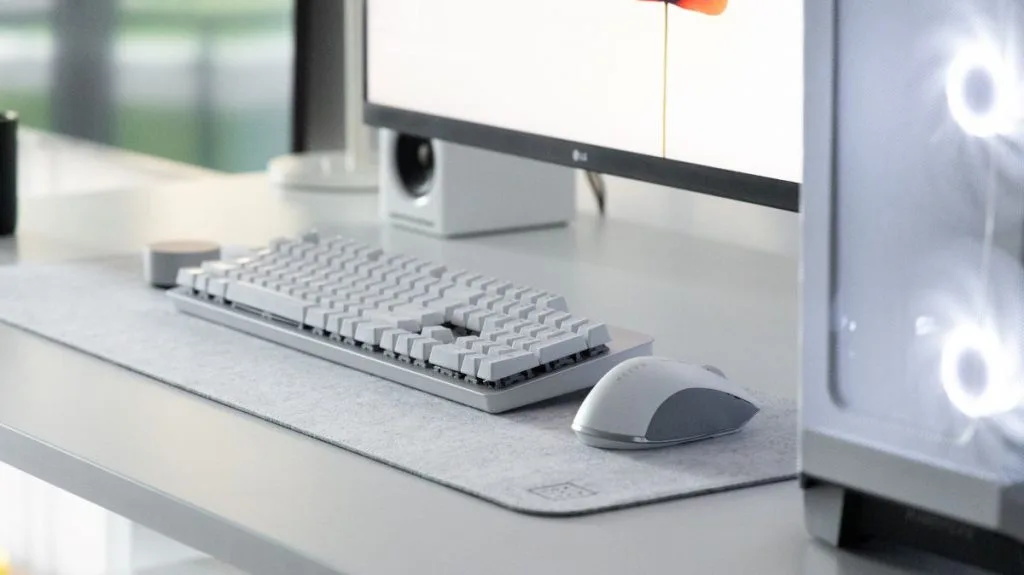 Wireless Chargers
Wireless charging technology has come a long way since its release in 2008, QI charging technology has now safely released its 3rd generation charging standards with can charge up to 15W. What does this actually mean for you? basically, wireless charging will become more accessible and faster as well. Adding a wireless charger to your table will help you charge your phone more conveniently without the need to search for a type C USB cable. Of course, charging your phone is not the only item you can charge. QI charging technology can support charging your Airpods and other QI-enabled devices.
15W charging is the fastest charging available outside of proprietary chargers such as the Iphone's own wireless charger or the OnePlus charger which can only charge the OnePlus phones up to 60W.
Having a wireless charger as a desk accessory can definitely help you keep your phone and other devices charged as you use them throughout the day. It's always super annoying when your apple air pods run out of battery mid-conference call.
We've developed our own wireless charger so have a look at our project.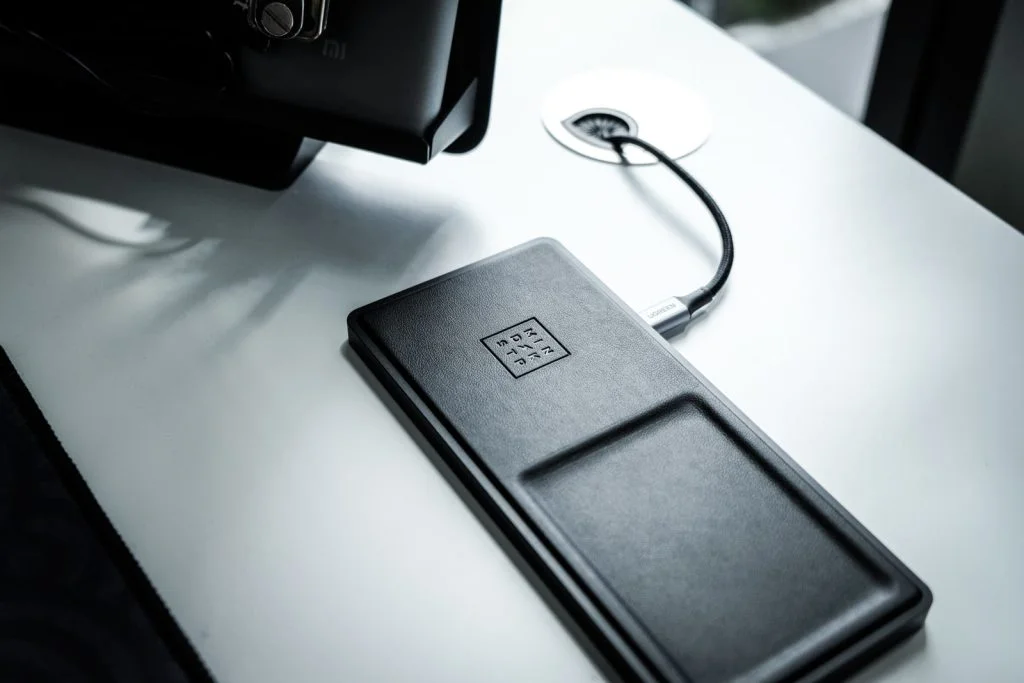 Monitor Mounts
Arguably, having a monitor arm or monitor is one of the most important things for your desk setup. It helps reduce the footprint of your monitor and gives you extra space under the monitor to do keep items like a USB hub or your keyboard when you're not using it.
Another factor to consider is ergonomics. By having a monitor arm or mount you can adjust the height of your monitor by getting it to the height that you need to keep your head levelled and not tilted. This reduces the strain placed on your neck which will reduce neck-related injuries.
here are some monitor mounts that have been our go-to solutions when people ask:
The Ergotron HX has been the go-to monitor arm if you have a 49-inch monitor. It is unbeaten in terms of rigidity and strength.
If you have a widescreen monitor that's small than 49-inch like a 34-inch monitor. The new version of the North Bayou linked above is worth its money.
If you have a standing desk, then the need for these monitor arms are not as pertinent as long as your monitor stand has height adjustment. We have tips on choosing standing desks as well, have a look at this article here. We're also looking to review a few more standing desks to help with the decision making process.
Laptop Stands
Similar to the monitor mount, having a laptop stand will really help with the ergonomics of your laptop setup. However, if you're using your laptop with wireless keyboards and a mouse, you can also consider using a vertical laptop stand to conserve space on your desk. One other advantage of having a laptop stand is the added cooling benefits that are designed into most laptop stands. If you are interested in having a deeper look at laptop stands we have a guide on the best laptop guides for your desk setup in 2022.
There are two types of laptop stands.
Vertical Laptop Stands
One type is called Vertical laptop stands where your laptop operates in clamshell mode (where the laptop is shut and docked. Most of these laptops are used for aesthetic purposes rather than productivity because the laptop itself won't contribute as an extra screen. This is, of course, not an issue if you're running dual external monitors.
Tray-styled laptop stands
Tray styled laptop stands are used when you want to be able to use the laptop screen while working. It's kind of a budget option for when you don't want to spend money on a second display or an ultrawide monitor. Let's have a look at a few popular options.
USB Hubs
USB hubs are a pretty useful desk accessories addition especially if you run wireless peripherals for your laptops. It can reduce the number of ports that you need. In addition, it gives you another level of convenience because if your PC is further away, you can just keep the hub under your monitor or mounted to the underside of your table.
The USB hub can be regarded as a cable management solution. By Having a USB Hub you can reduce the number of cables required to go into your laptop. You can also think about mounting the hub behind your monitor as well.
Docking Stations
Docking stations have also been talked about a lot, but there are many on the market. For those of you that use a laptop as the main driver, prioritising the dock station as part of your desk accessories purchase is key. Selecting a docking station isn't exactly an easy process as it depends heavily on what ports you have on your laptop. If your laptop is newer then finding a USB-type C docking station is generally a lot easier. It is also cleaner looking because it will use have one block taking up usually both of the USB type C ports fitted on your laptop.
What's important for a good docking station?
For a good docking station, you would expect to have power delivery which is the ability for the laptop to be charged through the USB Type C or Thunderbolt Connector.
Next, you would want some sort of 1440p output at 60hz – Ideally 2 of them. 4k monitors are still not that popular and most laptops would struggle to maintain 4k on an external display running at 60hz at this point in time. The output for the display would be either USB type C or Display Port.
Additionally, if you need some extra storage, some docking stations come with SSD/M.2 slots to give that boosted memory.
Finally, you would want a good mix of USB type C ports for future proofing or just a few type A ports. If you're a photographer you can still rely on the laptop's SD card reader, if your laptop doesn't have one, then look for a docking station with a SD card reader.
I think very rarely will people use ethernet ports for the hub, most laptops come with very good wireless connectivity. Ethernet ports will only be useful if you plan to run a network attached storage (NAS) on your home network.
Monitor Lights
Oh man, we've spoken about this excessively in the last. If you still need help perfecting your desk lighting, check out our article on how to perfect your desktop lighting where we go in-depth on what you need to do. In that regard, the most important accessory that you can get for your desk is actually a monitor light bar.
We also have articles with updated rankings of our top selection of monitor light bars. Our top 5 monitor light bars can be found here.
For desk accessories, there is a lot that you can get. The important part is you need to choose the desk accessories that are practical for you. For example, if you work from a laptop, you would want to prioritise getting a dock or a USB hub so you only have to plug in 1 cable every time you dock your laptop. For a desktop setup, you might want to prioritise monitor arms and light bars as the desk accessory to light up your desk.