Have you ever been in a room and thought, "Wow, this is cool and simple!"? That's how Cory Johnson's space feels. Once a roofer, he's now mastered the art of photography. His organized workspace is a testament to his transformative journey.
About Cory: Building and Capturing Stories
Cory works in construction, mainly fixing roofs. But when he's not working, he loves to take pictures and travel. He's got a sharp eye, whether he's building or snapping photos. In 2020, when most of us were bored at home, Cory got into setting up desks by looking at Instagram photos. He started with gaming setups, but then he decided what he really needed for his work and hobbies.
Setup photos by Instagram: @[corssonpv]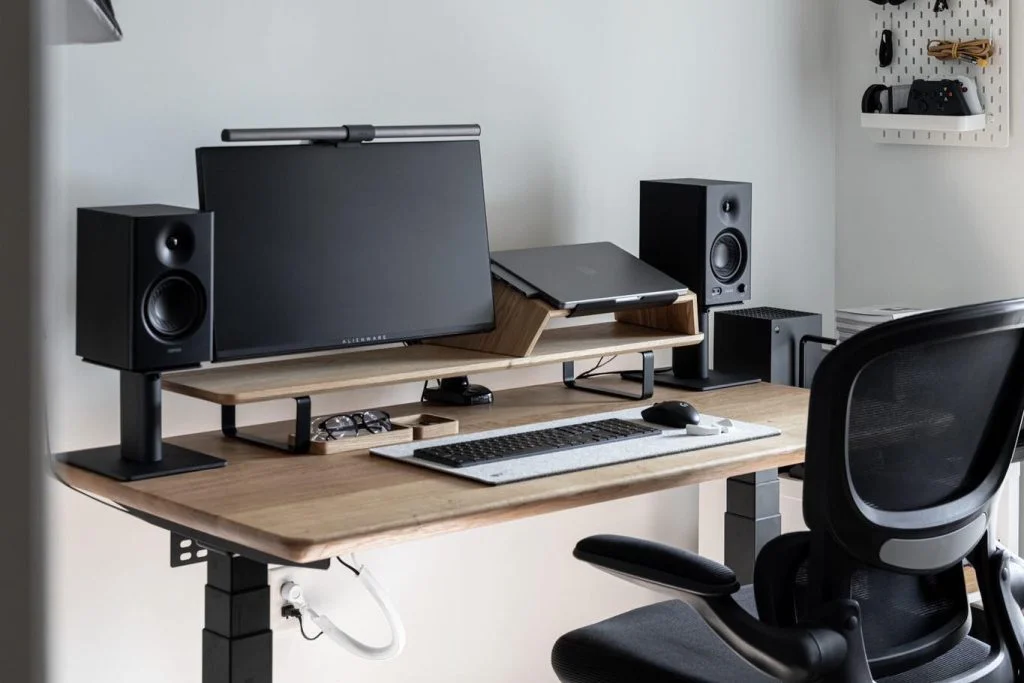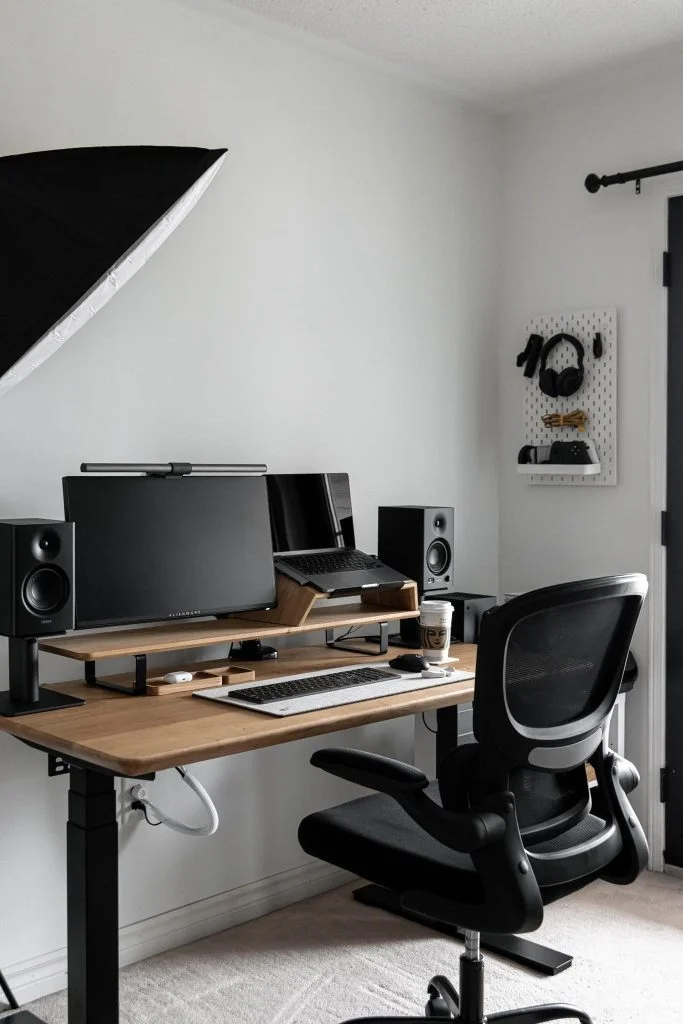 Cory's workspace shows his love for simple photography. He likes to keep things straightforward, both in his photos and in how he works. Let's look at some key things about his space:
Alienware 24″ 240hz 1080p Monitor: Functionality is the forefront with this choice. The 240hz refresh rate ensures fluid transitions, making it perfect for both gaming and high-resolution photo editing.
BenQ Halo Monitor Light Bar: Aesthetically pleasing and purposeful, this light bar reduces screen glare and eye strain. It aligns perfectly with Cory's minimalistic approach, offering focused illumination without any desk clutter.
M1 Pro 14″ MacBook Pro 2021: Sleek and power-packed, this MacBook serves dual purposes. With the M1 Pro chip, it handles photo editing and multitasking effortlessly, while its compact size caters to Cory's traveling needs.
Beyerdynamic DT 990 Pro Headphones: These headphones are not just about sound quality but also comfort. Ideal for long editing sessions, they offer precise audio clarity, ensuring Cory's travel and photography videos have impeccable sound.
Satechi Slim X3 Bluetooth Keyboard: Reflecting Cory's minimalistic philosophy, this slim and wireless keyboard keeps the workspace clutter-free while providing tactile responsiveness for seamless typing.
Logitech G305 Mouse: Known for its accuracy and ergonomic design, this mouse aligns with Cory's approach to functional simplicity, ensuring precision whether he's gaming or editing.
Marshalls Chair: Comfort is paramount, and this chair offers just that. Its design provides ergonomic support, crucial for those long hours spent capturing or editing photos.
Woodcessories Desk Shelf & Oakywood Desk Mat, Docking Station, Headphone Stand, iPhone Stand: These wooden accessories add a touch of earthiness to the setup, blending aesthetics with utility. They resonate with Cory's minimalist photography style while keeping the workspace organized and efficient.
Canon R5 Web Camera: This choice reflects Cory's dedication to quality. As a photography enthusiast, using a high-quality camera for web conferencing or content creation ensures sharp imagery consistent with his standards.
Shure MV7 Microphone: A testament to Cory's attention to detail, this microphone ensures crystal clear audio, enhancing the quality of any virtual interactions or content creation.
Each item on Cory's desk was chosen for a reason. They're useful, look good, and keep things simple.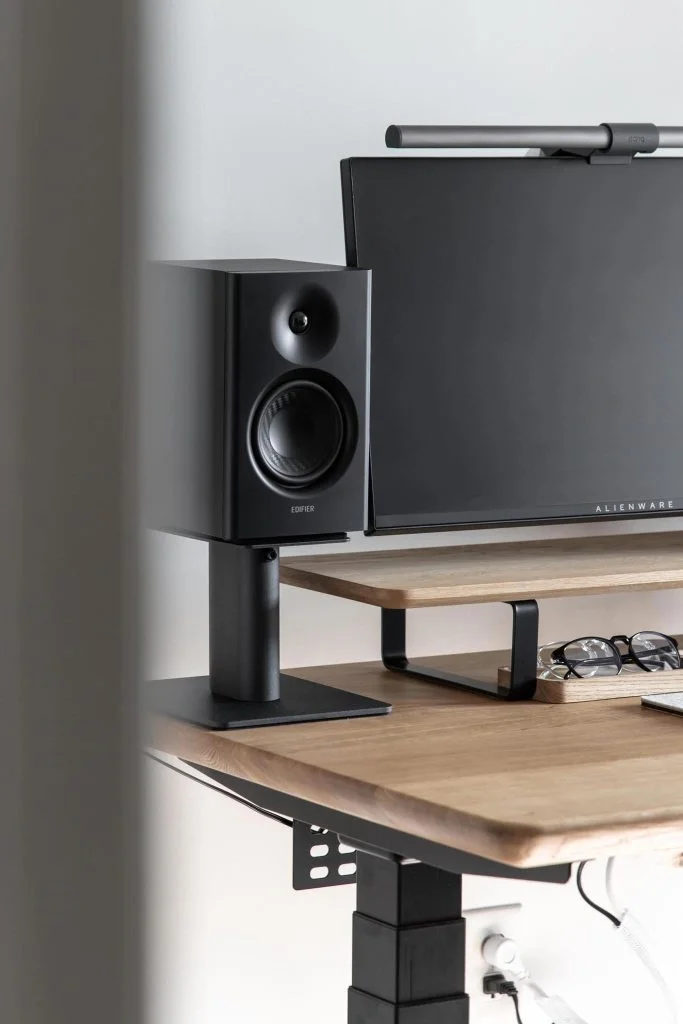 Simple But Useful
Cory's workspace isn't about showing off. He sticks to his simple style but makes sure everything works well.
Easy Workflow
Cory set up his workspace to help him work smoothly. By knowing his space well and picking the right tools, he makes sure he can get a lot done without any hassle.
Cory's Top Advice: Keep Things Simple
Cory likes to keep everything easy and clear. His room isn't just neat; it also helps him work efficiently. For him, it's more about how useful stuff is than how cool it looks. He has chosen every item in his room to help him do his work faster and better. If Cory could give you one piece of advice, it would be: "Keep things simple." Even if a setup looks super cool, if it's too much, it might actually make it harder for you to work. Need some further tips? We have put up a guide for you!
A Workspace That Shows Who Cory Is
Check out this video of Cory's room on Instagram!
Cory's room perfectly captures two big parts of his life: building things and taking photos. He's mixed what he needs to work with his love for simple designs. This makes his space both pretty to look at and easy to work in.
Want a room that feels just right for you? Dive into different design ideas and see how you can mix what you need with what you love. See how people like Cory make their rooms perfect for both work and relaxation and check out our setup blogs here.