If you're looking for a standing desk, you found the right guide! This article has all the information you need for your next adjustable standing desk. We'll discuss the best options and help you find the best one for your needs.
If you're new to standing desks, we suggest you read our essential tips for selecting a perfect standing desk for you.
Amazon link: https://amzn.to/3BOQDen
For those searching for a standing desk that can be readily adjusted, the VIVO Electric Stand-up Desk Frame is a fantastic choice. The best feature of this product is its compact folding design, which lets you store it when not in use and conserve room. This is especially helpful if you want the advantages of having your own flexible standing desk but living in a small apartment or house.
SPECIFICATIONS OF VIVO ELECTRIC STAND-UP DESK:
Type: Electric (Single Motor)
Controller Type: 2 Button Control Panel
Height Range: 27.8" to 47"
Length Range: 36.4" to 53.7"
Standby Power Consumption: <0.5W
Max Speed: 25mm/s
Noise Level: <50dB
PROS:
Compatibility – Recommended table top sizes: length of 37" to 74", the width of 23" to 43", and a thickness of 3/4" and greater (Actual Frame Length: 36.4" to 53.7", Frame Height: 27.8" to 47").
Sturdy 176 lbs Support – All steel construction and a sturdy leg support system hold weights up to 176 lbs, so you can rest easy knowing that your workstation is safe and secure. Levelling feet adapt to nearly any floor surface.
Electric Lift System – Telescopic height adjustment allows you to go from sitting to standing in seconds with a powerful single motor featuring a 1" per second lift speed. Enjoy smooth, quiet height transitions at the press of a button.
2 Button Controller – This simple controller is easy-to-use so you can quickly find your desired height setting. Cable management clips keep your cords organized and safely out of the way during transitions.
Easy to install and smooth up and down movement.
CONS:
A little bit heavy
A little bit shaky, even with the lowest height, becomes worse if the table is set at a higher position.
Comes with a fixed Size and Compatibility
This one is a personal favourite – The best part of this? This is the most super affordable yet really lives up to its function.
It's easy to put together and use and so much better than the old-school way of standing at a desk. I love that it can adjust to my height, and I can quickly move it around as needed. The only downside is that there's some noise when using it, but overall it's not too bad for its price.
Amazon link: https://amzn.to/3BNG4bD
High-quality components were used in constructing the Flexispot Height Adjustable Standing Desk, which is also covered by a lifetime warranty. There are two alternative height settings for the desk: 28″ and to 47.6″". Although it must be purchased separately, the display may also be adjusted to any height within those ranges.
The keyboard tray's height may also be simply adjusted, a feature many standing workstations lack. Anyone can put it together on their own because it is straightforward to put together and has clear instructions.
SPECIFICATIONS OF FLEXISPOT EC1 STANDING DESK: 
Brand: Flexispot
Shape: Rectangular
Desk Design: Computer Desk
Product Dimensions : 30″D x 48″W x 28″H
Colour: Mahogany
Style: Modern
Item Weight: 85 pounds
PROS:
Cosy and Ergonomic: Spacious 48" x 30" eco-friendly whole-piece desktop offers a roomy setup for 2 monitors and a laptop so you can spread out and calmly take on the challenges of the work day. Please allow a slight 0 to1-inch difference in desktop size due to manual measurement.
Electric Height Adjustable Lift System: The motor lift mechanism offers smoother height adjustments, from 28″ to 47.6″, at a speed of 1″/second with low noise(under 50 dB) while running.
Solid Construction: An industrial-grade steel frame combined with a solid desktop allows for a 154 lbs. weight capacity to support your ideal workspace setup.
Built for Work from Home: The perfect standing desk to allow independent and remote workers to stay active, healthy, and productive while working from home. Precisely adjust your desk to your height and insert healthy movement into your day.
Includes all the hardware you need right in the box. Certain installation steps may be easier to complete with an electric screwdriver, which is not included.
CONS:
The product will be shipped in two separate packages that may be delivered separately. Some steps may require a drill, which is not included.
Heavy
Certain installation steps may be easier to complete with an electric screwdriver, which is not included.
A little bit hard to assemble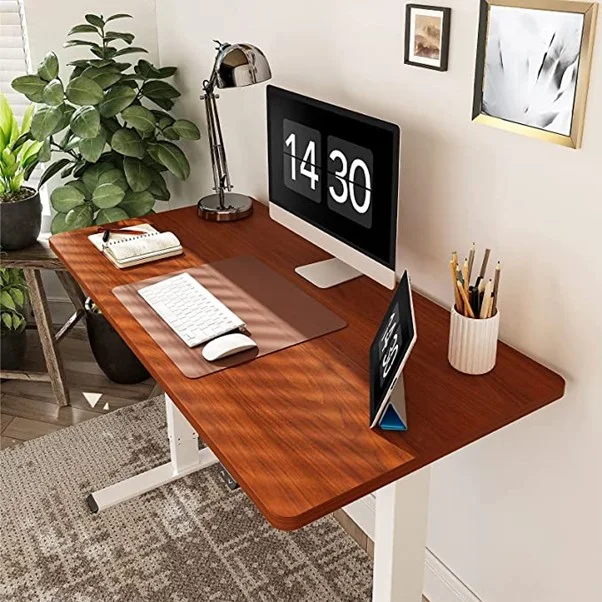 I love the tabletop's surface ie—it's smooth and easy to clean, so you don't have to worry about getting dirt or dust on it (which happens a lot when you're working at home!)
My favourite thing about it is how easy it is to adjust—you can just slide the bar up or down without having to worry about tools or anything like that.
The VARIDESK Standing Workstation is a portable, reasonably priced option if you're seeking for a standing desk. This type is easy to put together, has a bamboo frame that is sustainable and can be used by users of various heights.
The VARIDESK also comes with a 30-day trial period, during which time you may return it for a full refund if you decide that you don't like it for any reason at all.
Amazon link: https://amzn.to/3SyvDiI
SPECIFICATIONS OF THE VARIDESK STANDING DESK:
Assembles in 5 Minutes or Less
4 Programmable Memory Settings With LED Display
T-Style Leg With Heavy-Duty Steel Frame for Enhanced Stability
Durable Laminate Finish With Chamfered Edges
Supports up to 200 lb (90.7 kg)
UL962 Listed, UL Certified to BIFMA Standards, and Greenguard and Greenguard Gold-Certified
Product Specifications: 25″(H) x 60″(W) x 30″(D)
Product Dimensions: 30"D x 60"W x 25"H
PROS:
Spacious Work Space: Voted the Best Overall Standing Desk by CNET 2021, our rising desks include a solid one-piece table top with a durable laminate finish, providing a spacious and sturdy work area at any height. Measuring 60″ x 30″, you have plenty of space for two computer monitors, a laptop, a notebook, accessories, and extra hardware.
Ergonomic Movement: Vari motorized standing desks make it easy to go from sitting down to standing up throughout the day. Research shows that standing or moving more at work can improve productivity, boost your metabolism, and reduce back pain. Our easy-to-assemble and even easier-to-use sit-stand workstations help you get more done and feel better doing it.
Programmable Height Settings: Program up to 4 height settings to the control panel memory of your electric height adjustable desk and transition to your perfect height with one touch. The whisper-quiet and long-lasting dual motors and 3-stage legs ensure a smooth, fluid lift and provide a large range in height adjustability (raises from 25″ – 50.5″ high).
Easy to Assemble: Our easy-to-attach legs have a patent-pending design that lets you assemble this desk in 10 minutes or less with no special or complicated tools. NOTE: The desktop and legs are shipped in 2 boxes which may be delivered separately.
Trusted Brand: Every time you buy a Vari product, you get quality, convenience, and a risk-free purchase you can feel good about. With 30-Day Free Returns and a fantastic 5-year warranty, you can be sure you'll love your product.
CONS:
The surface is not natural wood but rather an engineered material.
A little bit heavy
The control box is quite finicky.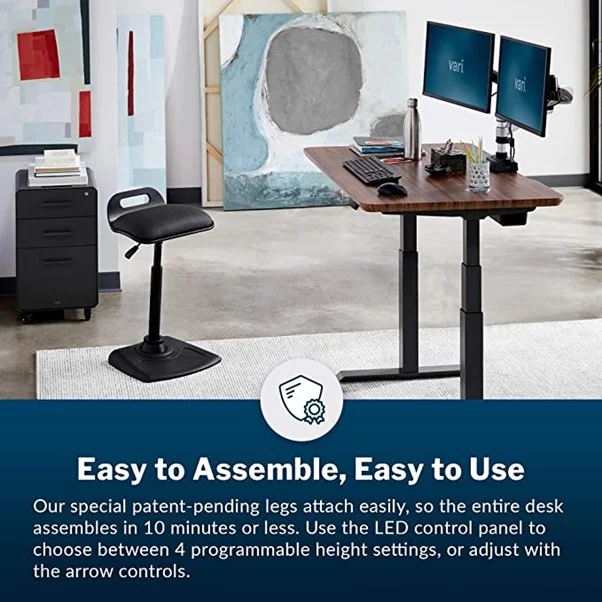 My favourite thing about the VARIDESK is how easy it is to adjust. The spring mechanism helps easily switch between sitting and standing, so when you need to take a break from standing, it only takes seconds (literally) to switch back down.
This product would be better to have if it included a built-in powerstrip, but even without one, this is still an excellent choice for anyone who wants a standing desk but doesn't want to spend a lot of money doing it!
Amazon link: https://amzn.to/3rexy0q
The ApexDesk AX7133BK Elite Series W Electric Height Adjustable Standing Desk is an excellent choice for anyone looking to increase their productivity while reducing the time spent sitting. This desk can be adjusted from sitting to standing in seconds, so you can easily transition between working modes during your day.
The electric motor provides smooth operation, while the solid steel frame ensures you won't have any problems with the desk. The top comes with an anti-slip gel pad, which helps prevent damage to your desktop and keeps it in place, so you don't have to worry about slipping or sliding around while trying to work.
It's also easy to set up, so you won't have issues getting this desk into place once it arrives at your home or office. You can start using it immediately without spending hours putting together complicated parts or buying additional accessories, as other desks might require.
This desk comes in a black finish with silver accents on its legs and base plate, so it looks sleek and modern even when it's not being used as an adjustable standing desk (although we recommend using it this way).
SPECIFICATIONS of ApexDesk Standing Desk:
Brand: ApexDesk
Shape: Rectangular
Product Dimensions : 33″D x 71″W x 47.4″H
Colour: Black Top / Blak Frame
Material: Engineered Wood
Height adjustable from 29″ to 49″ at 1.5"/second
1″ thick ergo-shaped MDF core with scratch-resistant high-pressure laminate
Dual motors with 235-lb capacity
Enhanced stability w/ one-piece fixed steel beam
Easy assembly – less than 45 minutes
Item Weight: 160 Pounds
PROS
Rated Best-Overall 2021 by CNN Underscored– Debuted in 2015, and for six years running, the Elite Series has been the favourite of reviewers and users. Many improvements have been made over the years. The desk has become more stable and quieter. We've updated packaging to reduce shipping damages to a minimum. Replacement parts are shipped within 24hrs from Los Angeles if shipping damage occurs. The desk ships in three packages and may arrive 1 to 2 days apart.
Huge Work Space – One-piece solid 1" thick top. At 71" wide and 33" deep (27.6" at mid-section), it can hold up to three screens and is one of the largest standing desks in the market. The top is made of laminated MDF with 8 colours to choose from. For a sophisticated look, the edges are bevelled except 12.75" of mid-section on the back, so devices with shorter C-Clamp can be mounted. The top comes with preinstalled metal anchors for easy installation & can be reinstalled at any time.
Power Dual Motor Lifting System – With a fast speed of 1.5" per second, the desk can move anywhere between 29" to 49" with a push of a button. The load capacity is 235 lbs. The digital controller has four programmable presets.
Unique Structure – The crossbar is fixed. No manoeuvre is needed to line the base up with the top. Legs are secured with locking levers. Most users can assemble in 45 minutes. The desk does not need to be removed if the control box or a leg needs to be replaced.
Cable Tray Included and Matching Desk Available– Originally sold separately, we now include a full-size cable management tray. Measuring 35.5" x 5.5", the tray is large enough to hide all cables that come with the desk and has space for one 12-outlet power strip and a few power adapters. Matching 47" side desks in exactly the same top and base color are available and sold separately in four popular colors – white, black, light oak, and red apple.
Easy to assemble
CONS
Heavy
Huge Returns are not an option.
The desktop was black matte without a pattern, not a wood pattern.
Due to the level, you can only attach a monitor arm in the middle on the back. Probably not a big deal for most people but if you are working with more than 2 monitors, it could be an issue.
What I like most about the Apexdesk is the sleek and modern design, and it's an excellent option for those who want to keep things simple. I also enjoy how simple it is to move around because of the wheels, which make it simple to pull out of the way for a walk or to move the desk closer to another piece of furniture in your office.
It would have been better if there was a way for users who have multiple monitors connected at once (with different angles) to independently adjust them on their own screen rather than having to go through all of their settings every time they want to change one angle or another, especially since this would be simpler than having each user adjust their own monitor individually.
Amazon Link: https://amzn.to/3SmqBpS
The Jarvis Bamboo Standing Desk is an excellent choice for an affordable, eco-friendly, portable desk.
It can be used in two ways: as a standing desk or a sitting desk. The Jarvis Bamboo Standing Desk has a sturdy base that allows you to easily raise and lower the desk's height. It also has an adjustable monitor mount so you can easily move your monitor up or down to find the most comfortable position for your eyes and neck.
The Jarvis Bamboo Standing Desk is made of environmentally friendly bamboo wood, which is stronger than oak (the most common wood used to make desks) and doesn't require any artificial chemicals or dyes during its production process. This means that no harsh chemicals are being released into our environment when this desk is created, unlike many other desks on the market today which use synthetic materials such as plastic that have been treated with toxic chemicals during their manufacturing process."
SPECIFICATIONS OF FULLY JARVIS STANDING DESK:
Brand: Fully
Shape: Rectangular
Product Dimensions : 24″D x 48″W x 49″H
Colour: White
Material Type: Metal, Wood
Capacity: 350 lbs.
Customizable options:
White, black, alloy or silver base
Black, maple, oak, stone, walnut and white tops
Rectangular or contour-shaped desktop
Low or high frame
Accessories – monitor arms, chairs, stools, wire management, standing mats, float boards, etc.
PROS:
EASILY ADJUSTABLE: Award-winning sit stand adjustable desk frame easily adjusts from 30″ to 49″ (including desktop) with 350 lb lifting capacity, fits people 5'10" to 6'9″ tall
PROGRAMMABLE, FAST, QUIET, ELECTRIC LIFT: Easy to read handset with 4 customizable memory presets for quick 1.5″ per second height adjustment with industry-leading warranty.
QUALITY, DURABLE and SUSTAINABLE MATERIALS: Our eco-friendly solid slab bamboo desktop is made sustainably, easy to clean and includes 2 desktop grommets to organize cords
STABLE STEEL BASE: Sturdy steel desk legs (not aluminum), won't wobble and provides side-to-side and front-to-back stability
CONS:
Your Desk will arrive in 3 boxes, possibly over 1-2 days. To check the status of all boxes, check tracking on FedEx site
Note: Products with electrical plugs are designed for use in the US. Outlets and voltage differ internationally and this product may require an adapter or converter for use in your destination. Please check compatibility before purchasing.
The desk cannot be raised and lowered manually
It is super easy to raise up and can change the height to suit your comfort level. The desk feels more like a solid piece of furniture than a flimsy plastic object that will fall apart in six months.
I think that the fact that you can use this desk with or without a monitor stand is, in my opinion, its best feature. This eliminates the need to purchase an additional pricey piece of equipment only to raise your monitor higher. The desk's disadvantage is that it is heavy, making it challenging to move it across rooms or floors.
Summary
These are all things that you can easily find at a standing desk. Some are more expensive, but it's up to you to decide what price range is right for your budget.
The ease of adjusting the desk and whether there are any safety concerns should also be taken into account because those features will influence how comfortable working at your new standing desk is. Don't forget to check if the business offers customer support; that way, if something goes wrong and you need assistance mending it or customizing your new buy, someone will be there to help!
These are just some of the best standing desks you can find on the market today. There are many more options out there, but these are some of our favourites:
#1 VIVO Electric Stand-up Desk Frame ($190)
#2 FLEXISPOT EC1 Standing Desk ($250)
#3 VARIDESK Standing Desk ($795)
#4 ApexDesk AX7133BK Standing Desk ($750)
#5 Fully Jarvis Standing Desk ($810)
Verdict: What I think is the best setup for the best price
If you want a budget-friendly but still want all of the same features as a regular electric standing desk—such as memory presets—then go with the FLEXISPOT EC1 Standing Desk.
The FLEXISPOT EC1 Standing Desk is an excellent option if you're looking for a fully electric-powered frame instead of just an adjustable one.
We recommend the VIVO Electric Stand-up Desk Frame if you are looking for the best value. It is an excellent option if you like the idea of standing while working but do not want to spend a lot of money on an adjustable desk.
It comes with two different height settings and can be used with or without a monitor. You can also choose between white or black frames, so this option is great for people who want to match their office decor.