The standard of pre-built keyboards has improved over the years, and the Epomaker CIDOO ABM084 set a new standard for its price point. The features outlined above are pretty insane for the price. In this review, I will have an in-depth look at the features and the aesthetic elements that come with it.
If you need general help with mechanical keyboards and are relatively new to owning these keyboards, please read our definitive guide on mechanical keyboards.
What came in the package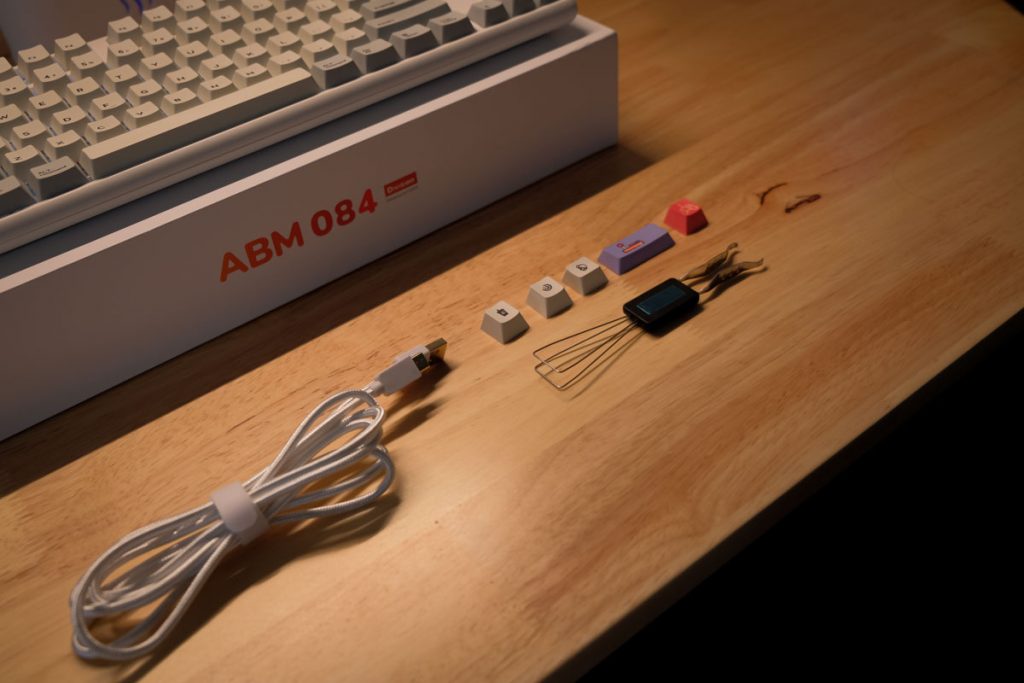 1 x ABM084 TKL Keyboard
1 x Braided USB Cable
1 x Keycap Switch Puller
4 x Extra Keycaps
The packaging is extremely well made. It came in a rigid box and shipped to us internationally. The keyboard came in perfect condition, so it's very well protected, and you won't have to worry about the keyboard getting damaged during shipping.
The TKL Layout
We talk about layouts in our comprehensive mechanical keyboard guide. A standard TKL Keyboard is a full-sized keyboard with the Numpad omitted. The main benefit of a TKL keyboard is that it is compact whilst maintaining productivity*. I make that statement with an asterisk mainly because productivity is also subject to what sort of work you're doing. If you work predominantly with numbers, this form factor is probably for someone else.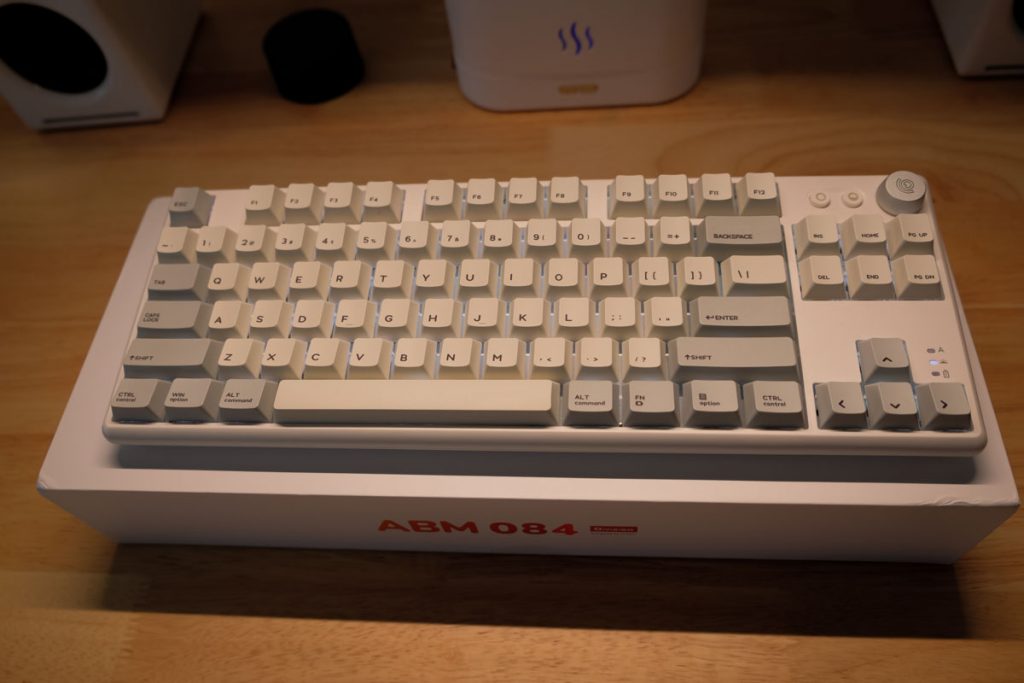 The aesthetics and properties of the keyboard
The shape of the keyboard is more rounded than the usual keyboards we review. The rounded edges give the keyboard more dimension and softer interaction with your workspace. The knob sizing is perfect and slightly tapered towards the top face. The colour of the frame is faded white. The keyboard is made from ABS plastic and hence is lighter, but the surface is also textured to give it a nice touch. The overall weight of the keyboard is 971 grams which is the standard weight for a TKL keyboard.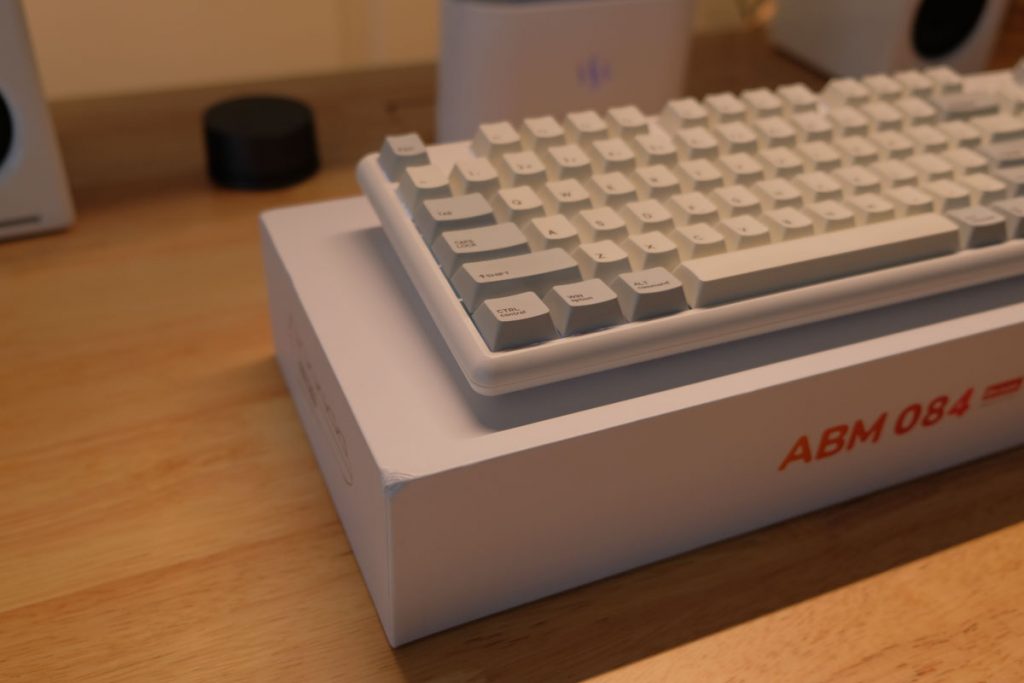 Keycaps
The Epomaker CIDOO ABM084 comes with a set of gorgeously designed PBT keycaps with some nice accents that go with it. The keys are Cherry profile single-side dye-sub PBT keycaps. I stuck with the default grey keys, but they provide other colour options for the escape and enter keys.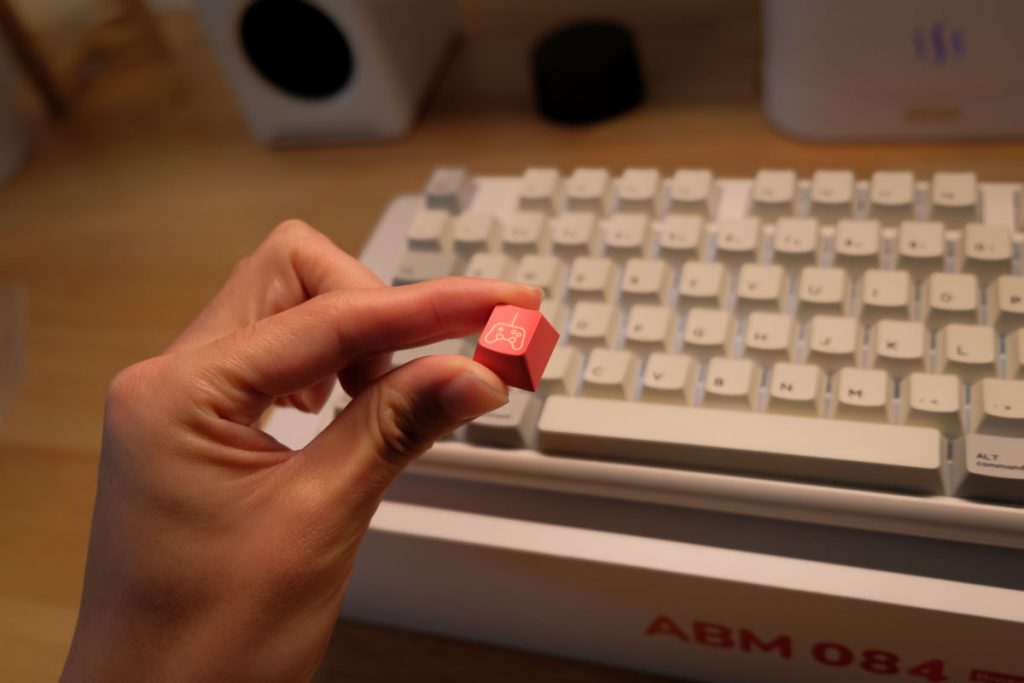 PBT(Polybutylene terephthalate) plastic keycaps are a type of keycap that is very common in keyboards. There are also ABS plastic keycaps, which have different features. Regarding durability, double shot PBT keycaps are studier and thicker and hence are more resistant to fading or 'shining' compared to ABS plastic keycaps. Both types of key caps also produce very different typing sounds, and PBT has a deep thoc sound and the ABS has a more clacky sound.
Overall, I love the feel of the PBT keycaps on this keyboard, and the simple aesthetics of it does not yield any benefits from ABS keycaps. ABS keycaps can have brighter and more vivid colours whilst also being translucent.
PCB/Switches
The PCB has switch sockets that are north-facing LEDs. Be aware that it may not support your keycap set due to the LED placement for people looking to switch out their keycaps. The PCB is fitted with TTC Customized E-Sport Socket, which (in accordance to Epomaker's marketing material) is rated for 10,000 hot swaps. For those who are not aware, 10,000 hot swaps is an incredible amount, and the average-joe would probably never even get close to changing out the switches that many times.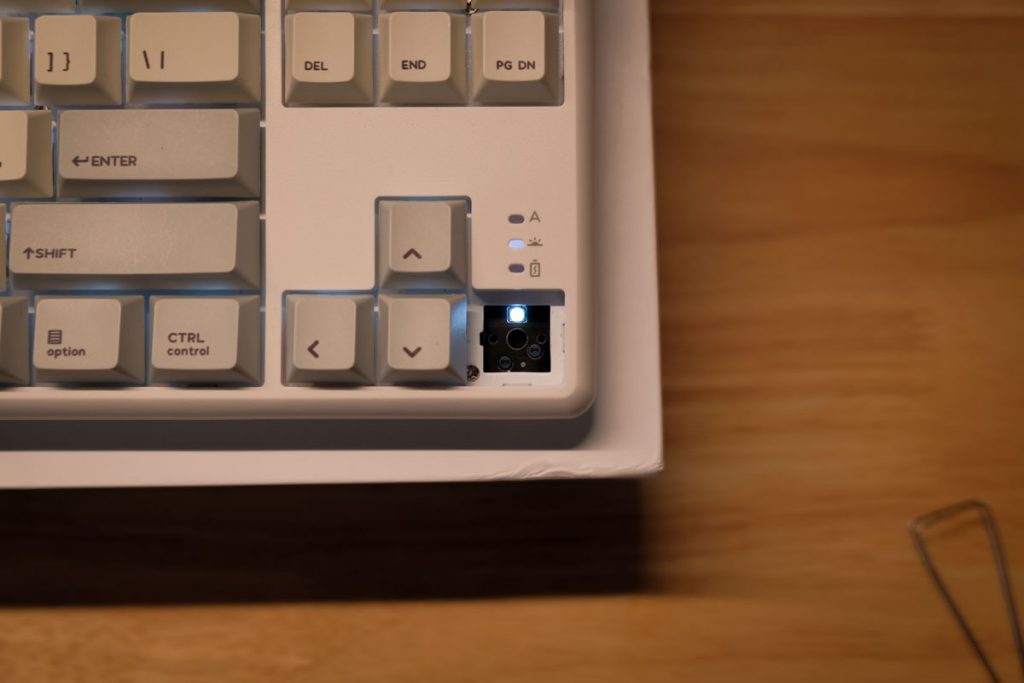 We opted for the Cidoo AMB084 keyboard with Gateron yellow switches. It's a linear switch with a slightly heavier actuation force, and it's smooth and quiet and does not have a clicky or tactile feel. These switches are highly suitable for the office environment and gaming as they're relatively quiet.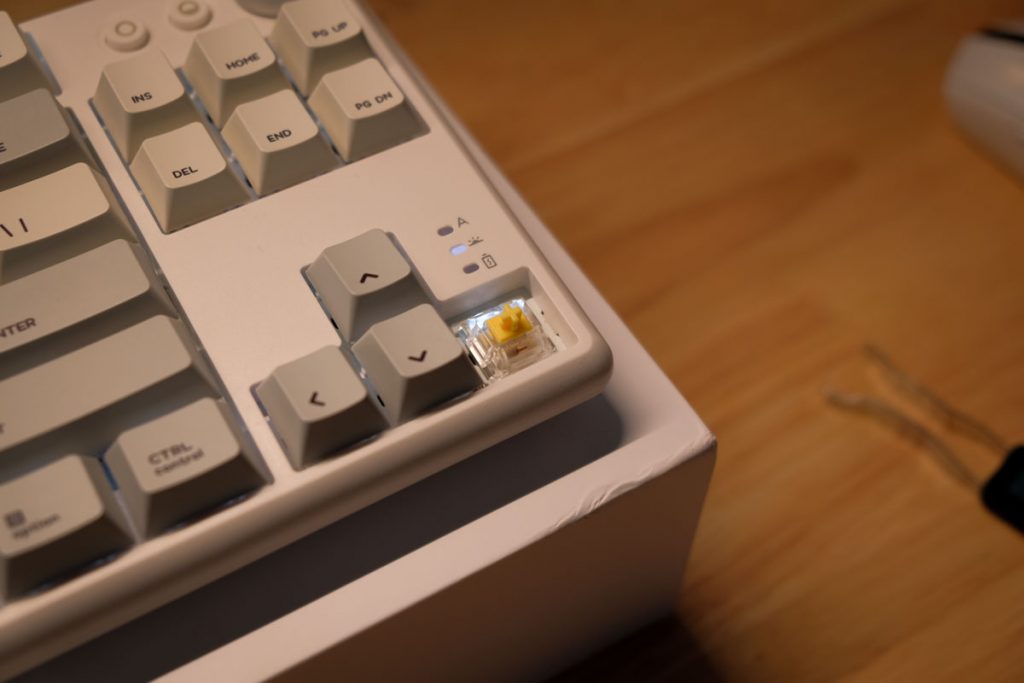 The Sound
The Epomaker CIDOO ABM084 has a deeper-sounding keypress with ait's PBT keycaps and pre-installed foam. I love the addition of the foam, as it's rare for pre-built keyboards to come with this element. The stabilisers are tuned and extremely well-mounted. See the composition of the keyboard below.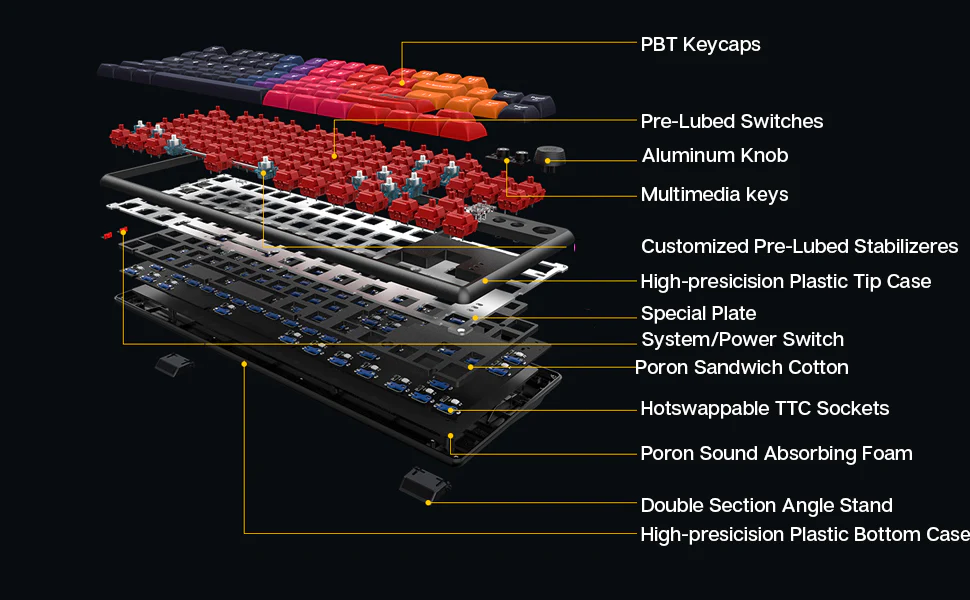 Knob + Lighting keys switches
I love the feel of the knob and the accompanying custom lighting macros. I have yet to be able to set the custom lighting keys as the instructions are lacking. However, I am perfectly happy with just adjusting the lighting settings when necessary. The rotary knob has excellent feedback on every turn without being too stiff or soft.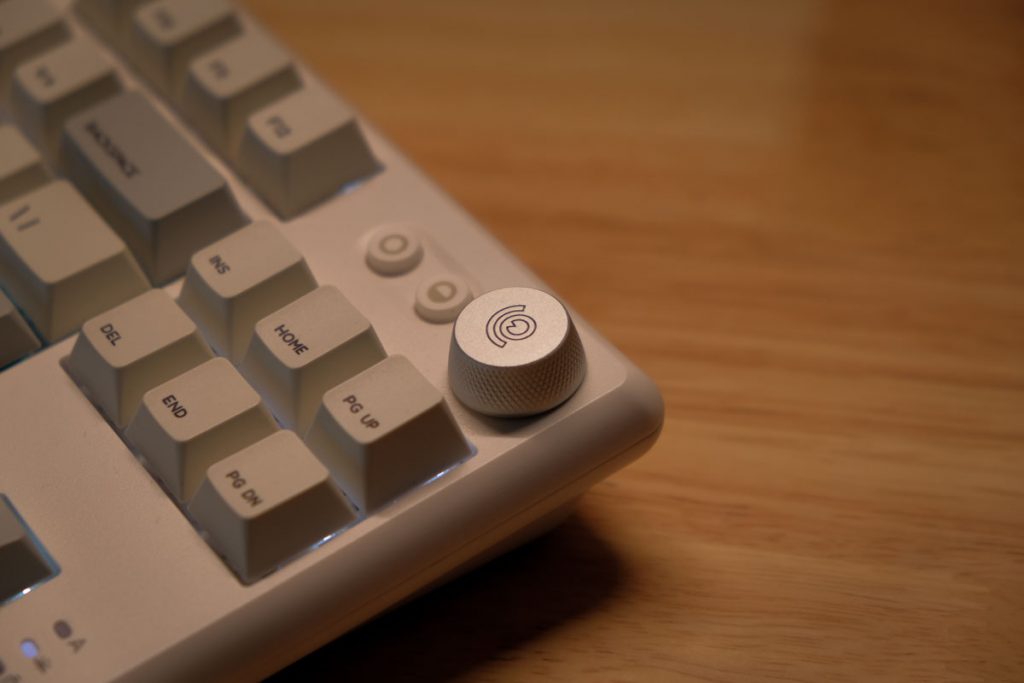 Win+Mac Modes
I could not test the Mac Modes adequately at the time of this review. My colleague here has informed me that the right option key toggles the menu instead of the option modifier, which may annoy people who use the option modifier quite frequently. The windows mode works as advertised.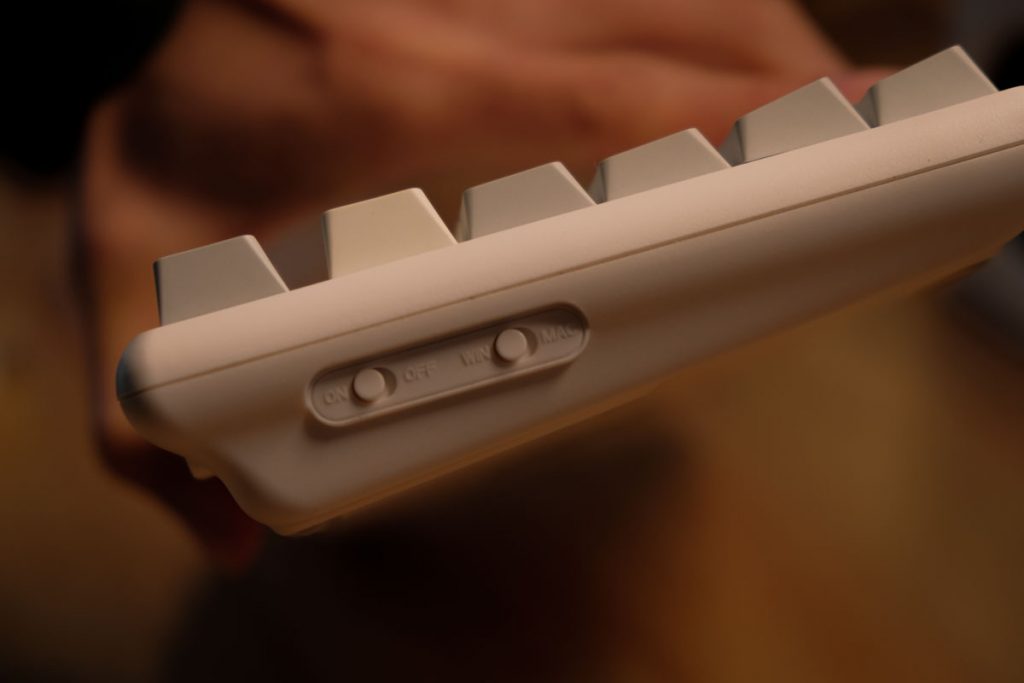 Wireless capabilities + Battery life
The Epomaker CIDOO ABM084 has both Bluetooth 5.0 and 2.4GHz wireless modes. It comes with a wireless dongle, as expected. The wireless mode does not drop out and works well. Keystrokes are not missed and are polled at 1000hz. For Bluetooth, it works similarly as well.
The keyboard is fitted with a 3000mAh battery. According to my testing, it operates close to the official specifications regarding projected battery life. In Bluetooth mode, it runs for around 24 hrs with lights on and 15 days with lights off. In wireless mode, it runs for approximately four full work days or 40 hrs with lights on and lights off for a few weeks.
Final verdict
Overall, this keyboard is a steal for being sub 100USD. For a pre-built keyboard, it is in a class of its own with the features they've managed to pack into it. As always, I recommend this keyboard for people who don't need the Numpad and those who want a productivity-focused keyboard with reliable wireless functionality.