This is a cool setup, and I love it. @Teksetup
He has a huge desk
The first thing I noticed about the desk setup of Teksetup is that he has a huge desk. It's not just a big empty space, but there is also room for everything. He has enough space to work on his computer and also hold all his monitors as well as all the other things he needs for work, like a keyboard and mouse, pen holder, and cup holder. The second thing I noticed was how organized it looked. Everything seems to have its place and nothing looks cluttered or messy, which can be hard when you have so much stuff on your desk!
If you want a more in-depth guide on how to deck out your desk setup, read more here.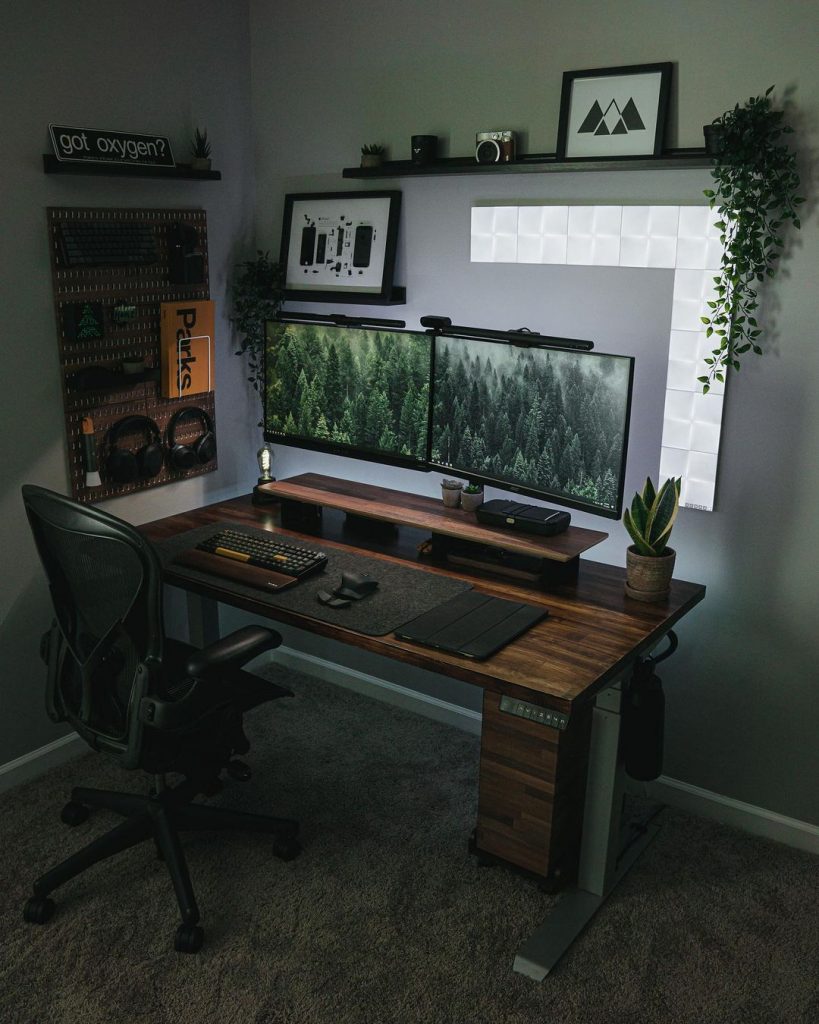 Two monitors
Some people don't have more than one monitor because they don't think it's necessary. But I disagree: If you are an avid browser and gamer, having more than one monitor is essential. Why? Well, let me tell you!
You can use both monitors to display different windows of the same application (like having a chat window open on one monitor while working on an Excel sheet on the other).
You can use them as two different computers by minimizing windows from one or both monitors and browsing the web or playing games on them. This way you get to multitask even better!
You can separate work from entertainment by having your emails and social media accounts on one screen and gaming on another—this might be helpful if your friends are distracting.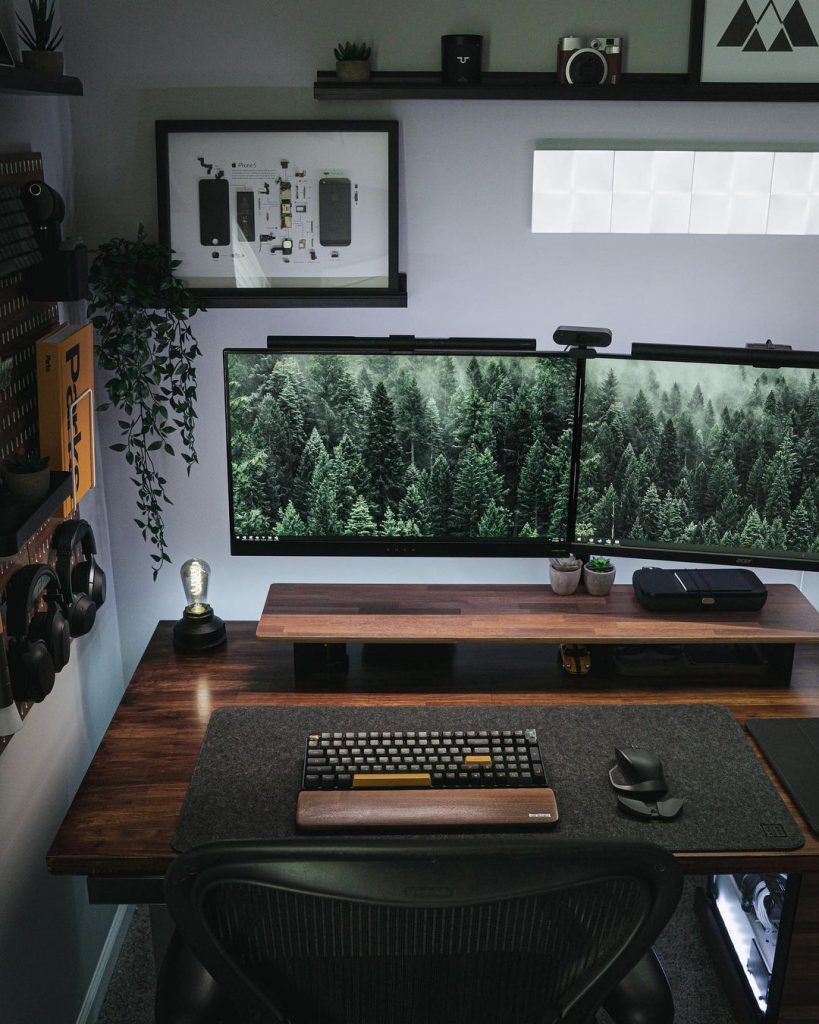 Good lighting shines
The Nanoleaf Canvas smart lighting setup is another item that shines. Considering that these panels can be configured to display various colours or patterns, Teksetup has selected the ideal balance of accent, warmth, and illumination. The LED Monitor Lamp from Baseus provides task lighting. A hidden strip of Cololight RGB LEDs adds the finishing touch.
RGB is a technology that allows you to display different colors on your monitor. It's useful for editing photos and videos, and can also be used to create a cool lighting effect. RGB can be set up easily with the help of some cheap hardware from Amazon (cables and dongles)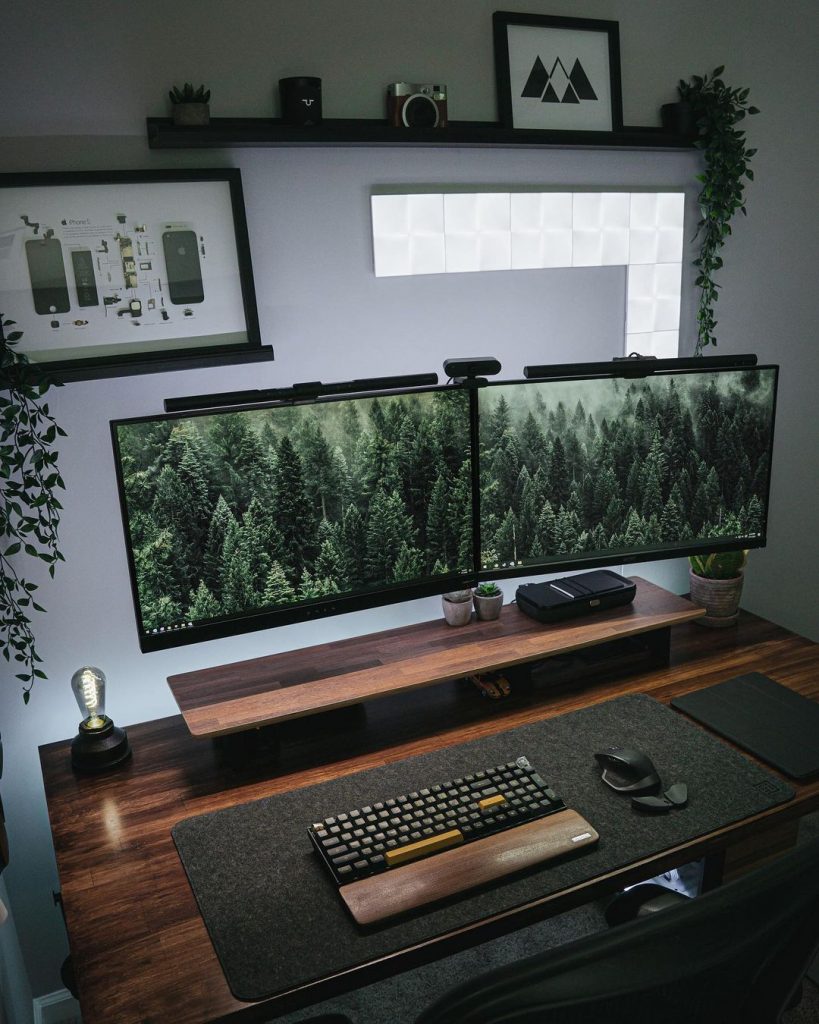 The plants
Just because you're a freelancer or work from home doesn't mean that you have to stick with the standard desk setup. In fact, if anyone's going to buck the trend and do their own thing, it should be someone who works in such an exciting industry as tech.
There are several advantages to having a green thumb at your workspace, even though some people may roll their eyes at the idea when they see plants included in a desk layout (especially those who work in an office where having plants is prohibited). In addition to keeping your workplace healthy and tidy, plants can increase attention by stimulating the senses and lowering stress levels, which is exactly what we all need when working.
He has a cool setup
You might be thinking that Teksetup's desk is just a huge slab of wood, but it's so much more. There are two monitors, an RGB keyboard and mouse by Cooler Master, and even some plants. The art on the wall also adds to the ambiance of this workstation.
He has two monitors for all of his coding needs and uses a Razer mouse/keyboard combo for gaming or just creating art in Photoshop. He even has a bit of art hanging up in his office!
Final thoughts
I know I've already said this, but I love how Teksetup uses colour to create a casual yet sleek look.The use of pops of colour on their desks and in their workspace sets them apart from other desks. It's something anyone can do, no matter how much or little space you have.I love the idea of using different coloured lights as well—it's a fantastic way to add some flare to an otherwise boring desk setup.
You don't need anything fancy to make your workspace stand out—you just need a little creativity!
The best part of all? This setup is great for beginners because it's so easy to customize and change as your needs change over time.