Today we're featuring a desk setup from a physical therapy student from USAHS Miami, @davidnotgoliath.spt (David). This desk setup has gone through many iterations in its evolution, so let's check it out. If you need a bit of help perfecting your setup, we have an in-depth guide on how to perfect your home office setup to maximise productivity.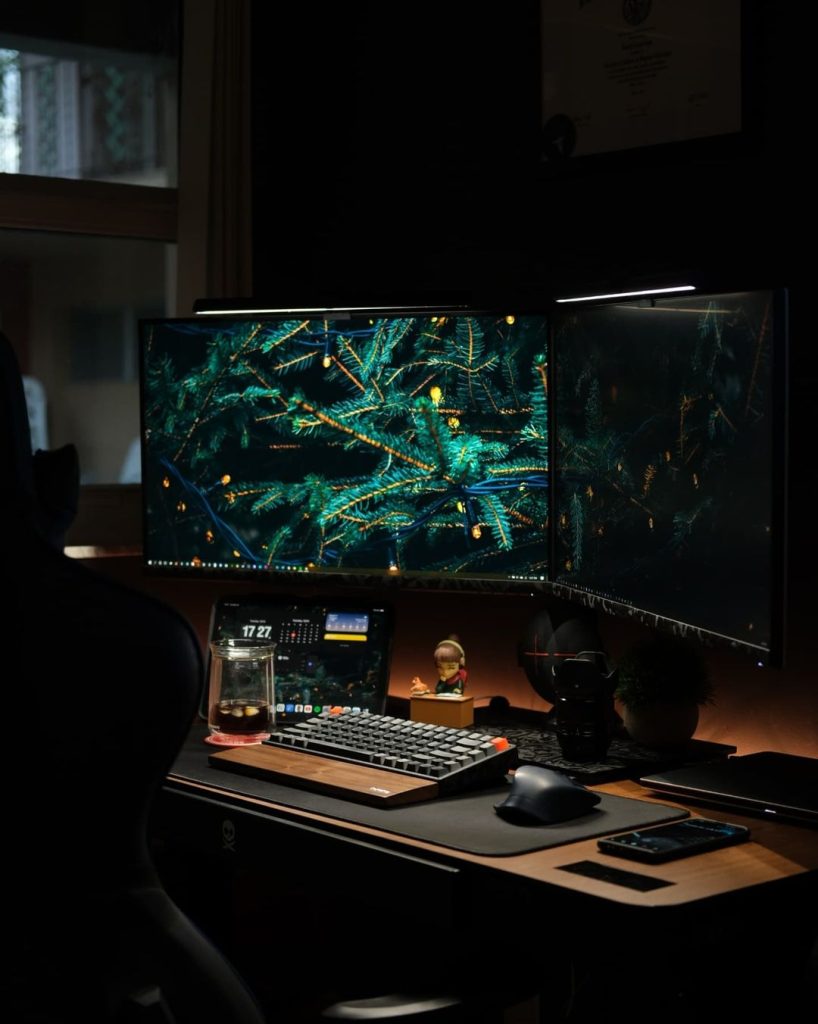 If you can't be bothered reading our entire article feel free to watch the video made by David on his new youtube channel. See the video below.
So let's check out what's actually in the setup
David has built an insane setup that uses nice RGB features to give it some good vibes. The Govee Glide is definitely one of the better alternatives out there to the Lifx beam which is way more expensive.
We've talked heaps about how to get that perfect lighting for your desktop, and David has done an amazing job in adding flare but also making his desk a productive working environment.
Check out how his home office setup evolved over time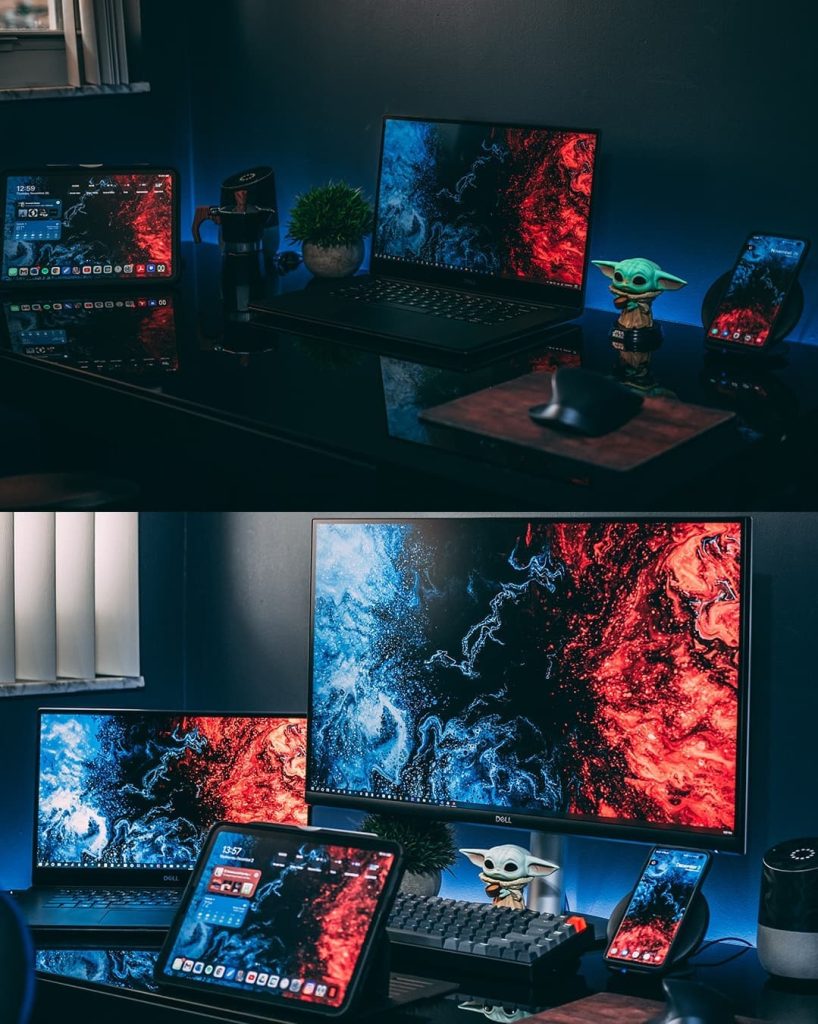 and then finally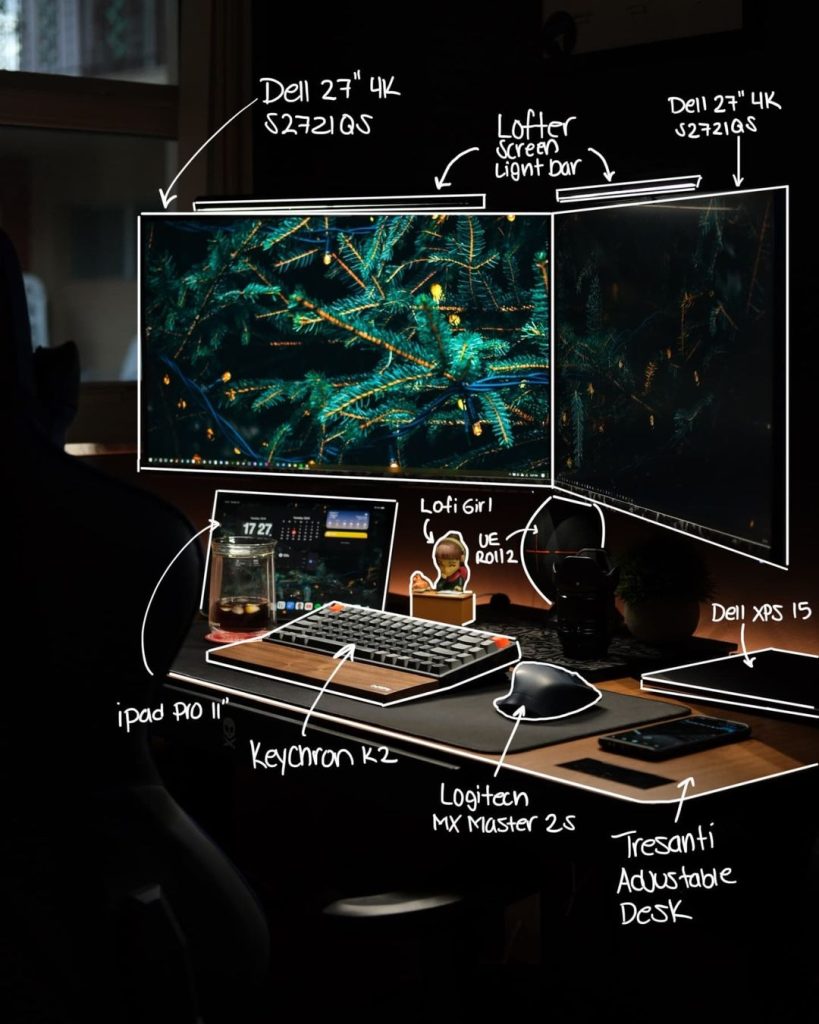 What does a productive desk setup for a student actually involve?
I would say one of the most important things for a student to have is an external display to have extra screen space to have a word document or PDF open on the secondary display. In addition, if you're studying for a long time, you might want to consider having a monitor lamp of some sort. David uses a Lofter Screen bar which is a super budget-friendly option and does the job. You can always buy a few if you want to light up the desk space better.
Why a light bar instead of a lamp?
We cover it in a separate article where we rate the top 5 light bars in 2022, but the main reason is that you don't want to have the lamp taking up your desk space. If you live in a college dorm you might have been able to fit in a big table, so optimising the usage of your desk footprint becomes very important. Having the monitor lamp fixed on top of your monitor reduces the amount of room you need. In addition, having a monitor lamp also prevent screen glare which is another factor that causes eye fatigue. So definitely look into it if you want to have a more productive setup.
Getting an external display
There are a lot of options for getting an external display, but starting with a 1080p monitor (IE. 1920 x 1080) that's around 27 inches would be more than enough for your day to day needs. If you find that you need more screen real estate you can always upgrade to dual 27-inch monitors assuming you have enough space for it. In addition, if you really could afford it, buying a budget 34-inch monitor is also another option. As a student, you would want to use the monitor for everything, ie. studying, watching Netflix, browsing the net, playing games.
Mounting your monitor
To save on desk space, you could definitely consider mounting your monitor. It's a very neat way to not use a base provided with the monitor that's generally very big. You need to, however, make sure that your tabletop allows for monitor mounting – Ie. it has a straight edge at the back.
What about a wireless keyboard?
Depending on how you take notes, having a wireless keyboard would really help if you like to toggle between your laptop and other devices such as an iPad. But a wireless keyboard is a really good solution to having a neat desk setup as you won't have cables just lying around everywhere.
Overall, David's setup is amazing because he manages to fit everything he needs into a relatively small amount of space.
If you have any questions, feel free to join our community group on Facebook.