You don't need to search too hard to find an emerging trend in the modern hybrid working world: minimalist desk setups. From Instagram feeds to blogs to companies that sell office furniture, you'll find no shortage of people comparing their desk setups on the never-ending quest to reach minimalist nirvana.
But why are minimalist desk setups so popular? Is this just a passing trend, or is it just the beginning of a larger movement? To answer this question, it's important first to investigate why these setups are so popular, and what actual concrete benefits people are finding from transforming and radically re-thinking their workspaces. There are a lot of tips on how you can achieve this sort of setup as well, but it all comes down to your own personal preferences.
For one thing, with the constant buzz of the news cycle and the ordinary, daily stresses of life, it's important for everyone to find ways to simplify and slow down, even if it's just in small ways. Aesthetics can have a big psychological impact on your mood and productivity, so having a minimalist desk setup is a great way to help declutter not only your desk surface but your mind too. If you want to read the full guide on how you can improve your home office setup ergonomics, it's available to read here.
To better understand what a minimalist desk setup might look like for you, it's great to look at examples of different types that you can use for your own inspiration. You'll see that minimalist doesn't have to mean boring or bland—you can abide by minimalist principles while showcasing your personality and style in a way that is uniquely you.
Monochrome – for the diehards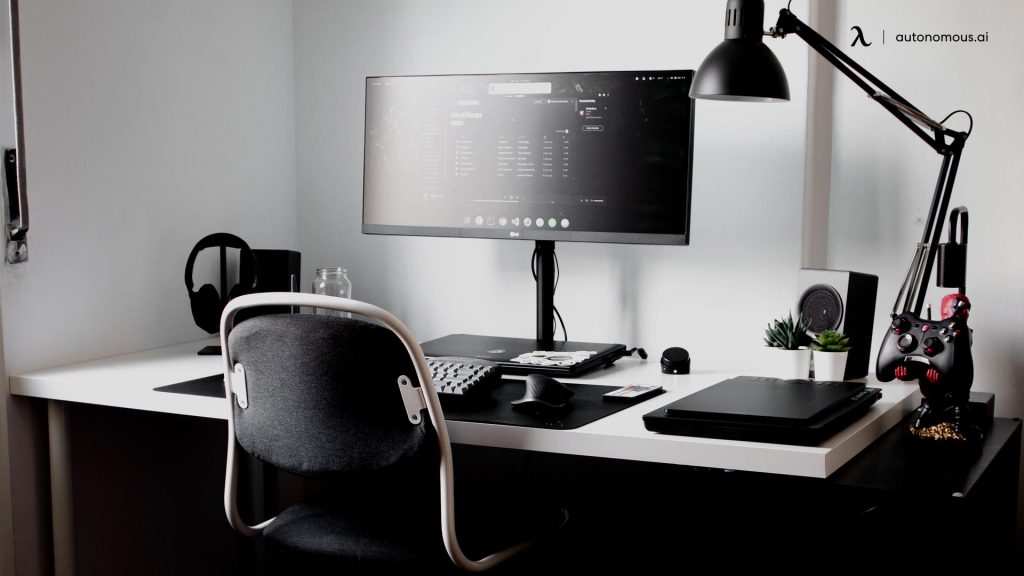 This is probably the first type of setup people think of when they imagine minimalism. Not only does this style reflect simplicity and cleanliness, but it heavily emphasizes an all-black or all-white color scheme. From peripherals, to lamps, and even pens and pencils, monochrome desk setups can really make a statement just based on their stark simplicity.
Monochrome is mainly done in black or white, but you could totally pull this off with another color too. Sometimes it's difficult to find accessories with exact matching colors, which is why choosing black or white is typically an easier choice for a monochrome setup, but if you're determined you can find a way to make other colors work too.
Even so, these desk setups can feel warm and full of personality with complimentary accents like natural wood and of course, plants. And if plant parenting isn't for you, just buy a fake one. We won't tell anyone, we promise!
You can sort for light or dark desk setups on our desk setup gallery page.
All-Green Wood Desk Setup – for nature lovers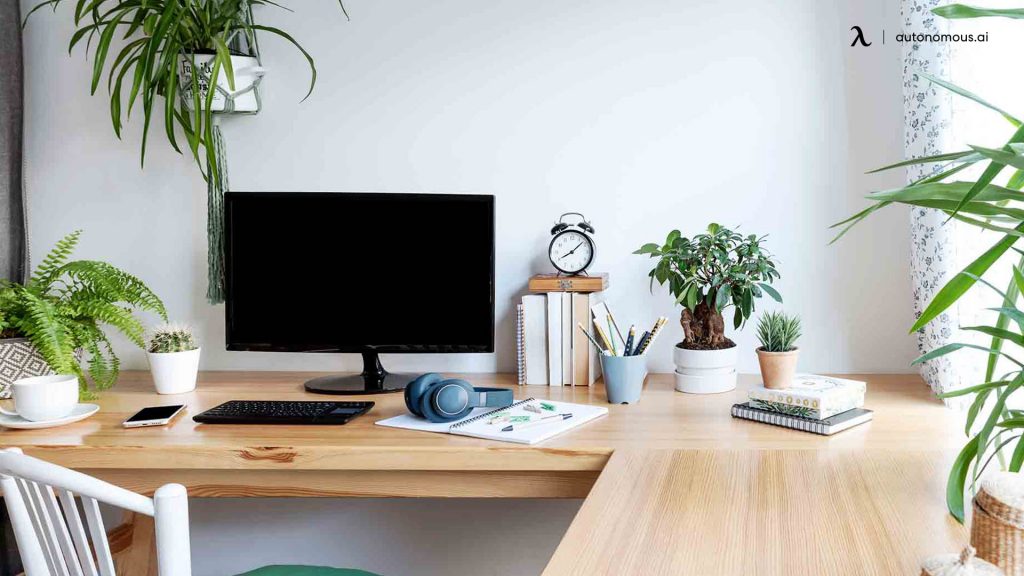 Speaking of wood and plants, not only can these be accents, they can actually form the centerpiece of your minimalist workspace aesthetic. Choosing a natural wood finish adds a classic and sophisticated touch to any workspace, and lighter or darker shades can be chosen strategically to match the mood of your space.
Wood desks compliment home workspace aesthetics and pair great with plants too. Minimalism doesn't have to mean cold and lifeless—you can have a warm and natural-feeling setup that still feels clean and simple.
A piece of wood is inherently unique and full of personality in and of itself. Just like snowflakes, no two wood desks are the same and is a great way to set your workspace apart while maintaining that clean and minimalist vibe.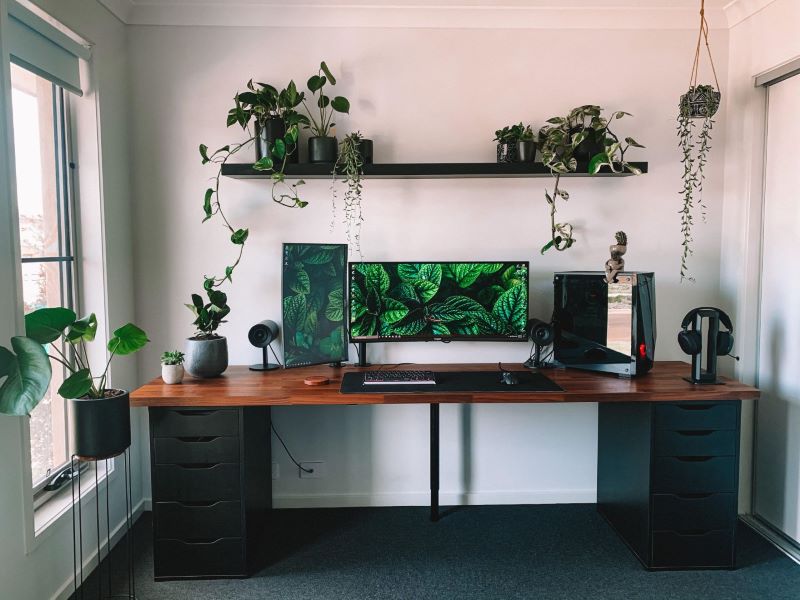 Japandi Desk Setup – for design aficionados
Japandi style originated over 150 years ago, when Scandinavian visitors first arrived to a newly-accessible Japan. Having been closed off from foreigners before then, visitors were delighted and astounded at the rich cultural traditions that informed Japanese design philosophy, and many of those characteristics were borrowed and applied to Scandinavian design sensibilities which have endured even to this day.
Japandi design is characterized by clean lines, functional and minimal furniture, decluttered space, contrasting colors, and only functional accessories. Just abide by these rules and apply them creatively to make a Japandi-style workspace that feels all your own.
The following Japandi desk setup has trended over Reddit for the last year or so. This setup has been rated by us as one of the most timeless setups yet.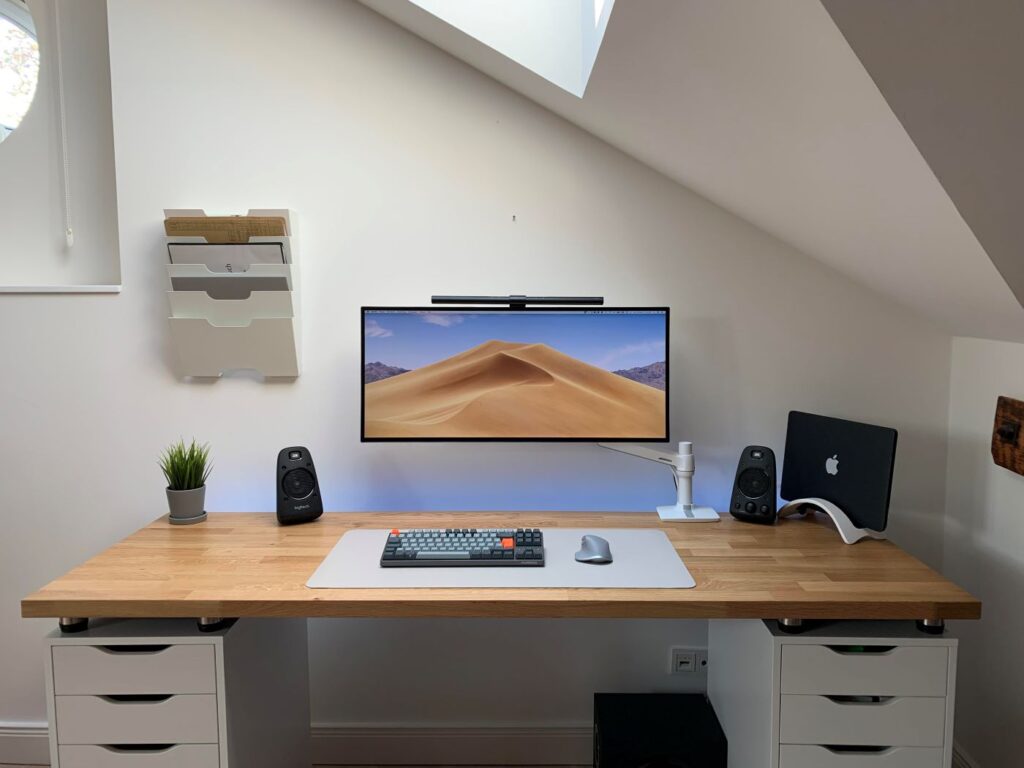 You'll find Japandi used in a lot more workspaces these days as more photos of Japandi-style workspaces circulate on the internet. So be sure to hop on this trend if you want to see what everyone's been raving about!
Wall-mounted desk setup – for space savers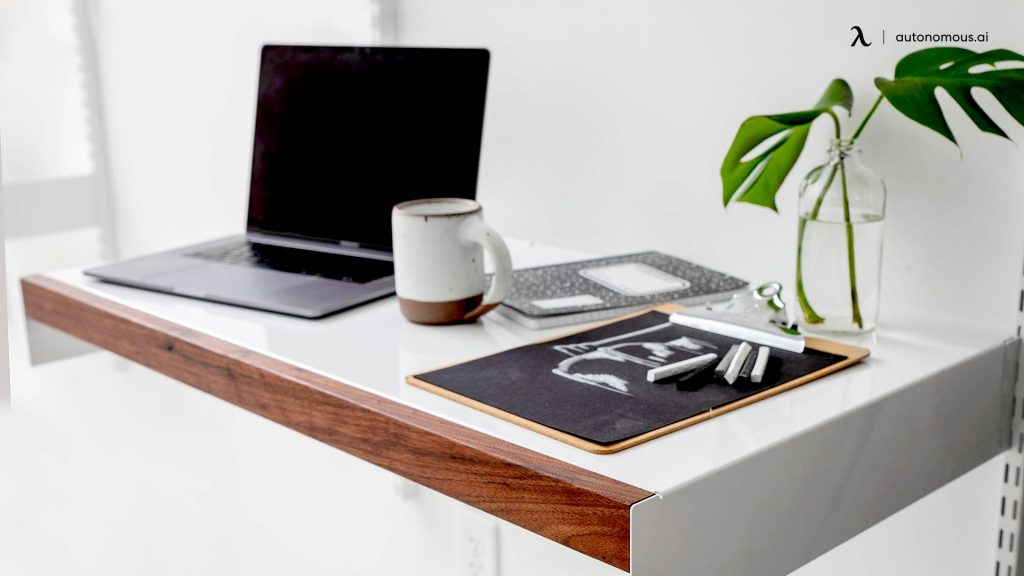 If you've got limited space and want to maximize it, a wall-mounted desk setup could be the perfect solution for you. It might take a little extra work and elbow grease, but the result is a stunning, minimalist desk that seems to "float" out from the wall. It reduces the space a full desk frame would take up while making your desk setup feel more open.
Depending on your space limitations, there are lots of different ways to pull off this setup. Choosing a corner of the room is a great way to get a little extra desk space while helping you compartmentalize and organize different aspects of your work.
Regardless of how you do it, a wall-mounted setup is a great way to create a seamless look that really makes your workspace feel like it belongs.
Gaming desk setup – for the thrill seekers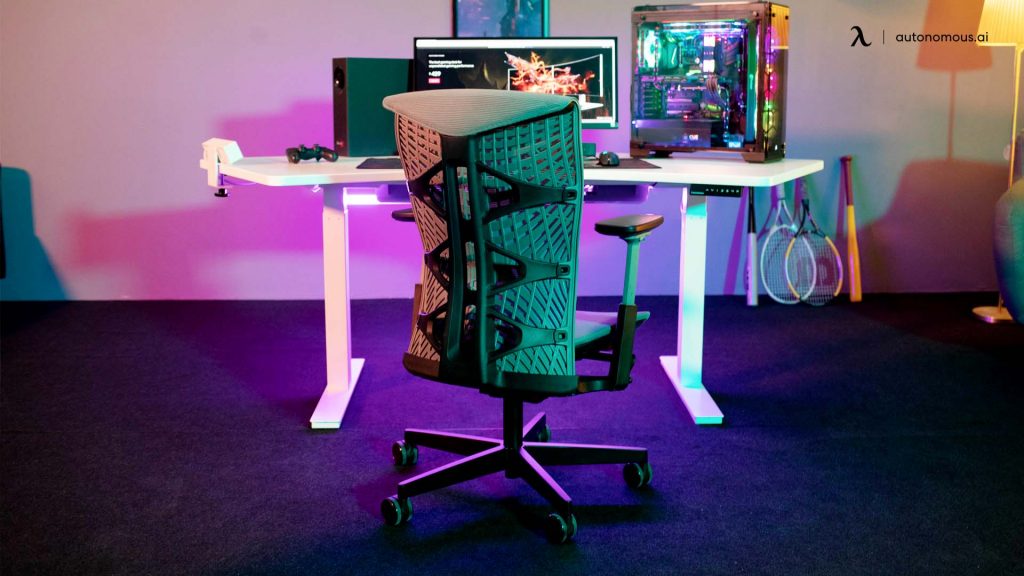 When you think of a gaming desk setup, you might assume it's full of garish RGB LEDs, brightly coloured "race car" style gaming chairs, and giant gaming logos and brands plastered everywhere. But gamers can go minimalist too!
Using monochromatic LEDs is a great way to reduce the appearance of chaos and clutter, as well as understated accessories that are not only ergonomic and feel great, but functional and aesthetically pleasing too. And, to put it nicely, "non-minimalist" gaming chairs aren't necessary either—a beautiful and minimalist ergonomic chair works perfectly for gamers planning on putting in long hours during the day or after work.
Gaming desk setups can be playful, colorful, and full of personality while still abiding by minimalist principles with clean lines, lack of unnecessary accessories, and coordinated equipment that all looks and feels like it belongs together.
Conclusion
Whether you're a minimalist fanatic or a first-timer just curious about this emerging workspace trend, you'll find no shortage of great inspiration all over the web to apply to your own space. You could see real benefits to making the switch or adding in more minimalist elements, including boosted mental clarity, peace of mind, and renewed focus on your work—or play!
For whoever is interested, we also have an ongoing desk setup GIVEAWAY! So be sure to enter to get a free autonomous desk and chair.